Three ECC MESA Students Headed to Prestigious NASA Program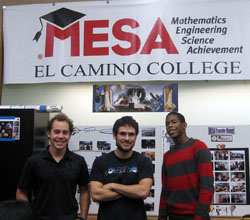 Three of our outstanding MESA students have been selected to visit NASA this fall as part of the prestigious National Community College Aerospace Scholars program. Brett Lopez, Kendrick Robertson, and Vito Iaia are among 89 community and junior college students from across the nation who will have the opportunity to apply what they have learned during the year while working with NASA engineers. To qualify for this program, students completed four Web-based assignments during the academic year, while maintaining a 93 grade point average. About 250 students applied for this opportunity. Last semester, El Camino College student Mario Cabrera participated in this program.
Lopez and Robertson will be going to the NCAS Program at the Marshall Space Flight Center in Huntsville, Alabama, while Iaia will be going to the NCAS Program at the Johnson Space Center in Houston, Texas. The program is a three-day on-site event that offers students an opportunity to interact with each other as they learn more about careers in science and engineering.
Ready, Set, Transfer!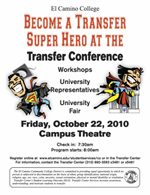 All students are invited to attend the Transfer Center's Sixth Annual Transfer Conference, "Become a Transfer Super Hero" at 8 a.m. Oct. 22 in the El Camino College Campus Theatre. The transfer conference is designed to help students who want to transfer learn more about the process. The conference will include a series of workshops such as: "Starting the Transfer Process," "Are You Transfer Ready?" "Choosing a University," "Financing the University Education," "Preparing for Career in Teaching," "Life Science Majors," "Business Related Majors," and "Transfer Admission Guarantee (TAG) Program." Panels from UC, CSU, private and out-of-state colleges and universities will be available to answer questions. After the workshops there will be a fair comprised of university representatives who attended the conference, offering students a chance to ask more questions and find out details about the transfer process. More info? Click here. 
ECC Receives More Than $4.34 Million in New Grants
We are pleased to announce two new grants totaling more than $4.34 million awarded to college programs to better serve students. New funding includes a Title V (Hispanic Serving Institutions) grant geared toward increasing graduation rates. Funding includes $637,207 for year one and $650,000 per year for years two through five, for a total of $3.24 million. A new TRIO Students Support Services grant for students in STEM (Science, Technology, Engineering and Math) disciplines was also secured, providing $220,000 over five years, for a total of $1.1 million. More...
Board of Governors to Visit ECC
ECC will host a visit from the California Community Colleges Board of Governors (BOG) November 8-9. The board will conduct its regular meeting at the college, as part of a program where the board meets once per year at colleges in various parts of the state. The Board of Governors of the California Community Colleges sets policy and provides guidance for the 72 districts and 112 colleges in the system. The 17-member board, appointed by the governor, formally interacts with state and federal officials and other state organizations. The BOG meets regularly throughout the year, usually in Sacramento. It develops and recommends policy, and reviews and comments on policies developed by other groups, locally-elected boards, and the Legislature.

ECC Art Gallery: "The Wheel Keeps Turning: Neil Moss and his Circle of Influence"

Our own Art Gallery will present "The Wheel Keeps Turning: Neil Moss and his Circle of Influence" through November 5. A gallery walk-through with selected artists is set for 1 p.m. October 19. Ceramic works by Neil Owen Moss (1941-2010) grace the tables and walls of thousands of people who appreciate his artistry. These strong and earthy forms emerge from a tradition of pottery making where clay is not simply a medium but a way of life. Moss's work reflects a depth and rigor that is gained only through many years of continuous work with his own imagery, forms and glazes. His ash-glazed baskets with swooping handles, subtly decorated platters, vases with bamboo joints, rusty garden pots, tea bowls and abstract sculptural forms are simultaneously poetic, elegant and elemental.

ECC Runs the Race
A long list of ECC staff, alumni, and friends ran in the Manhattan Beach Hometown 10k Run with great results earlier this month. Among the many spotted were: 4th place Ramon Hernandez (ECC 2006/07) in 34:35; 8th place Alex Gorney now at USC (ECC 2007/08) in 35:01; 9th place Humberto Sanchez (ECC 1994/95) in 35:30; 12th place Rick Dodson (ECC 1982 and 5,000m school-record holder) in 36:10; 19th place Sean Sheil (ECC 1986/87 and assistant coach) in 36:54 - 2nd in age group; 56th place Dean Lofgren (ECC 1977/78 and faculty/coach) in 39:38 - 2nd in age group; 241st place Nicky Lofgren (hopeful ECC 2015/16) in 44:53 - 3rd in 12-14 age groups; and 274th place ECC English Professor Tom Cody in 45:37.
For the women, top racers were 1st place Kirsten Leetch (alumnus Bob Leetch's wife) in 36:16; 7th place Maria Colin (ECC 1995/96) in 39:15; 15th place Annie Seawright (ECC 1983/84) in 42:08; 17th place Diana Silva (ECC 1994) in 42:19; and 251st place went to Paula Storer (Tom Storer's wife) in 53:45 - 2nd in age group. Great job to all runners!
Great California ShakeOut: Earthquake Drill

On October 21, El Camino College and El Camino College Compton Center participated in the Great California ShakeOut, along with millions of other learning institutions, businesses, cities, firefighters, police and individuals who registered for this event. At 10:21 a.m., all El Camino College students and employees demonstrated "Drop, Cover, and Hold On" procedures, followed by an orderly evacuation of buildings to their primary assembly areas. This ShakeOut drill was a great opportunity to practice safety procedures in case of an earthquake.
El Camino College Hosted Swim Coach Clinic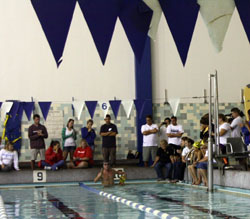 Swim coaches from all over the area recently came to el Camino College for Southern California Swimming's annual fall clinic. The clinic offered three tracks, with instruction for coaches, officials, and club coaches. In addition to panel discussions and workshops, participants listened to a presentation from featured speaker Steve Haufler, a noted author of several books on coaching swimming for younger age groups, and considered by many to be an expert at teaching the four strokes while preparing youngsters for competitive swimming.
Photo Department Welcomes
Photojournalist Marissa Roth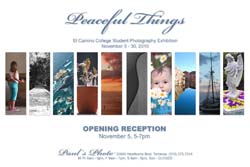 The Photography Department recently announced an upcoming visit by award-winning photojournalist Marissa Roth on October 22. Roth has traveled the world photographing for the New York Times and the Los Angeles Times. She has a permanent exhibit of work at the Museum of Tolerance in Los Angeles and is currently working on a book chronicling the effects of war on the lives of women and children around the world. Roth is also a member of the ECC Photography Department Advisory Board.
In other photo news: The fall student photography exhibit at Paul's Photo, "Peaceful Things," will be on display November 5-30. Forty-two digital and film photographs are included in the exhibit, and the public is invited to an opening reception from 6-8 p.m. November 5. Paul's Photo is located at 23485 Hawthorne Boulevard, Torrance.
Compton Community College District Participates in Nisei College Diploma Project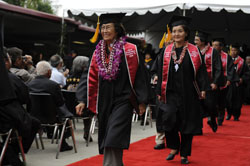 Seventy-eight honorary degrees were conferred on October 16 to Japanese American students of the former Compton Junior College whose education was interrupted by internment during World War II. Fifty-one families attended this special ceremony; of the 51 families, 43 former students personally received their honorary associate degree.
The event was part of the California Nisei College Diploma Project, the implementation of Assembly Bill 37, authored by Assemblymember Warren T. Furutani (D – South Los Angeles County). The aim of this project is to award honorary college degrees to Japanese American students whose studies were forcibly suspended in 1942 when they were ordered into internment camps as a result of Executive Order 9066. The California Community Colleges, California State University and University of California systems are all participating in this project. Since this historic legislation was signed into law, hundreds of Japanese Americans have received honorary degrees, some posthumously, from colleges and universities throughout California.
More info: http://www.compton.edu/nisei/
Save the Date: Internship & Job Fair
Looking for a new job? Why not try an internship in a specific career field? Everyone is invited to attend ECC's 12th Annual Internship and Job Fair, scheduled for, 10 a.m.-2 p.m., November 3 on the library lawn. Bring a resume! A variety of South Bay employers will be represented at the fair, and participants will also learn about internships – a great way for students to gain experience in their major or field of study. Students will be able to network with employers, discover paid and non-paid positions, find work related to their major, and meet with counselors.
http://www.elcamino.edu/studentservices/co/careerservices.asp

CCCD Foundation Establishes New Textbook Fund
In an effort to help offset the textbook price barrier for students at El Camino College Compton Center, the Foundation for the Compton Community College District recently donated $7,600 to start a textbook fund for students. The Foundation is now seeking donations from the community to help build the textbook fund at so that every student will have the books they need. According to a 2005 study by the U.S. Government Accountability Office, college textbook prices increased at twice the rate of inflation over the previous two decades, though not as dramatically as tuition. Nationally, it is estimated that students now spend an average of $900 per year on textbooks. To donate, please contact the foundation at 310-900-1600, ext. 2972 or jpazos@elcamino.edu.

Check out the Torrance/South Bay Career Fair
Another great resource for the job hunter: check out the Torrance/South Bay Career Fair, set for 9:00 a.m. to 2:00 p.m. November 4 at Toyota Meeting Hall at the Torrance Cultural Arts Center, 3300 Civic Center Drive, Torrance. Hundreds of employers will be on hand; many will gather resumes and conduct on-site interviews. This event is sponsored by the City of Torrance, the Torrance Area Chamber of Commerce, the Pacific Gateway Workforce Investment Network and community partners such as El Camino College.

Sections
Meet Linda Detwiler
Newsletters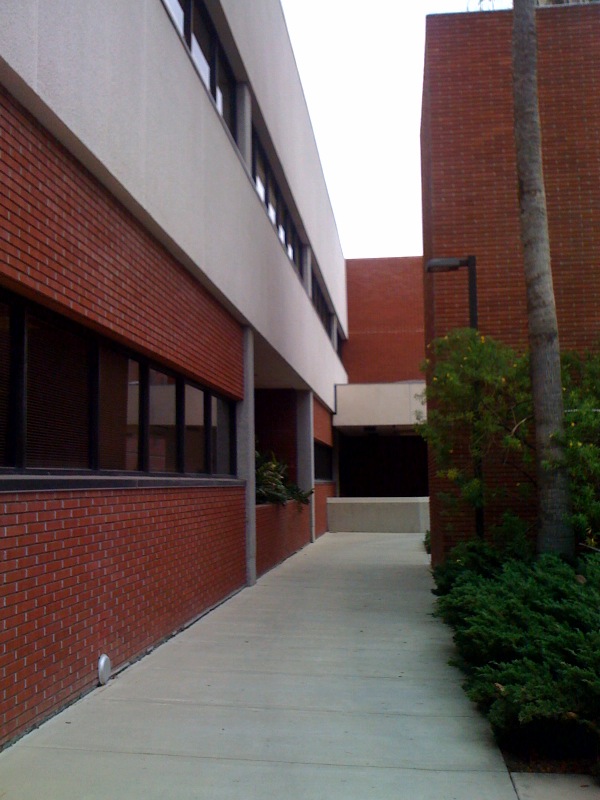 Can you guess where this photo was taken on campus? Submit your best guess here and be eligible to win a fabulous prize! Submit entries by October 29.

Congratulations to Annette Abelin, a cashier for El Camino College for more than 10 years! Annette correctly indentified last month's photo, which was a view from the roof of the Student Activities Center, looking into the quad where the ECC time capsule is housed. Annette won an ECC logo retractable ID holder.