Hope Witkowsky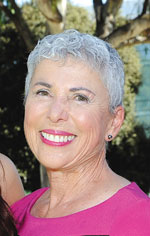 ECC graduate Hope Witkowsky is the producer, writer and host of Senior Scene, a program designed to inform and educate area senior citizens of issues and topics important to them. Hope is a familiar face in the Torrance community, having served as a Torrance City Council member from 2000-2008. She also serves on a number of boards and committees such as the Torrance Artists Guild and the National Telemarketing Victims Call Center. In addition, she is a Torrance Human Service Commissioner and executive director of the federal "Retired & Senior Volunteer Program," or RSVP.
Witkowsky moved to Torrance in 1969 to raise her two children with her husband. She later enrolled in El Camino College, earned an associate degree and went on to earn a bachelor's degree and a master's degree from the University of San Francisco. She credits El Camino College for providing the foundation to her education.
"ECC was the cornerstone of my educational beginning," said Witkowsky, recipient of the 2002 ECC Distinguished Alumni of the Year award. "Without the start I received from El Camino College, I would not be where I am today."