"The Road Ahead" Foundation Fund-Raiser

More than a dozen celebrities from film and television will perform at El Camino College as part of a fund-raising event that will support scholarships for students in financial need. "The Road Ahead: The Art of Storytelling" is scheduled for 7:30 p.m. September 25 and will spotlight a lineup of today's accomplished actors reading powerful short stories and quotes centered on an education theme. Some of the stars scheduled to perform include: Michael Chiklis, from "The Shield" and "Fantastic Four;" Justin Chambers, of "Grey's Anatomy;" Keith David, of "Crash" and "There's Something About Mary;" Emmanuelle Chriqui, of "Entourage" and "The O.C.;" Joe Spano of "Frost/Nixon" and "Hill Street Blues;" C.C.H. Pounder, of "Avatar" and "Law & Order;" and Miguel Sandoval of "Medium" and "Jurassic Park." Tickets cost $150 each and are available online.
Athletics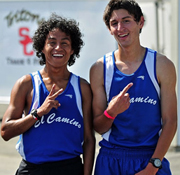 Congratulations to all of our fall athletic teams that have made a strong start to the 2010 season! For schedules and recent headlines about athletic news, click here. All the best to the recent transfers from our cross country/track & field teams including: KayC Wharton, UC Irvine; Joey Bianchi, UCLA; Rebecca Caracoza, CSU Dominguez Hills; and Brent Marcelis, UC Riverside.
ECC sophomores David Cardona and Jose Lezama placed first and second in season opener, the Ventura Cross Country Invitational.
Facebook Reaches 3,000!

Are you following ECC on Facebook? "Like" our ECC Facebook page and become one of our fans! Our Facebook page just tallied 3,000 fans who follow us for the latest info, highlighting student success, faculty/staff news, activities and events, Warrior athletics, and other happenings at El Camino College.
Former ECC Faculty Present Show in Art Gallery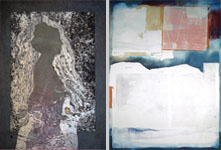 The El Camino College Art Gallery presents "Life Force: Works by Rodman de la Cruz and Medora Wildenberg" through September 24. In "Life Force," the two-dimensional works of Rodman de la Cruz and Medora Wildenberg are reflective, quiet works that are simultaneously imbued with a sense of life that undulates beneath the surface. In this mutual retrospective exhibition, de la Cruz and Wildenberg, who have been married for more than 30 years, display works that travel from the realm of landscape to bio-scape to mandala, and from visceral to conceptual. Both de la Cruz and Wildenberg are former full-time instructors from the ECC Art Department. More…
New Student Welcome Day
Our Fourth Annual New Student Welcome Day on August 25 was a great success! Hundreds of students came to campus to learn all about El Camino College and what we offer in terms of academics and services. Thank you all who helped with this informative event!
AARC Released
Please take a moment to read the recently released 2010 Accountability Report for the Community Colleges (ARCC). The report shows both improvements and declines among the performance indicators for both El Camino College and ECC Compton Center. Overall, both El Camino College and ECC Compton Center have shown improvement across three measures and declines on three; one indicator remained stable. Compared to similar colleges, ECC was above average on three of the seven indicators. Click here for ARCC highlights. More...
Fall Blood Drive

All are encouraged to participate in the campuswide blood drive, set for October 5-7 in the Student Activities Center. The El Camino College Inter-Club Council and Student Development Office sponsors this twice-per-year blood drive with the American Red Cross. Blood donors can come to the Student Activities Center from 9 a.m. to 3 p.m. each day of the blood drive, with extended hours until 8 p.m. October 7. Help us meet our goal and donate life-saving blood. The American Red Cross relies on the generosity of donors for an adequate supply of blood. You can help! To make an appointment, go to the website www.givelife.org and enter sponsor code ECC. For more information, click here.

ECC Compton Center Students Attend
Parson's Summer Institute
Fifteen El Camino College Compton Center students were among a group of 50 community college students who spent a week at the University of California at Irvine Parson's Summer Institute this past summer. This is Compton Center's fifth year partnering with UC Irvine to offer this intensive transfer preparation program, designed to guide community college students as they prepare to transfer to a four-year university. During the week-long program, the students learned strategies for transferring successfully, developed leadership skills, completed a college and career plan, and spent time with mentors who provided guidance in planning their classes and living arrangements. The institute is free and students earned a $300 stipend when they completed the university readiness program.
Picture Perfect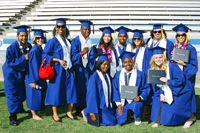 Visit our new Online Photo Galleries, highlighting student success, activities, athletics, and other events at both El Camino College and ECC Compton Center. Just click on the links below and follow the arrows to view the galleries.

El Camino College Commencement Photos

El Camino College Compton Center Commencement Photos
Welcome New Hires!
As we continue to deal with state budget cuts and increasing enrollment demand, we are steadfast in our goal to serve students to the best of our ability. To this end, we hired 20 new faculty members and 16 classified employees, including five that are new positions. Thank you to everyone for your dedication to the college and our students during these financially difficult times. El Camino College remains committed to maintaining all regular permanent employees, while offering the best possible academic and support services to our students. Please take a moment to welcome the newest members of our ECC community!
ECC Compton Center Alumna Named Preschool Teacher of the Year

Gwendolyn Crews, a graduate of Compton College, was one of six preschool teachers in Los Angeles County recently named Preschool Teacher of the Year. She was honored in July at the Board of Supervisors meeting. The award, first given in 2008, is sponsored by Los Angeles County Universal Preschool to recognize outstanding preschool teachers "for going above and beyond the call of duty to better prepare students for school and life." More...
ECC Compton Center LRC Workers Begin Repairs
Workers began corrections to the glazed barrel vault assembly at ECC Compton Center's Learning Resource Center on September 13. In addition, the existing heating and air conditioning system will be enhanced to meet current and future technology requirements. Additional improvements include: repairs and/or installation of new carpet; electrical and data distribution; and acoustic adjustments and programming modifications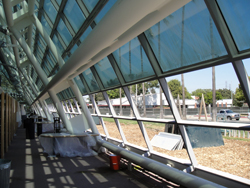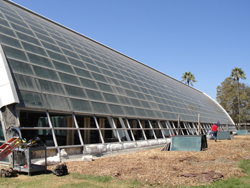 Sections
Meet Linda Detwiler
Newsletters
Can you guess where this photo was taken on campus? Submit your best guess here and be eligible to win a fabulous prize! Submit entries by September 30.

Congratulations to last month's winner, Cheryl Shenefield in ITS, who correctly identified the photo as the grassy patio area between the physics and life sciences building. Cheryl won a gift card to Starbucks.