ECC Olympic Moments: George Stanich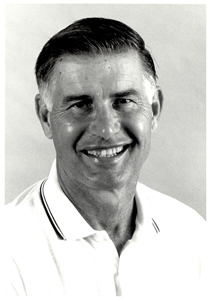 As the world enjoys the summer Olympics in London, it is a great time to remember some of El Camino College's own Olympic history. One Olympic standout is ECC alumnus George Stanich, a high jumper bronze medalist in 1948, when the games were also in London. A multi-talented athlete, George also played basketball for UCLA, under Coach John Wooden. Stanich was a two-time all-conference guard and in 1950, led his team to its first NCAA tournament appearance. He also played Bruin baseball, and went on to play professional baseball after graduation, pitching for the Oakland Oaks of the Pacific Coast League, as well as the Idaho Falls Russets and Stockton. George later became an ECC faculty member from 1955-1992.
Many will remember ECC alumna Flo Hyman, who played volleyball for the US in the 1984 games right here in Los Angeles. Flo was an ECC student before transferring to the University of Houston. Most recently, ECC was represented by Cliff Meidel, who competed in sprint kayaking in the 1996 Olympics in Atlanta. He returned to the Olympics in 2000, competing in sprint kayaking and serving as the official Team USA flag bearer. His inspiring story of courage and success was broadcast to nearly 2 billion viewers during the 2000 Olympics, detailing the 1986 construction accident that left him with a slight limp and unable to run. For a list of other ECC Olympians, click here.