Architectural Aura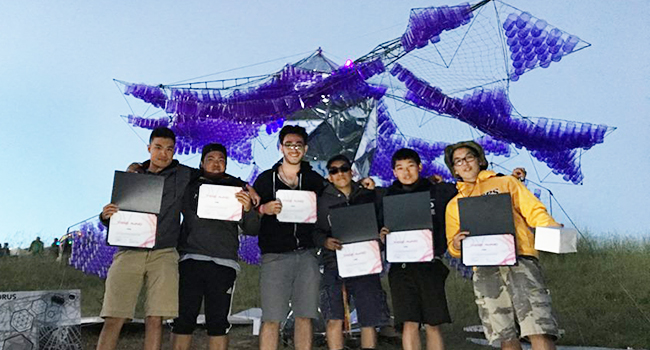 ECC architecture students won the "best theme award" at California Polytechnic University, San Luis Obispo's "Design Village" contest this past spring. At this annual competition, students are challenged to design and build modular tent-like structures in Poly Canyon. ECC students Koko Manouelian, Regino Vital, Arthur Takioto, James Iwamasa, Christian Relleve and Brian Gonzales competed against 30 to 40 other architecture schools, some community colleges and other university programs from around the United States.
This year's theme, "Aura," explores the metaphysical properties of designed space. The ECC team interpreted this theme by creating a structure featuring a purple roof made of plastic cups inserted in a mesh that attached to a welded steel structure. The view looking from the inside out resembles a kaleidoscope.
According to the competition description, "the essential nature of any work of architecture always transcends its material and tectonic qualities; Aura underscores this distinction by invoking the idea of an immaterial essence to architecture." In keeping with the theme, students were asked to orchestrate the material and tectonic nature of their designs to produce a transcendent and immaterial effect – a phenomenon, atmosphere, or idea that becomes the fundamental architectural experience, and which cannot be sufficiently described through only an objective description of the design's physical qualities. Thus, Aura.