El Camino College Fire Academy Class 146 Celebrated Graduation
Recruit Riley Whaling graduated at the top of his class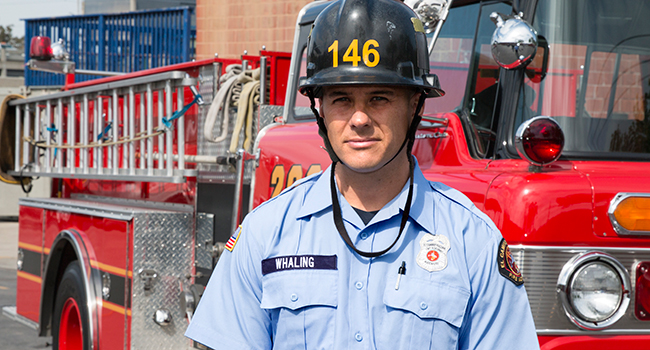 What's it like to be Riley Whaling, one of the 25 Fire Academy Class 146 graduates?
Start by waking up at 4 a.m. to get ready and study before morning formation at 6:30 a.m. Train all day until about 5 p.m., and then head home to your wife and children by 6:45 p.m. Have dinner, tuck in your 3-year-old and 1-year-old sons, then study before going to sleep by 10 p.m. to make sure you can do it all again the next day.
Whaling graduated at the top of his class from the El Camino College Fire Academy on April 29. After a short ceremony, graduates demonstrated their work by suppressing a full-blown structure fire and controlling a vehicle fire. Whaling said he couldn't have made it through the program without his classmates. The group worked together to pull through the challenging program – the expectations are high, and the program is thorough and challenging.
"It has occupied every moment of the last three months of my life, exposed me to good training, and pushed me physically, mentally and emotionally," Whaling said. "It can feel like drinking from a fire hose and you are expected to not spill a drop."
Whaling graduated in 2001 from Trabuco Hills High School in Mission Viejo. He joined the U.S. Marines and served as a public affairs officer, and later worked as a pastor with a Christian church in San Clemente. With the support of his church, Whaling started taking fire science classes in Fall 2015. He said the support from El Camino College's Veterans Resource Center was extremely helpful with paperwork and navigating classes.
"Recruit Whaling is an excellent leader who is well respected by staff and recruits," said Chief William Melendez, training coordinator of the El Camino College Fire Academy. "He works very hard, he is dedicated to the team, and has excellent values. Whaling will be an excellent firefighter in the future and perhaps an excellent chief."
While firefighting is a serious career change, Whaling said it's a perfect fit for him. He said he hopes to find a position this summer, and eventually return to finish his associate degree in fire science.
"I love helping people and solving problems," Whaling said. "I feel like it's a good blend of the skills I have and a great way to do meaningful work. Having support at the college and also at home from my wife Megan was invaluable to being successful in this program."
For more on the ECC Fire Academy, view http://www.elcamino.edu/fire_academy.