Counseling Appointments
When you schedule an appointment, you are scheduling an appointment to come in and see a counselor at the Counseling Office the following week, or attend a workshop in a designated location. Limit one appointment per student. Counseling appointments open for scheduling online beginning each Thursday, 1:00 p.m., for the following week. (subject to change during holidays, etc).
To make an appointment, click the link below:
To see all available appointments, select "ALL" in the drop-down menus.
Grad Intent Deadline for Fall 2018 is Thursday, October 18, 2018.
See flyer below for drop-in times/dates: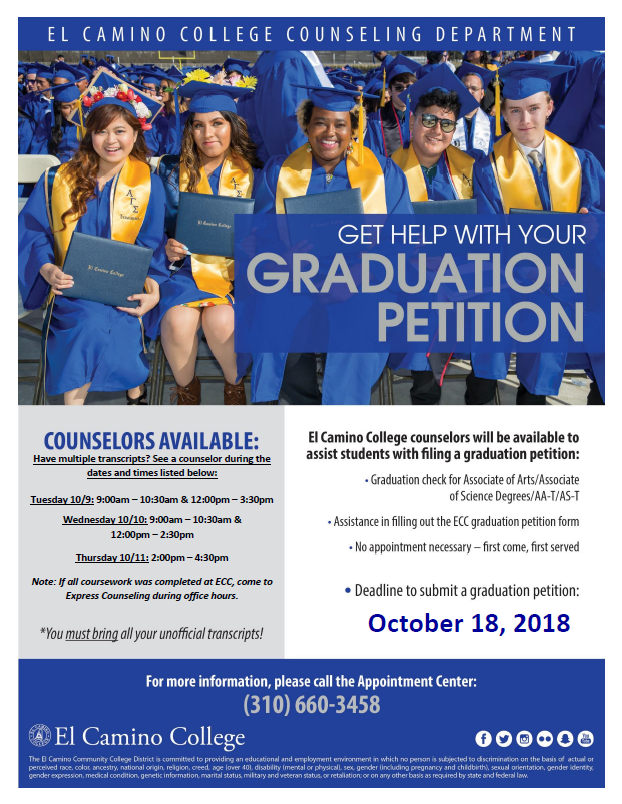 Having trouble accessing the online scheduling system? Seeing a blank screen?
Try one of these troubleshooting guidesheets by clicking on the links below. You can also right-click on the Online Counseling Appointments link in MyECC and open the page in a new tab. This should work for all web browers listed below.
If you are unable to make an appointment online, you may make an appointment in person at the counseling office. You may also call the Appointment Center at (310) 660-3458 during office hours to check for same-day and/or same-week appointments (subject to availability).


Do you have a quick question that you need answered today?
Express Counseling is generally available in the counseling office on Mondays and Thursdays from 8:00 a.m. - 5:00 p.m., Tuesdays and Wednesdays 8:00am to 7:00pm, and 9:00 a.m. - 1:00 p.m. on Fridays**. Express Counseling is for quick, general questions, or for prerequisite clearances to enroll in classes. For prerequisite clearances, students coming from other colleges need to bring copies of their transcripts for the counselor to review.
Express Counseling is on a first-come, first-served, walk-in basis and open to new, current and returning students who have an El Camino College student ID number.


Why wait in line, when you can meet with a counselor online?!
We're happy to announce that we are now offering virtual counseling. Virtual counseling services allow students to experience a face to face counseling session in an online environment utilizing Cranium Café. The full service, online appointment allows students to connect with a counselor, and complete all services that are available in the traditional, in-person counseling appointment format. Click here to find out more about virtual counseling and to schedule an appointment!
Counseling Office Hours**
Counseling office hours of operation are subject to change due to holiday closures, Summer/Winter session schedule, etc. Visit the Counseling web page for more details on office hours.
**Subject to change due to holiday closures, etc.