Federal Work Study Program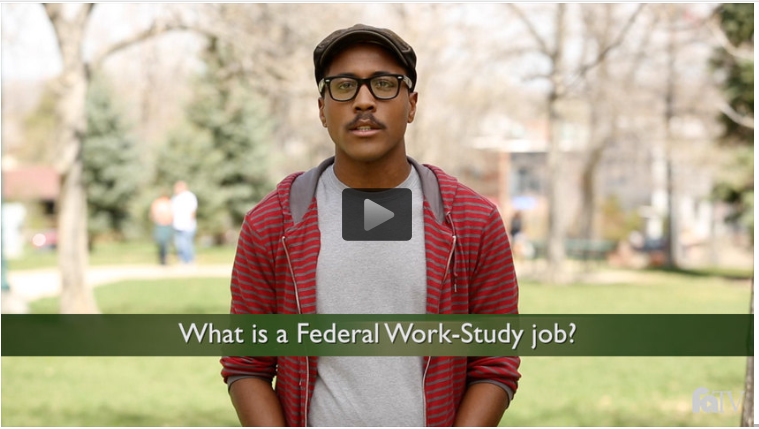 General Information
The Federal Work Study Program (FWS) is a federally funded program and is awarded to eligible students through the Financial Aid Office at El Camino College. The FWS Program affords students with an opportunity to work on or off campus and earn money to supplement expenses not covered by grants or loans. To apply and participate in the FWS program, a student must enroll at least half time (6 units) during the fall and spring semesters.
Awards
El Camino College receives a limited amount of FWS funds and eligible students are awarded on a first-come-first-serve basis. Receiving a FWS award does not guarantee employment. It is the students' responsibility to follow the appropriate steps to secure employment.
Student Employment
Eligible students may apply for employment to work on or off campus through the FWS program. They must hava an Award Letter (sample of an Award Letter); and be eligible for federal student aid: however, not all students who receive an award letter are eligible. Students who do not have an award letter like the sample above must wait to have their eligibility determined by the Financial Aid Office before they complete a Job Request Form. Award letters are viewable on MyECC.
2019-20 Student Employment
Any student wishiing to participate in the FWS Program must complete a Job Request Form to find out if you are eligible. Click on the FWS Job Request Form to begin the application process and follow the instructions on the form.
Note, only students who meet all the requirements for federal aid may be eligible to work.
On and Off Campus Employers
Managers, faculty and staff may hire FWS students to work within their division/department.
Follow these instructions if you are interested in hiring a FWS student employee.
Off-Campus Employers
Off-campus employers may also participate as a partner in the El Camino College Federal Work Study Program (FWSP). Whether you are a private for profit company, non-profit organization or government agency, the FWSP can provide you with student employees representing a diverse group of majors and experience to assist you meet your employment needs while you, the employer, provide the student with a valuable real-world learning experience. The employer's share of student wages varies depending on the employer's status.
Please review the information below to determine your status and share of FWS obligation. If you think that your organization may benefit or if you are interested in partnering with El Camino College and the FWS Program, please contact the FWS coordinator, Mr. Luis Mancia at 310-660-3593 Ext. 3496, for additional information.
Non-Profit or Government Agencies
Non-profit or government agencies can receive up to 75% share of the FWS student's hourly wages

Contact the FWS Coordinator for additional assistance
Private Companies
Private for-profit companies receive up to 50% share of the FWS student's hourly wages

Contact the FWS Coordinator for additional assistance
Federal Work Study Program Benefits
Talented students with various levels of knowledge, talents and abilities

A subsidy of at least 50% towards the student employee's hourly wages

Free job postings to hire FWS students

Job site interviews

Community partnership with El Camino College

Provide real-world work experience to a college student
Documents Required to Employ A FWS Student
El Camino College FWS Contract

FWS Payroll Authorization

Certificate of Insurance
For more information about the Federal Work Study Program, contact Luis Mancia at (310) 660-3593 Ext. 3496 or via email at lmancia@elcamino.edu