Classroom Workshops
Student Health Services is pleased to partner with faculty and staff to offer Classroom Workshops for students throughout the semester. Popular Topics include:
Overview of Student Health Services
Stress Management
Time Management
Avoiding Burnout/Self-care
Helping a Friend
Healthy Relationships
Conflict Resolution
Sleep Hygiene
Healthy Eating
Culture Shock/Reverse Culture Shock (great for international students and students going abroad)
If you feel your students would benefit from a Classroom Workshop on one of these topics or another of your own interest, please fill out Online Request Form. Staff psychologist, Victoria Kwon, Ph.D. will respond within 2 business days. Feel free to email her at vkwon@elcamino.edu with any questions. A minimum of 2 weeks notice for workshops is requested. We may be able to accommodate an earlier request depending on staff availability.
Campus Wide Workshops
Our Current SPRING 2018 Workshops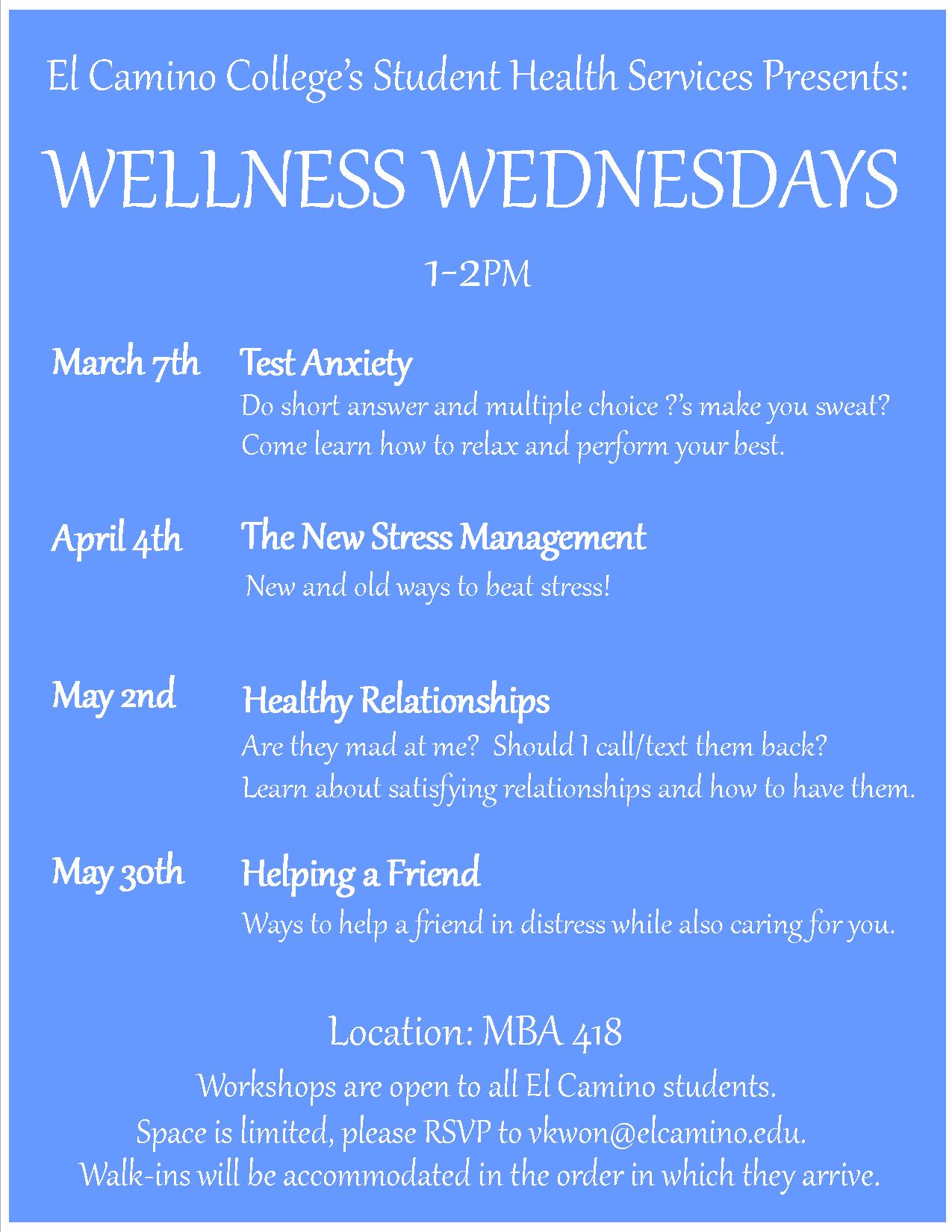 Wellness Wednesdays Series
Presented by Dr. Victoria Kwon
3/7 - Test Anxiety: Do essays, short answer and multiple-choice exams make you sweat? Come learn how to perform your best.
4/4 - The New Stress Management: New and old ways to beat stress.
5/2 - Healthy Relationships: Are they mad at me? Should I call/text them back? Learn about satisfying relationships and how to have them.
5/30 - Helping a Friend: Ways to help a friend in distress while also caring for you.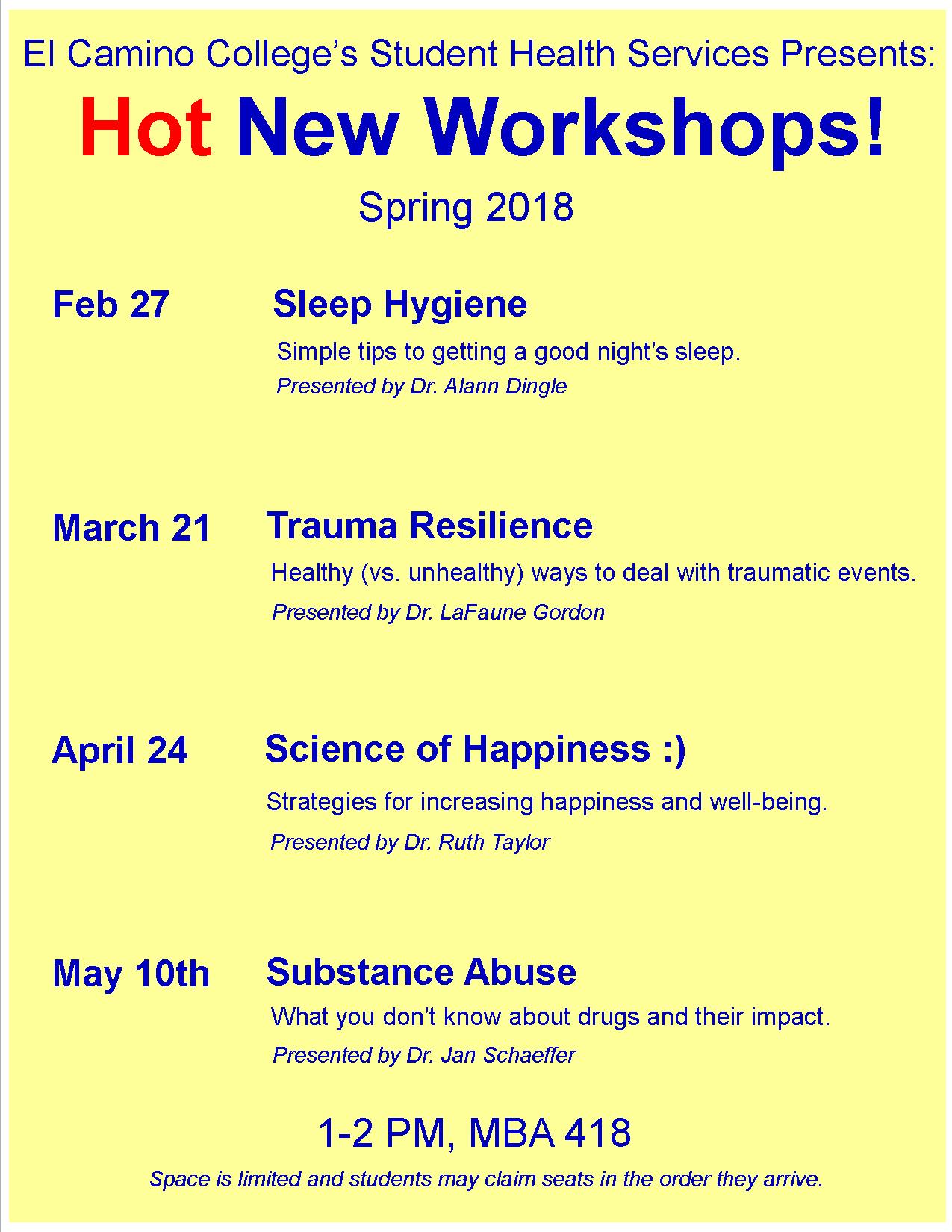 Hot New Workshops
2/27 – Sleep Hygiene: Simple tips to getting a good night's sleep.
Presented by Dr. Alann Dingle
3/21 – Trauma Resilience: Healthy (vs. unhealthy) ways to deal with traumatic events.
Presented by Dr. LaFaune Gordon
4/24 – The Science of Happiness: Strategies for increasing happiness and well-being.
Presented by Dr. Ruth Taylor
5/10 - Substance Abuse: What you don't know about drugs and their impact.
Presented by Dr. Jan Schaeffer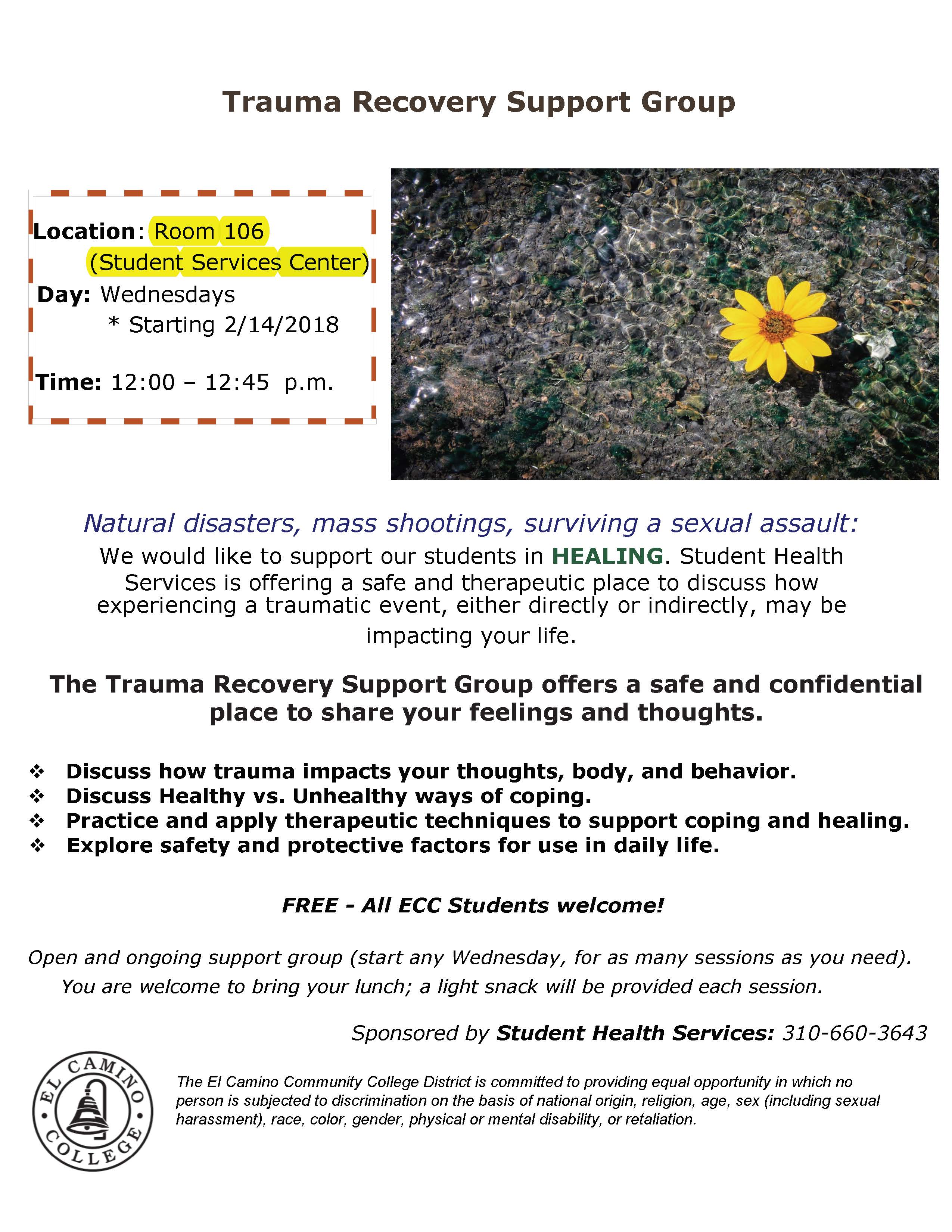 New Trauma Recovery Support Group:
(Spring Semester 2018) Every Wednesday from 12:00 p.m. to 12:45 p.m
Location: Student Services Center - Conference Room 106