Student Success Program
(Academic/Progress Probation and Dismissal)
El Camino College has two types of probation: Academic Probation and Progress Probation. The purpose of probation is to encourage a student having academic difficulties seek appropriate guidance and support in formulating and achieving goals.
We are here to support you. The Student Success Program offers counseling and advising, in addition to a variety of enhancement workshops, and can also connect you with additional support services on and off campus.
ATTENTION:
Effective Monday, August 12th, our program has relocated to the 2nd floor of the new Student Services building inside Counseling.
---
Students on Academic/Progress Probation Level I and Level II, please review the checklist below.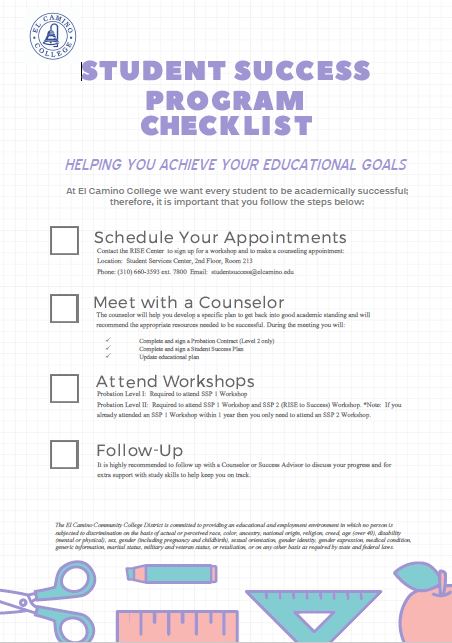 ---
Workshops
SSP 1 Workshops
Tuesday, 8/20 @ 10am
Wednesday, 8/21 @ 4pm
SSP 2 Workshops
Monday, 8/19 @ 10am ~ Balancing School and Life
Wednesday, 8/21 @ 5pm ~ Choosing a Major
Thursday, 8/22 @ 2pm ~ Stress Management
To sign-up, please call (310) 660-3593, x7800 or email us at
studentsuccess@elcamino.edu.
Please note schedule is subject to change based on demand.
Additional August workshops will be added at a later date. Please check back periodically. Thank you!
---
ECC Fall 2019 Dismissal Reinstatement Appeal Process has CLOSED
If you submitted your Dismissal Reinstatement Appeal before the deadline, you will receive notice of the status of your petition within 1-2 weeks at the email address you provided.

Click on the FAQs icon to read through the probation/dismissal frequently asked questions.
---
Student Success Program Team
---