Student Success Program
(Academic/Progress Probation and Dismissal)
El Camino College has two types of probation: Academic Probation and Progress Probation. The purpose of probation is to encourage a student having academic difficulties seek appropriate guidance and support in formulating and achieving goals.
We are here to support you. The Student Success Program offers counseling and advising, in addition to a variety of enhancement workshops, and can also connect you with additional support services on and off campus.
---
Students on Academic/Progress Probation Level I and Level II, please review the checklist below.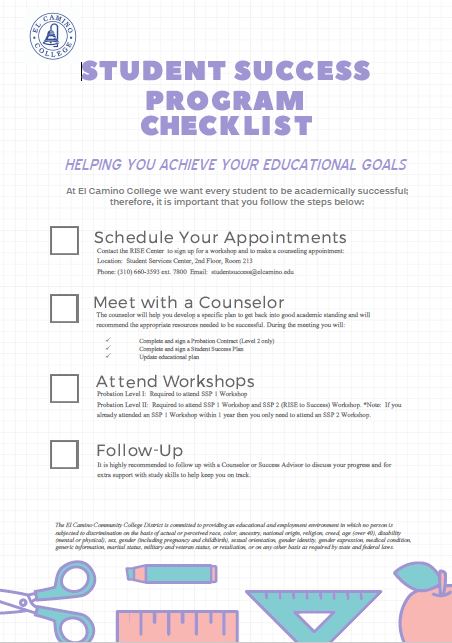 ---
October Workshops
SSP 1 Workshops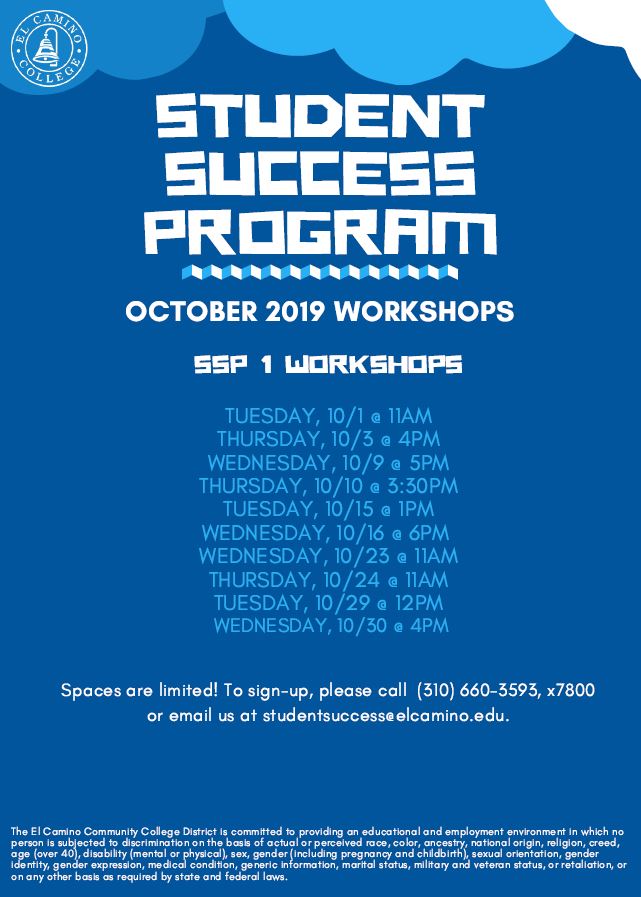 SSP 2 Enhancement Workshops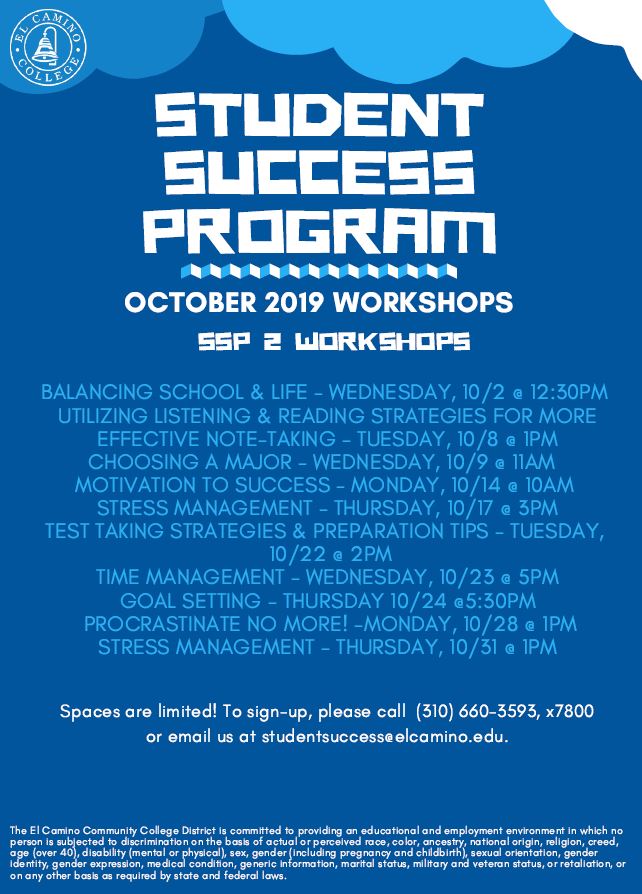 Spaces are limited! To sign-up,
Please note schedule is subject to change based on demand and additional workshops can be added at a later date. Please check back periodically.
---
Fall 2019-SSP Drop-In Hours
Sessions may be up to 15 minutes and is available on a first-come, first-serve basis.
Do you have quick questions about your probation status? Drop by to talk to a counselor or advisor at the days and times listed below:
Mondays: 10-11am and 3-4pm (Xiao Wang, Counselor)
Tuesdays: 10-11am and 4-5pm (Angie Hagan, Advisor)
Wednesdays: 8-9am and 12:30-1:30pm (Dora Miranda, Counselor)
Thursdays: 11-12pm and 4-5pm (Martha Perez, Advisor)
During the session, you can:
Ask questions regarding probation or schedule missing requirements
Develop and sign a probation contract with counselors
Get advise on future classes with counselors
Get referrals to on/off campus resources
*You will need to check-in at one of the Counseling front windows; just let them know you are here for SSP Drop-In*
---
ECC Fall 2019 Dismissal Reinstatement Appeal Process has CLOSED
If you submitted your Dismissal Reinstatement Appeal before the deadline, you will receive notice of the status of your petition within 1-2 weeks at the email address you provided.
---

Click on the FAQs icon to read through the probation/dismissal frequently asked questions.
---
Student Success Program Team
---