WRIEC - Western Region Interpreter Education Center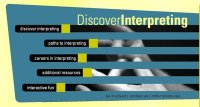 The Western Region Interpreter Education Center (WRIEC), a collaborative endeavor of Western Oregon University, Monmouth, OR and El Camino Community College, Torrance, CA was dedicated to the provision of quality education and professional development opportunities for interpreters at all skill levels.
In conjunction with the National Interpreter Education Center and the other Regional Interpreter Education Centers, WRIEC served as an educational resource center for interpreters, consumers, rehabilitation personnel, interpreter educators, and interpreter referral personnel.
This grant was funded from the U.S. Department of Education Rehabilitation Services Administration. WRIEC served the Western United States, including Alaska, American Samoa, Arizona, California, Commonwealth of Northern Mariana Islands, Guam, Hawaii, Idaho, Nevada, Oregon and Washington.
Click here to link to the WRIEC website to view current information and calendar of events.