Student Support Expo Fall 2019!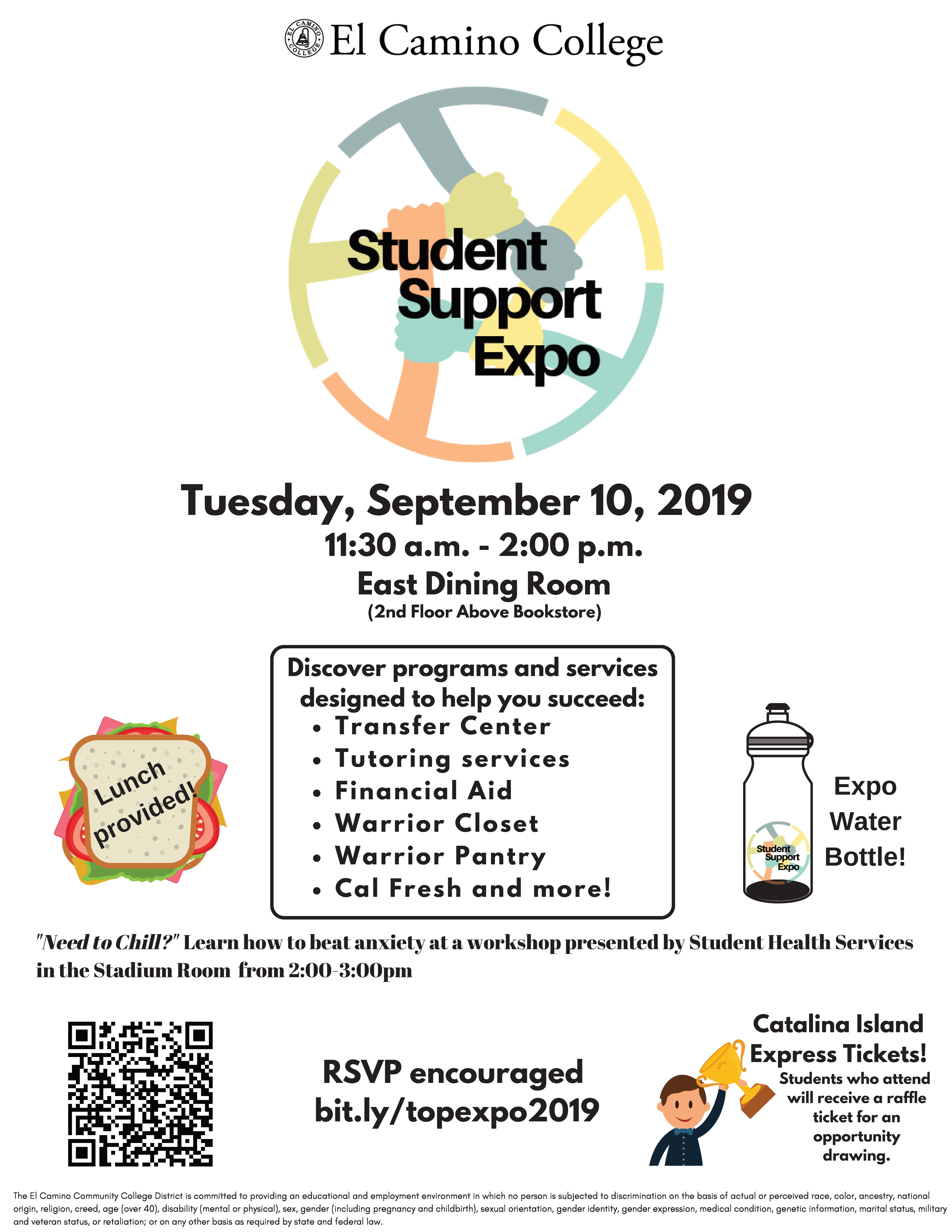 Dear El Camino College Warrior,
You are cordially invited to the 3rd annual Student Support Expo next Tuesday, September 10th from 11:30am-2:00pm in the East Dining Room.
Join us to learn more about resources available related to food, housing, and transportation. The Expo will feature Warrior Closet and Warrior Pantry pop-up shops, as well as an on-site financial aid lab.
Come get free lunch, snap a photo in the photobooth, and receive a reusable water bottle!
RSVP by clicking the image or selecting this link here: http://bit.ly/topexpo2019
"Need to Chill?" Learn how to beat anxiety at a workshop presented by Student Health Services following the Expo from 2:00-3:00pm
Student Support Expo Fall 2018 Gallery
The TOP Team is glad to invite you to the 2nd Annual Student Support Expo on September 11th.There will be a resource fair in the East Dining Room going on from 11 am - 2 pm and we will also have workshops for students to help with the necessary information to navigate and succeed in their education including workshop topics on financial aid, major/ career exploration, and study skills.
Fall 2018 Expo Participants
---
The Student Support Expo
El Camino College annually holds The Student Support Expo hosted by The Opportunity Project (TOP). TOP is a program that links a counselor with specific pre-transfer English and math courses for proactive student support. In this way, student support services and resources are integrated into the classroom experience. As a result, student support services, instructional faculty, and students are collaboratively engaged in the process of education.
The Student Support Expo offers a resource fair and workshops focusing on campus supports for student success. The resource fair showcases the variety of academic resources at El Camino College available to students including the Math Study Center, Reading Success Center, Financial Aid, Transfer Center, and more! The Student Support Expo workshops provide students the necessary information to navigate and succeed in their education including workshop topics on financial aid, navigating the college experience, and study skills. Ultimately, TOP through the Student Support Expo, wants to ensure that students feel welcomed, supported, encouraged, and challenged to be the best college students they can be.
Additionally, stay tuned in for upcoming Fall 2018 expo announcements!!!
---
Fall 2017 Expo Participants
---
Fall 2017 Gallery
---
To Student Support Expo Participants...
We want to thank all of you so much for participating in our first-ever TOP Student Support Expo!
When we first came up with this idea, our vision was for students to have access to El Camino's support services all under one roof so they may walk away with tools to succeed.
You helped bring this vision come to life. Over 175 students participated and learned more about the programs and resource centers!
We look forward to expanding and improving this event in the future, and hope that even more programs can be a part of it again.
A theme in the feedback we got from students was how friendly and welcoming everyone was at the Expo. A huge kudos to all participants!
Thank you for making a positive difference in the lives of all participants and promoting their success at El Camino College.
The TOP Team!