ADMIT CELEBRATION RECEPTION

The Admit Reception is held at the end of the Spring semester to honor and celebrate transfer students who have been admitted to a University of California, a California State University, or a Private/Out-of-State University.
At the reception, you will have an opportunity to meet with a representative from the university you will be attending to discuss the next steps, meet others who have been admitted to the same university, receive a Certificate in honor of your acceptance and enjoy some refreshments.

You must RSVP in the Transfer Center, located on the 1st Floor, Student Services Bldg. or call (310)660-3593 x 3481 or email us at tbarragan@elcamino.edu.  Please include your name, the university you are attending, your major, and your current phone number.

We would appreciate if you could also complete the "Accepted to the University" form and return it to Theresa Barragan or Blanca Prado in SSC 108L.  If you have any questions call us at 310.660.3593 x3481 or x5481.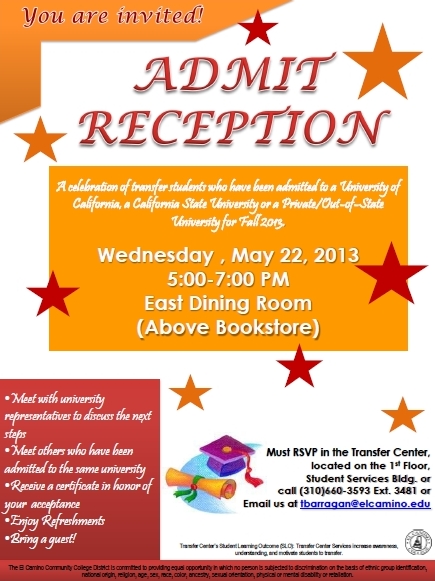 For more information, visit the Transfer Center located on the first floor of the Student Services Center, or call (310) 660 - 3593 Ext. 3408
 
The El Camino Community College District is committed to providing equal opportunity in which no person is subjected to discrimination on the basis of ethnic group identification, national origin, religion, age, sex, race, color, ancestry, sexual orientation, physical or mental disability, or retaliation.