WELCOME TO EL CAMINO COLLEGE
EXTENDED OPPORTUNITY PROGRAMS & SERVICES (EOPS)
---
 Celebrating over 45 years of serving students and families in our communities since 1969. 
---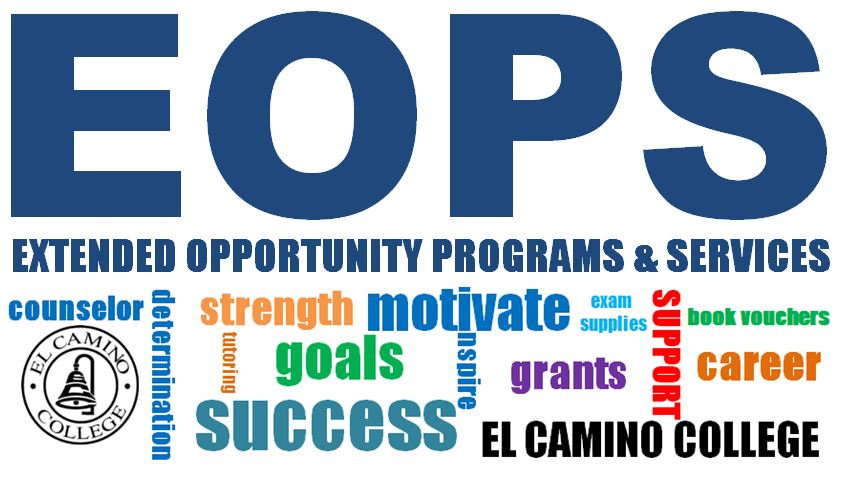 Mission Statement
Extended Opportunity Programs & Services (EOPS) at El Camino College is dedicated to the delivery of a comprehensive program that encourages the enrollment, retention, and transfer of students who are challenged by language, social, economic, and educational disadvantages. 
EOPS is designed for the sole purpose of enhancing the success of students in meeting their educational goals and objectives. As a comprehensive program, EOPS is driven by a philosophy of providing services that are "over and above in addition to" services available to all students. EOPS strives for innovative and creative ways to enhance and encourage students' academic success and excellence, while fostering the student's personal growth and development. 
---
Program Legacy
EOPS was established in 1969, amidst the struggle for civil rights and racial equality. Students and community activists held demonstrations to protest the under-representation of minorities and low-income students in higher education. In response to the social and political pressure, the state of California passed Senate Bill 164 and amended the Title 5 regulations, to authorize community colleges to develop the EOPS program for the purpose of supporting economically and educationally disadvantaged students in the community college system. 
Since then, EOPS has been operating under the philosophy that everyone has the potential to learn. Necessary support and retention activities were developed to include intensive bilingual counseling, assistance in applying for financial aid, tutoring, summer enrichment and retention programs, book services, emergency loans and special orientations. 
---
Attention to all Students. . . EOPS is Now Hiring Tutors
Students interested in working for EOPS, please click here to see our job announcement flyer. Please contact Sandy C. Carbajal, Program Coordinator for more information. 
Request an EOPS Presentation for your School, Classroom, or Organization
If you are interested in having an EOPS representative present on EOPS services and eligibility requirements please complete the EOPS/CARE Outreach Request Form and someone will contact you via email once your request has been confirmed. 
Staff Information
 ECC Student Support Services Division
Student Services Center
Rooms 201-203
Contact Information
Administration (310) 660-3466
Counseling (310) 660-3464
Tutoring (310) 660-7088
Outreach (310) 660-9007
Ngozi Akosia
nakosia@elcamino.edu
Brenda Alvarez
balvarez@elcamino.edu
Anna Brochet
abrochet@elcamino.edu
David Brown
dmbrown@elcamino.edu
Sandy Carbajal
scarbajal@elcamino.edu
Valerie Doby
vdoby@elcamino.edu
Peggy Ginocchio
pginocch@elcamino.edu
Edith Gutierrez
egutierrez@elcamino.edu                                                            
                   Winter Hours of Operation          
El Camino College will be closed for winter recess from Decemebr 23, 2016 - January 2, 2017.
Monday                                8:00am to 5:30pm
Tuesday                                8:00am to 5:30pm
Wednesday                          8:00am to 6:30pm
Thursday                              8:00am to 5:30pm
Friday                                   9:00am to 1:00pm
Linda Massarotti
lmassaro@elcamino.edu
Nancy Paquet
npaquet@elcamino.edu
Maria Ramirez
maramirez@elcamino.edu
Dexter Vaughn
dvaughn@elcamino.edu
Karen Weber
kweber@elcamino.edu