STUDENT RESOURCES:
--------------------------------------------------------------------------------
Are you considering college? Aren't sure where to begin? Here are some useful sites designed to help potential college students from all ages and backgrounds.
ASSIST.org:
ASSIST is an online student-transfer information system that shows how course credits earned at one public California college or university can be applied when transferred to another. ASSIST is the official repository of articulation for California's public colleges and universities and provides the most accurate and up-to-date information about student transfer in California.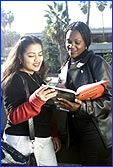 CSU Mentor:
CSU Mentor provides extensive information about the California State University System. You can access links to a special information for every CSU campus, the transfer process, international students programs, disabled students and students in the Educational Opportunity Program.   Each campus has an electronic admissions application.
University of California Admissions & General Information:
This site provides admissions resources and campus information designed to help students (and their parents) who want to attend UC as well as current students feel like part of the UC family.
California Colleges.edu:
CaliforniaColleges.edu is the state's official website that provides information about higher education in California for students, counselors, and parents.
Free Application for Federal Student Aid (FAFSA):
Federal Student Aid, is an office of the U.S. Department of Education that ensures that all eligible individuals can benefit from federally funded or federally guaranteed financial assistance for education beyond high school.
El Camino College Financial Aid Office:
The El Camino College Financial Aid Office assists students with the financial aid application process, including grants, work-study, scholarships and loans.  Workshops, advising and financial aid counseling services are also provided.
University of North Carolina, Wilmington: Career Center:
The Career Center at the University of North Carolina, Wilmington presents detailed descriptions for a broad range of majors to help you decide if they are right for you and make the appropriate educational choices.