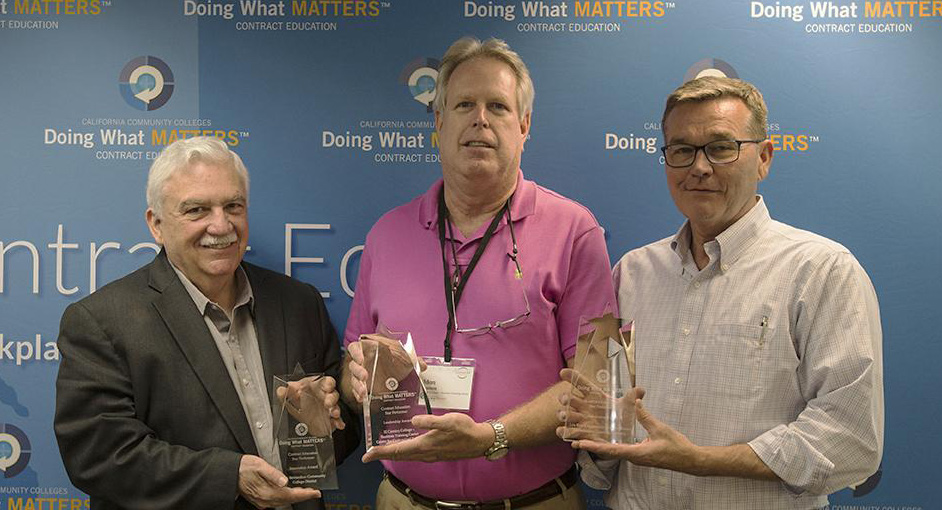 Star Performer award honorees from the recent Contract Education Summit include: (from left): Robert Levesque, Interim Executive Director – Economic Development & Corporate Training, San Bernardino Community College District, Innovation Award; Eldon Davidson, Director – Center of Customized Training, El Camino College Business Training Center, Leadership Award; and Bruce Winner, Custom Training Manager, Los Rios Community College The Training Source, Collaboration Award.
The ECC Business Training Center's Center for Customized Training and its director recently received the California Community College Contract Education Star Performer Leadership Award. The award recognizes the success of the creation, leadership, development, and implementation of a statewide network of California Employment Training Panel (ETP) colleges known as the Community College ETP Collaborative (CCETPC).
ECC's Center for Customized Training and director Eldon Davidson were recognized at the Contract Education Summit in Sacramento for practicing the highest level of leadership and collaboration concerning economic development, contract education and serving the needs of industry and trainees through the development of CCETPC. After a proven track record of success, the CCETPC is now rebranding itself into the California Community College Contract Education Collaborative (CCCCEC), with more than 30 colleges that have shown interest in expanding contract education to better serve businesses across the state through sharing resources, curriculum development, best practices, and by providing innovation and responsiveness in developing new delivery methods and services.
Davidson's dedication to the ETP, the California Community Colleges system and other stakeholders was celebrated during the presentation of the award: "The value this director and program bring to the state, with the mission of moving Contract Education forward, is priceless." A result of the collaboration is that El Camino College and the community it serves have gained increased funding, additional resources to serve regional businesses, high-quality instruction, and more! The Business Training Center's Center for Contract Education Department has grown four times in size as compared to seven years ago. For more information on the El Camino College Business Training Center – Center for Customized Training, click here: http://businessassist.elcamino.edu/advanced-customized-training.html
Background:
The CCETPC was created in 2014 to address a serious shortfall in ETP funding for colleges addressing area workforce needs. At the time, it was clear that the ETP Panel didn't fully understand the operations/funding of community college contract education units across the state, their effectiveness in delivering workforce programs, how sector priorities and missions align with the ETP, and the high-performance rates in delivering ETP programs.
A group of seven key colleges came together (Glendale Community College, College of the Canyons, San Bernardino Community College District, Kern Community College District, El Camino Community College District, Chaffey College, and Butte College) to develop a Community College Performance Report for the ETP State Panel. The 2015 report was prepared by ECC's Davidson and clearly demonstrated that community colleges showed the highest performance and delivered programs at the lowest cost among all Multiple Employer Contractors (MEC) providers. With 114 colleges statewide, it was evident that California Community Colleges could play a significant role in assisting businesses across the state to increase competitiveness and remain in California. As a result, funding has dramatically increased for all MEC colleges, new colleges have been added, and funding has increased substantially. Today, ETP sits on the Executive Committee of the CCETPC engaging in futuristic planning for better serving businesses. To learn more about the CCETPC, view: http://www.upskillcalifornia.com/2017/05/employment-training-panel-collaborative-.html
The ETP is a business- and labor-supported state agency that assists employers in strengthening their competitive edge in the economy by providing funds to partially offset the costs of job skills training. California's ETP is a performance-based program, providing funds for trainees who successfully complete training and are retained in good-paying jobs at or above a required wage base for at least 90 days. Hundreds of employers have benefited from El Camino College's involvement with ETP through this program to increase their competitive edge. Today, El Camino College is one of the largest college providers of ETP-funded programs in California, providing training to the aerospace, manufacturing, and alternative and renewable fuel and vehicle technology business sectors.
---
Scroll