THE ART GALLERY WILL REMAIN CLOSED UNTIL FURTHER NOTICE DUE TO CORONVIRUS PRECAUTION. WE WILL CONTINUE HOSTING ONLINE EXHIBITIONS HERE.

2021 Online Student Show
May 17 - August 29, 2021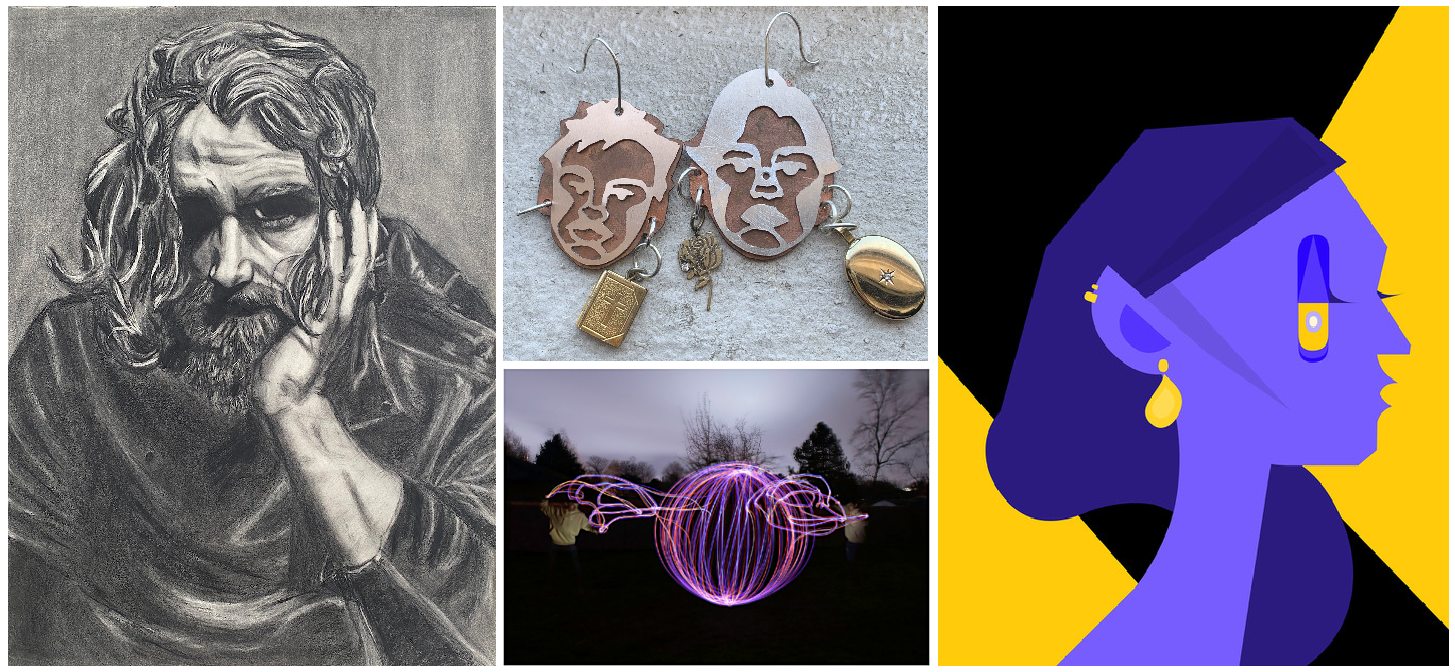 El Camino College Art Gallery is pleased to present works from the students of El Camino College Art Department, Spring 2021. The majority of the work has been produced during the online season of classes taught during the COVID-19 pandemic. The college is particularly proud of both the students and the instructors who have persisted throughout this stressful period and who have succeeded in creating admirable examples of artwork .

All artwork in this exhibition has been selected by the instructors of each of the studio classes, awarding two outstanding students within each section, placement in this online show.

The annual Student Art Exhibition includes a variety of art works fabricated from a wide range of media. The show provides a unique glimpse into the educational and an aesthetic philosophy advocated by the El Camino College Art Department and illustrates a diversity characteristic of the contemporary art world.

Melissa Davis (Left)
Portrait of a Man
Charcoal on Paper
24" x 18"

Kassie Simons (Top Center)
Better Together
Copper, Aluminum, Found Objects
2" x 3" x .5"

Katie Masciotti (Bottom Center)
Light Writing
Digital Photograph

Roanne Kim (Right)
Letterform Negative Shape Portrait
Digital Vector Drawing

Despite an occasional departure from tradition, the majority of the works in the exhibit are grounded in an academic approach to art study and training. Represented in the exhibition are traditional two-dimensional painting media (oil on canvas, acrylic on canvas, watercolor on paper) as well as drawing media on paper (graphite, charcoal, pastel and Conte). Printmaking techniques include linoleum block, lithography, etching and screen printing (serigraphy).

The computer design classes produced video animation as well as photo-based laser printed graphic designs and illustrative pieces. The animation is available to view by clicking the designated links.

Additionally, the show includes a cross section of traditional three-dimensional techniques taught in the department -- jewelry construction; wheel thrown and slab-constructed clay vessels and hand-built objects as well as a variety of mixed media constructions.

The Student Show may be characterized by an energy and vitality unique to emerging artists. Please join us in celebrating the creativity, talent and tenacity of this particular group of artists.
Design & Production by SP 20 students of Art 143 Digital Publishing Fundamentals
Perfect bound book, Color Cover, BW pages, 5.5"x8.5"


Design & Production by SP 20 students of Art 143 Digital Publishing Fundamentals
Perfect bound book, full color, 7"x7"
Price: $19.31 + shipping


Animations by students of:
Art 141 Digital Art Fundamentals (multiple sections)
Art 144 3D Modeling & Animation
Art 145 Web Animation and Games
Art 147 Motion Graphics