THE ART GALLERY WILL REMAIN CLOSED UNTIL FURTHER NOTICE DUE TO CORONVIRUS PRECAUTION. WE WILL CONTINUE HOSTING ONLINE EXHIBITIONS HERE.


BLACK LIVES MATTER:

An online exhibition of works by 31 artists in response to the killing of George Floyd and the ensuing protests.

Work by:
Phoebe Barnum, Terry Braunstein, Gail Brown, Garrett M. Brown, Pirkko De Bar, Russell Ellis, Keiko Fukazawa, Satoe Fukushima, Yrneh Gabon, Zeal Harris, Wayne Alaniz Healy, Tom Whittaker Kidd, Joyce Kohl, Margaret Lazzari, Gordon Lewis, Peter Liashkov and Don Saban, Karena Massengill, Kathleen Migliore-Newton, Lowell Nickel, Ann Page, George Page, Victor Raphael, Marianne Sadowski, Carl Shubs, Matthew Thomas, Sandra Trepasso, Richard Turner, Robert Tyler, Frank James Williams, David Jordan Williams

October 1 - November 30, 2020

ONLINE EXHIBITION ONLY

Go to elcamino.edu then type in Art Gallery


Frank James Williams
Self Portrait (fire)
Pastel on paper
29" x 19"
In June, 2020, incensed and saddened by the murder of George Floyd by the Minneapolis police and heartened by subsequent nation-wide protests, it seemed essential to provide a public platform for artists to respond to the issues surrounding Black Lives Matter. At the same moment I contacted Dr. Russ Ellis, a professor whose class titled "Niggers, Negroes and Black People" I had attended in 1967 at Pitzer College. My initial reason for contacting him was to thank him for the class that was to permanently affect my thinking. When I asked Dr. Ellis if he had any lectures online that might be used in tandem with this exhibition he suggested that I pose a series of questions instead. The questions and Russ Ellis' responses follow.

As a brief introduction: Russell Ellis is a visual artist, musician and educator. He went on from teaching at Pitzer College in Claremont, CA to teach in the Department of Architecture at U.C. Berkeley where he later became the Vice Chancellor of the University. He simultaneously worked as a sculptor in both metal and stone and later trained as a painter. Please see his bio that follows the question/answers.

I want to thank Russ Ellis for his willingness to engage in this process of questions and answers and again for his initial class. Also, thank you to the more than 25 artists who take the subject of racism and Black Lives Matter very seriously and respond through their artwork in a broad array of approaches and medias ranging from painting-both figurative and abstract, sculpture, drawing, performance and mixed media installation.
- Susanna Meiers, Art Gallery Director/Curator

Susanna Meiers: Given that you are a visual artist and educator and the fact that this is a website for a college gallery, what do you think the role of the arts might best be during this time? And the role of classes taught within an Art Department?

Russ Ellis: I think my background qualifies me to hazard a modestly informed response to your question. However, indulge me while I enter my response through a side door.

A few years ago I accompanied my art class instructor, painter Katie Hawkinson and her husband, sculptor Joe Slusky, to a joint showing of their work at Stanford University. To my surprise, their work was spread across three campus sites: Center for Integrated Systems, Electrical Engineering, and the psychology Department. The art was scattered among lobbies, conference rooms, laboratories through the windows of which active research could be seen in progress.

In one lobby, I encountered a young man who had set up several interacting computers processing images of various sorts. I asked him about his project. As he was describing it to me he reminded me of applicants to UC Berkeley's Ph. D. program in architecture. Wildy brilliant, intellectually unmoored, confident to a fault. I failed to understand his explanation of what he was demonstrating, but he clearly felt at home and I felt him to be at home.

This was 2014. I was unaware of Stanford's Arts Initiative launched in 2006. <https://arts.stanford.edu/about/> But later, reflecting on the whole experience, I thought Stanford understood something fundamental about human inventiveness; keep art intertwined with everything.

Stanford is securely endowed. Community colleges, state colleges and universities are not. But, to the extent possible, I think we should all struggle to keep art intertwined with everything curricular. Whatever may be dominating the public attention at the moment.

I know nothing of art pedagogy, but I'm guessing that burgeoning artists will, as ever, come bursting with improbable impulses. As ever, the instructor/guide's job will be to respond inventively to those impulses; especially leaving them be.


In 1967 I attended your seminar at Pitzer College in Black Studies. If you were to teach a course now, in light of the current extremis and potential for new understanding, how might you structure it?

The class you took from me in 1967 was titled "Niggers, Negroes and Black People." The goal of the course was to examine race relations from the standpoint of the evolution of how a people are named. That was being publicly contested at the time, as it continues to be today.

Pitzer College had been formed in 1963. It's initial student market was middle to upper-middle class women. In 1970 it went co-ed. I was on the faculty from 1966 to1969. There's no doubt that I chose to use "Nigger" in the class title in order to break open delicate sensibilities. (Course titles at Pitzer tended in that direction. My wife taught a demography class she titled "Hatched, Matched, and Dispatched." Ellen Ringler taught an English literature class she named "Hell: A Survey.")

I did not choose a career trajectory that expanded my expertise in race relations. If I were to teach that course again, I would definitely not title it "Africans, Niggers, Nigras, negroes, Negroes, black people, African-Americans, People of Color, and Black people." (Although that could be the bones of a course outline).

The learnings about naming and the struggle for the name of a people are exportable over time and space, especially in this nation of immigrants. I would cover the same terrain today. Now, it would be a two-semester course.

"What Next?" is the phrase in the minds of most people who are invoking change in the prevalent culture of racism. Would you be willing to speak to this question?

For years I have been mentally framing an essay titled "My Mother's Racism and Mine." It would compare her very hard-wired anti-white sentiments with my fluid, never-ending struggle to manage my judgements of others and keep them from attaching to categories like, Jews, Chinese, Mexican, Women, etc. My thought has been that making my relationship to racist tendencies public might help others think about their own.

We in the United States have chosen to acknowledge, to one degree or another, the principles of our sacred documents. Freedom, equality, caring for those in need, etc. For generations, when it comes to inequality, racism and xenophobia, these have been held as personal responsibilities. That's what my essay would cover.

But the killing of George Floyd somehow shifted significant public consciousness toward an interest in "systemic racism," not the racism of individuals. The necessity of personal anti- racist work is permanent. Dealing with systemic racism is the answer to your question, "what next?"

Are there particular questions that you would encourage individuals to personally tackle in order to further their own consciousness regarding racism?

I'm reluctant to give advice to people I don't know with pathways in life I can't comprehend. Nonetheless, I was recently struck by this haiku:

untitled haiku

because white men can't
police their imagination
black men are dying

-- Claudia Rankine

After 85 years as a Black person in America, I've settled into an understanding that dealing with racism is like freedom of speech, freedom of the press, justice, etc. Their accomplishment, protection, and improvement is not permanently engraved anywhere. They are a constant struggle, both socially and individually.

A practice that I have developed over the years is to confront my own incessant judgments with an incessant "why'd you do that?" I'm in a constant conversation with myself. No one is safe from my leaning toward final judgements and assignments of behaviors I don't like to categories.

In the arena of prejudice, I'm quite astonished by my progress with homosexuality, for example. In my community a "punk" was the lowest of the low. I still have a few problems, but I am not anywhere near where I was before I got to college.

Managing my relationship to race and ethnicity are, in my everyday life, emotional and intellectual equivalents of three-dimensional chess where the game never ends. A constant struggle. Although coming late in my life, five years as Student Affairs Vice Chancellor at U. C. Berkeley was indelibly educational.

Hurtful mistakes, unplanned breakthroughs, constant attention seem to have accumulated into some small form of wisdom and improved life practices for me. Constant attention can be fatiguing. But there are rewards. And it's better than relaxing into the cultural drift. It can be rewarding to stay a constant participant in your own becoming.


As destructive policing appears to be the symptom rather than the root of racial power politics, how would you imagine beginning the re-education of the American public?

After fifty years in and around higher education, my first thoughts spring from those experiences.

When you took that class from me in 1967 U. S. higher education was struggling with the academic accommodation of Black Studies. Pitzer actually did not have Black Studies. Just my class.

For years the U.C. Berkeley faculty struggled with whether or not to make ethnic studies classes a curricular requirement for undergraduates. In 1991, a thoroughly negotiated solution was the creation of a program called American Cultures. <https://americancultures.berkeley.edu>

Upon close inspection, this is not exactly an ethnic studies requirement. But it encompasses and expands the domains of interest. I think now is the time for higher education to look closely at the possibilities of such programs. This is especially relevant because colleges and universities are where other aspects of systemic racism are touched on; economics, political science, business, sociology, health care, justice, demography.

If an individual has had negative experiences in their history with someone of another race how does one overcome the racial supposition that all people who are of another color are suspect?

I am less racist than my parents were. My children are less racist than I am. My grandchildren are the least racist members of the family. Progress is possible; in individual lives and over generations.

I am Black. I have friends who are not Black who have had bad experiences with Black people. I still have white friends and I have had a load of bad experiences with white people over the last eighty years.

I will never be fully free of my prejudicial impulses. It's a constant struggle. My hopeful fantasy is that I walk in a world of people dedicated to the constant struggle.
2020 Bio for Russ Ellis


I was Born in Los Angeles in 1935. During WW II, I lived on a farm in Fontana, California. The KKK were vigorously represented in Fontana.

After the war I went to live with my father and step-mother in a new house purchased in the George Washington Carver Manor Annex at the southern end of Central Ave. in Los Angeles.

A track scholarship to UCLA from Compton High School paid for my college education.

Two years after graduation from UCLA, I returned to its graduate program in sociology where I earned a Ph. D. I married my fellow graduate student, Judith Fairston, here from the London School of Economics. We had two children.

I have had teaching appointments at The University of California, Riverside, Pitzer College, The State University of New York, Old Westbury, Yale University, and The University of California, Berkeley.

The latter appointment was in the Department of Architecture of Berkeley's College of Environmental Design. There, I dealt with social issues in architecture and urban design.

My last five years at Cal I served as Vice Chancellor for Undergraduate Affairs

Upon retirement I continued my untutored practice of stone carving until I hurt my back. I turned to modeling clay and bronzes for a while, but that gave way to painting.

I have had several local shows and had the support of a wonderful painting teacher, Katie Hawkinson for ten years. See also <poopah.net>

Last year I stumbled, accidentally, into song writing. With the help of my children and their friends in the music world, I have completed an album of about eleven tunes called Music From The Garden. It can be found at Berkeley Cat Records (Russ Ellis).


Russ Ellis
Photo credit: Judy Dater
There are also two additional video links provided for Russ Ellis:

Chika Ding - (Change That)
Chika Ding is a collaboration between Poopah McVout aka Russ Ellis and Alcide Marshall. Enthisic celebration of American Democracy. Especially the VOTE!

This video piece can be viewed online at:
https://www.youtube.com/watch?v=ZknpbwCFTYQ&t=31s

Oom Chugga (Remix)
(feat. MicBlake feat: Chris Burger for Panther Fist Studio​​/​​PFS)

This audio piece can be listened to online at:
https://russellis.bandcamp.com/track/oom-chugga-remix-feat-micblake-feat-chris-burger-for-panther-fist-studio-pfs-2






An Acrobat PDF document with the Artists' Statements and Images from the exhibition can be viewed or downloaded from the link below.


In addition to the artwork shown in the sldeshow, several artists' work is available either in Acrobat PDF documents or in online media presentations. Those artists' works are below.
Garrett M. Brown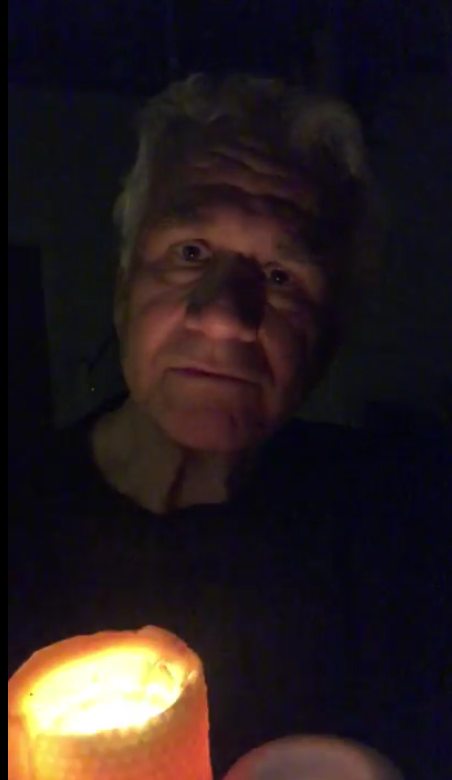 Garrett M Brown; Candlelight Vigils #9...

Candlelight Vigils # 9...Passing An Orchard By Train...by Robert Bly.
In Memoriam, GF.

This video piece can be viewed online at:
https://drive.google.com/file/d/1rm12_waS7HPFvNLSrmaLv1wsHt9vgHRO/view


Satoe Fukushima

Sotoe Fukushims; Relax, Panic, Eat...
Rosa Park's Pancake Recipe
Featherlite Pancakes
Put together
1C flour
2T B.Powder
1/2t salt
2T sugar
Mix
1 egg - 1 1/4C milk
1/3C peanut butter
1T melted shortening or oil
Combine with dry ingredients
Cook at 275°
On griddle

Adapted version
1C All purpose GF flour
1 1/2T B.B.Powder
(use less if the GF flour has B.P.)
1/2 t salt
2T beets sugar
1/4C unsweetened Applesauce
1C alternative milk
1/3C Coconut oil with
3T Kinako (ground roasted soybean)
1T coconut oil Cook as directed in the original recipe.
Relax, Panic, Eat...
It is not only a delicious tradition, but also it gives an opportunity to talk about her courageous action and its meaning for change. America is still suffering the same racial disparity and it became more visible thanks to the technology. We are finally sharing the long sufferings of Black lives and cries for change. We all need Rosa's motherly side to carry on this painful movement to punch through the intolerance. It's okay to panic and cry a bit, but eat breakfast and get ready for action.

This performative audio piece can be listened to onlne at:
https://www.dropbox.com/s/1abj7ws2kqmuki3/BLMRosaParksPancake.mp3?dl=0

An acrobat file for the Rosa Parrks Pancakes recipe can be downloaded from the link below:
Rosa Parks Pancakes
Yrneh Gabon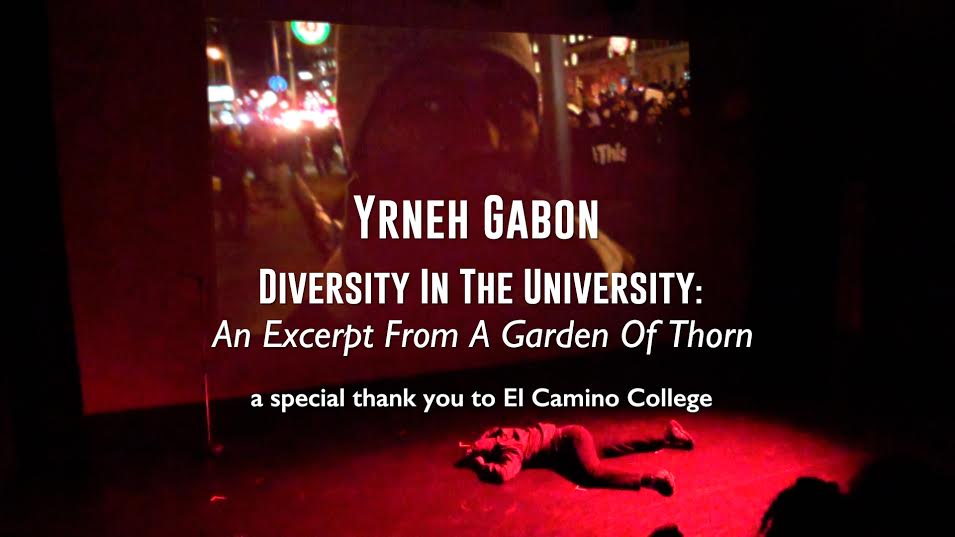 Yreneh Gabon; Diversity in the University

Diversity in the University
This video piece can be viewed online at:
https://drive.google.com/file/d/1BdH_qUEbAY2-Qs_E81U8c2NTLzvOxqZy/view?usp=sharing
Joyce Kohl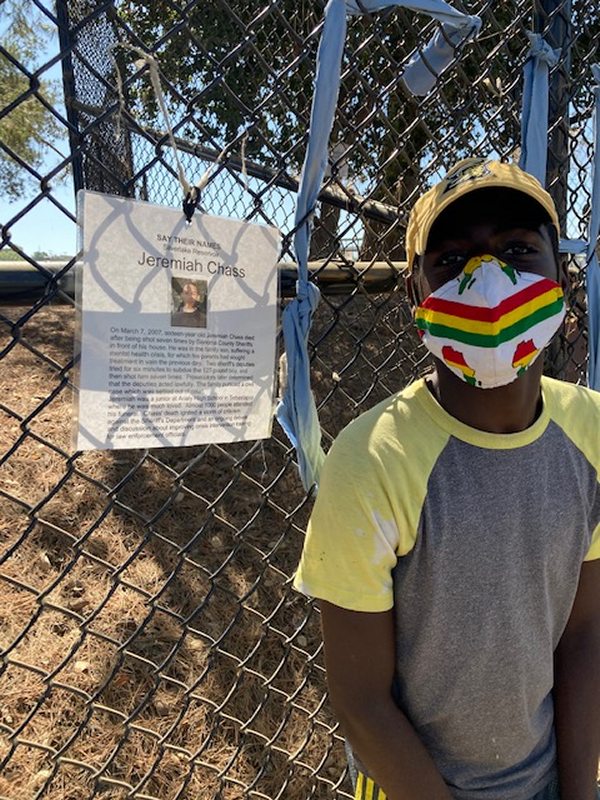 Joyce Kohl; Remembering Jeremiah

Remembering Jeremiah
This powerpoint presentation can be accessed online at:
https://drive.google.com/file/d/1HhU_oFFqvoDbbTQ7v148MfJFR9W3j00t/view


Margaret Lazzari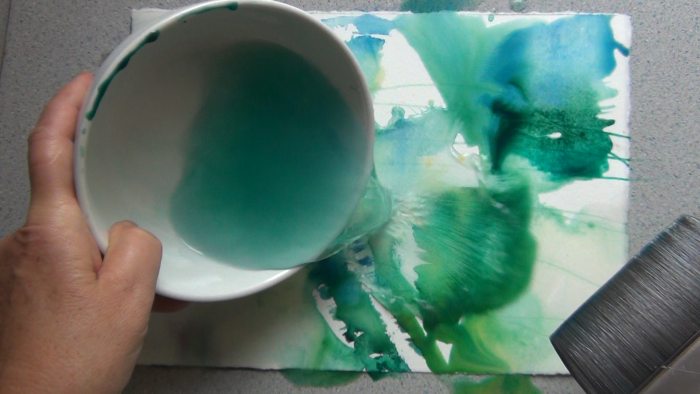 Margaret Lazzari; Start, Flow, Restart
Start, Flow, Restart
Start, Flow, Restart also is a video of my process in making a watercolor painting. In this case, I needed to use video not to show raw emotionality as with Conflict. Rather, I used its the time-based linearity to show the cycles of building/obliterating/restarting. So much political activism is basically fighting the same battles over and over again. The ground under foot always seems to be dissolving away. Start, Flow, Restart was for me an act of faith that progress will be made.

This video can be viewed online at:
https://www.youtube.com/watch?v=JZZ4-8CPTBk

Margaret Lazzari; Conflict
Conflict
Conflict was made after a political fight with a family member, which left me feeling very angry and outraged. I made this mixed media watercolor with splattering marks, gritty charcoal, and scraping pencils that built up on and tear away at the paper. In this case, a finished watercolor is too static to show the energy and emotion that went into this work. Therefore, I recorded my process and edited the video so that it had jarring cuts and staccato rhythm.

This video can be viewed online at:
https://www.youtube.com/watch?v=A_8cvU2DgwA


Peter Liashkov and Don Saban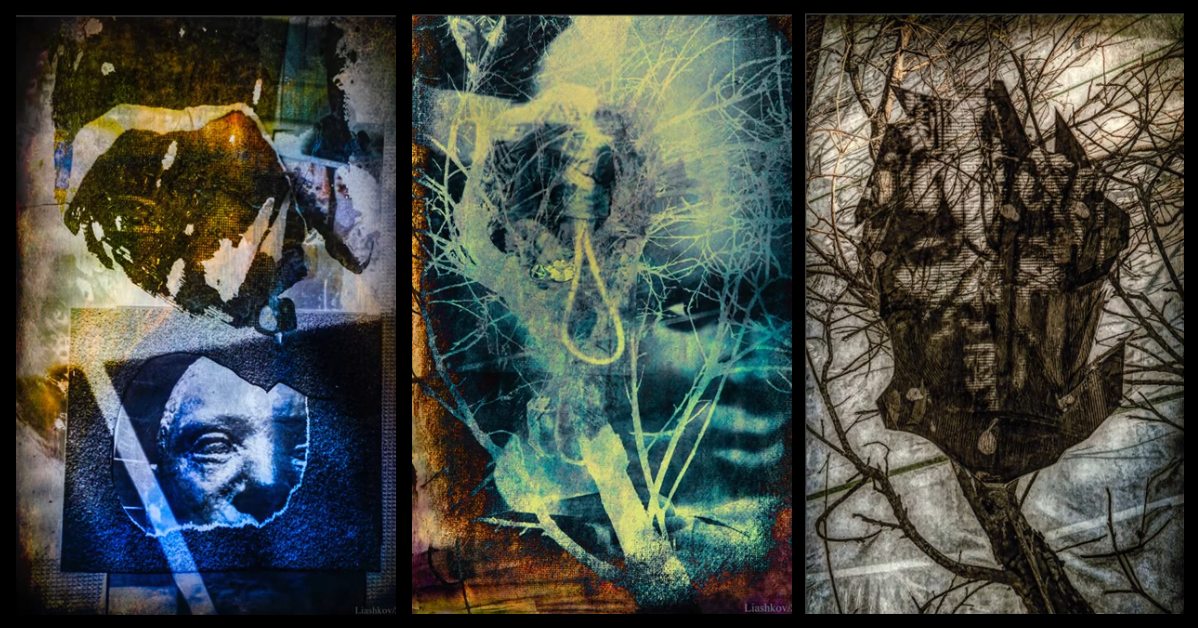 Peter Liashkov and Don Saban; Strange Fruit

Strange Fruit
The STRANGE FRUIT project was conceived after doing a residency at Pike school of Art in Mc Comb , Mississippi. I gathered documentation and photographs dealing with the legacy of slavery & lynching in the Southern United States & soaked up the haunting atmosphere of the countryside as seen through the eyes of photographer, Sally Mann. This resulted in a body of work that included a series of multimedia paintings , short videos & an installation of a tree branch superimposing a series of small prints in a grid formation . My good friend, a prominent L.A . photographer, Don Saban was intrigued by these prints & offered to rework them to enrich the color & the spatial qualities of the images. The addition of the audio of Billie Holiday singing the classic song, Strange Fruit, seemed to be appropriate to evoke the deep sorrow imbued in these works.
-- Peter Liashkov

This collaborative video piece can be viewed online at:
https://www.youtube.com/watch?v=0vtt9QQnQV0&feature=youtu.be

Marianne Sadowski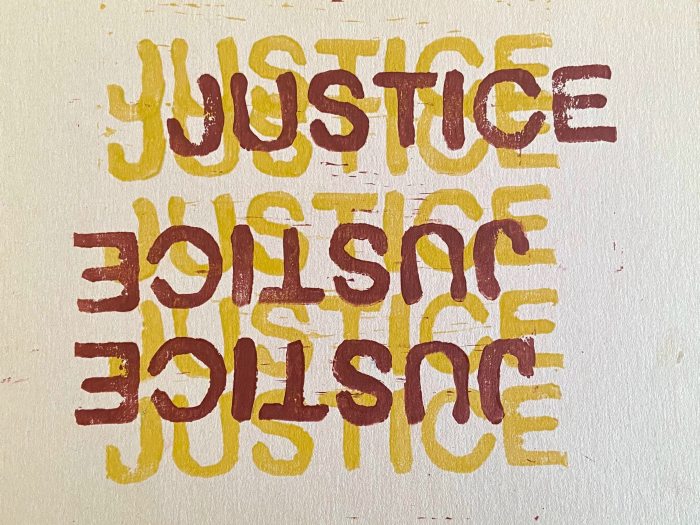 Carolyn Kessler Eaton; Justice, from Justice/Injustice ebook

Justice/Injustice ebook
An acrobat ebook for a printing class project by Marianne Sadowski in coordination with a LACMA online program can be downloaded from the link below:
Justice/Injustice ebook