Recent Exhibitions

Artist LAUREN KASMER will present a series of unscripted LIVE STREAMING PERFORMANCES and film screenings as part of her virtual solo show "MOMENTA" on MAY 1 and 2
Watch live on LaurenKasmersMomenta.com
Live performances include readings, dance, movement, tai chi, a story time, guided meditation, and spontaneous interstitial episodes – Kasmer's films will also be looped onscreen
An exhibition in five parts, Momenta comprises: Mount, a video; Wardrobe, photographically printed wearables; Equipoise, an installation with activation; Collaboration at a Distance, photography; and Flourish from Fire, documentary images
During the Live Streaming Event there will be a limited edition Viewmaster giveaway
A COMPANION BOOK will be released in June 2021
Performance schedule is below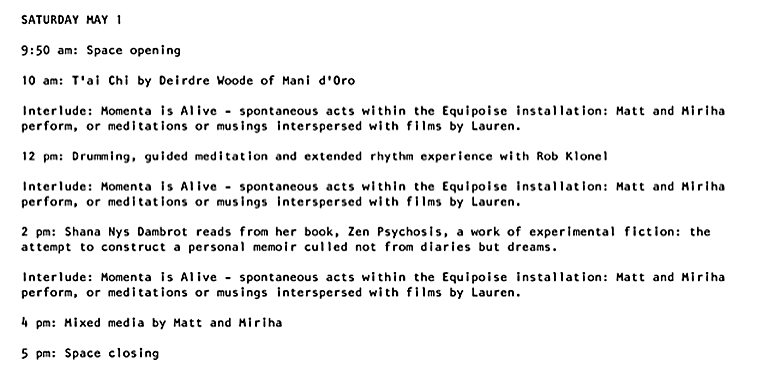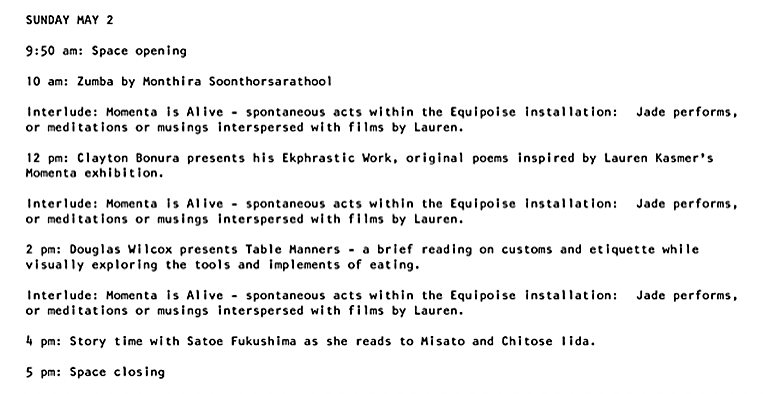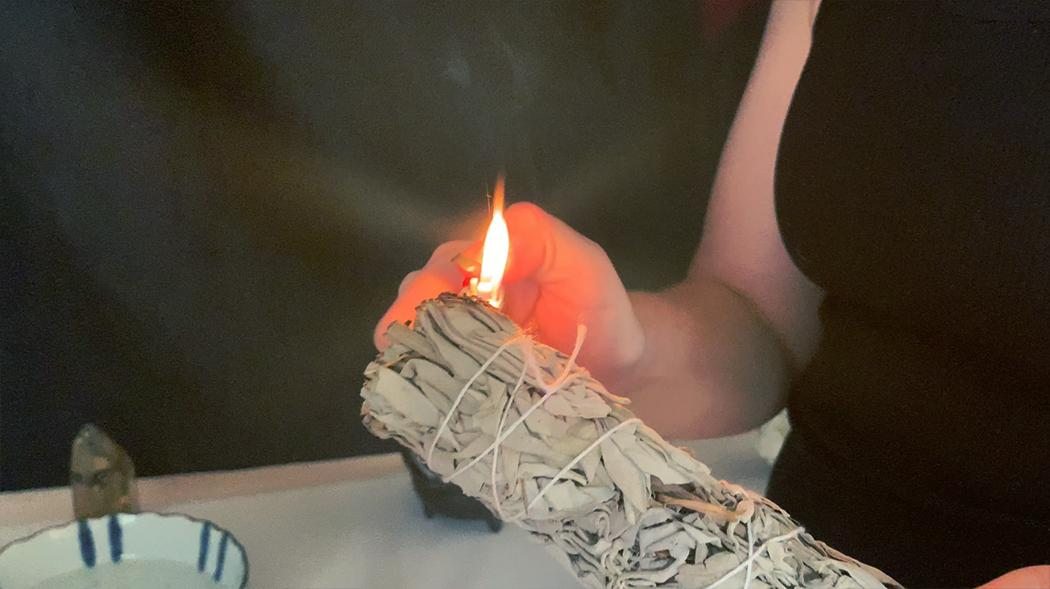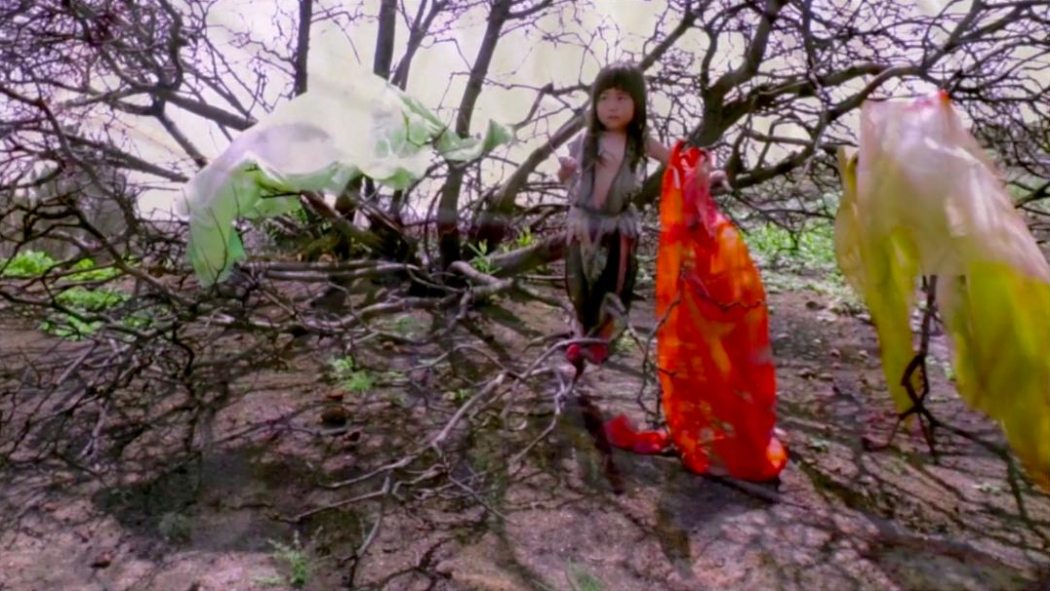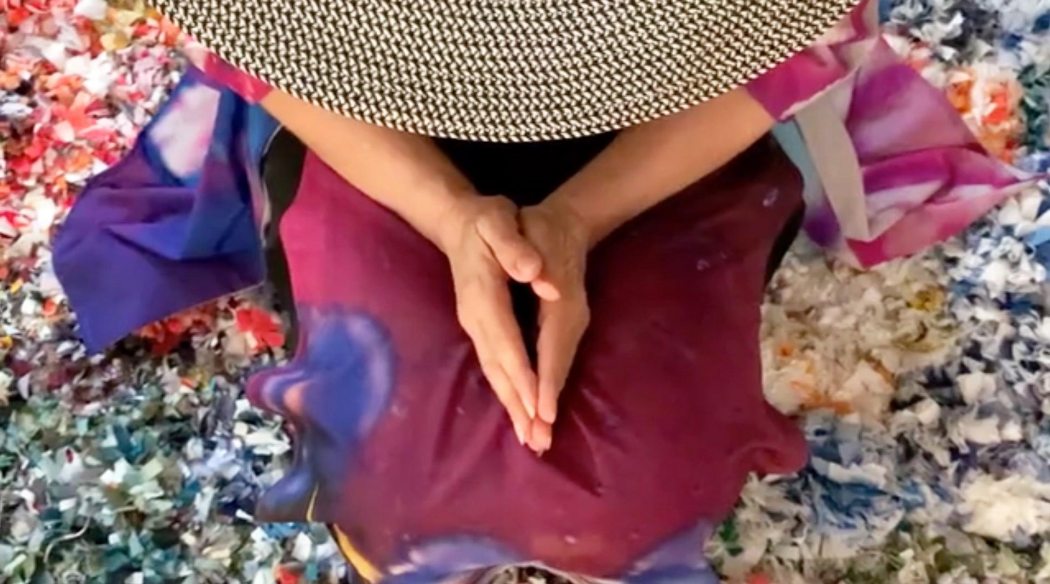 MOMENTA

An online exhibition
by LAUREN KASMER


El Camino College Art Gallery
Torrance, California

January 4, 2021 – May 16, 2021



Curated by Susanna Meiers,
ECC Art Gallery Director


Mount Video Still 9
2019-2020
Video Still
Dimensional variable
Due to the technological limitations of the ECC website the exhibit, Momenta will be available to be viewed on a website www.laurenkasmersmomenta.com created specifically as a new form of art exhibition. Please watch this site for upcoming details regarding exhibition related events.

El Camino College Art Gallery is pleased to present the work of Lauren Kasmer in an online solo exhibition, Momenta. Lauren Kasmer is a multi-disciplinary artist who has worked extensively in photography, textiles, installation and video. She has also curated shows in galleries and in multiple alternative spaces. Her background includes a degree in design from UCLA and an early introduction to clothing design as the daughter of an American fashion designer. Early on, Lauren decided not to follow in the commercial footsteps of her mother but rather to approach clothing from a personal standpoint. She incorporates her photographs into digitally printed sensuous wearable art that acts as an element in of each of her installation/performance projects and video works over the last ten years.

Momenta is comprised of five segments: Mount, a video; Wardrobe, photographically printed garments; Equipoise, an installation with intended activation; Collaboration at a Distance, photography; and Flourish from Fire, stills of the Blind Courier exhibition installation project, presented at the Brand Library in 2019. When link is available, please click on still photographs presented in grids throughout the Momenta exhibition to view the expanded images.
Mount
In this context the title refers specifically to the surmounting or overcoming of an obstacle and to the geologic formation, mountain.

Mount is a poetically charged, non-narrative video originally intended for exhibition in the context of a multi-media gallery installation. It is a visually layered piece that reflects on a devastating fire that engulfed Kasmer's home, destroying not only much of her artwork but literally altered her past and present. Additionally Mount addresses the wildfires that have recently ravaged California and Oregon and tackles the overall climatic impact of man upon nature, along with the imperative that humans must develop an essential respect for the natural world or perish.

Through the exclusive use of female actors and models in natural settings throughout Momenta, one senses an inference by the artist that the feminine or receptive mode of existence is potentially a route to a global healing.

"As our collective and personal lives are impacted by external elements I find that the connection to nature becomes the grounding vehicle for healing and new growth. What grows from ash is an inspiration for personal recovery, creativity and seeds new ideas, stories, and explorations. A force majeure causes one to reach for beauty, contemplation and a return to an internal Eden."
- Lauren Kasmer

Film composer Jennifer Ricciardi has worked in tandem with visuals by Kasmer to create liquid arrangements of electronically synthesized sounds pooled with sounds captured in nature to underscore both the Mount video and the Activation cycle of Equipoise.
Wardrobe

On view is a collection of the garments made of the artist's digitally printed photographs on fabrics, sewn into wearable clothing. These wearable art pieces have been shown with Kasmer's installation projects spanning the last ten years. The garments contain imagery pertaining to the individual installations- i.e. bee/hive imaged clothing was a component in a project that dealt with honeybees. Frequently the artist's imagery contains native plant life and forces of nature.

The hand-painted hangers and small tufted rugs were made in 2020, partially stimulated by the urgency and isolation generated by the Covid-19 pandemic. Her up-cycled Sitting Rugs are produced from the shredded remnants of her digital fabrics.



Wardrobe Detail
2020
Documentary photograph
Dimension variable
Equipoise

Equipoise: 1: a state of equilibrium. 2: counterbalance.

Housed in an apartment bedroom, Equipoise is Kasmer's current installation, presented in an alternative context. Her original intent was to open this thoughtful environment to an invited public, however, the global pandemic intervened. As the Covid time period of necessary self-isolation extended, this space morphed into a meditative chamber with sacred objects, ritual instruments and rugs, intended for the practice of meditative sitting. The artist has a serious practice of meditation and deep interest in the therapeutic properties of specific minerals as well as the potential healing influence of sound. This installation intentionally combines the artist's history, through use of clothing hanging in the closet and projected images from her videos with her meditation practice. The Activation segment of Momenta is intended to demonstrate not only her own artistic sensibilities but also to suggest a possibility of what individuals can privately create as a contemplative space within their own environment.


Equipoise Installation Activation 10
2020
Documentary photograph
Dimension variable
Collaboration at a Distance

Lauren Kasmer
Digital photographs on textiles; 2010-2020

Photographers: Chandler Kennedy, Chris Kennedy, Monthira Soonthorsarathool
Models: Gabriella Ortega, Leilah Franklin, Natasha Nunez, Cody Kennedy, Emily Rosenstein, Satoe Fukushima, Cilka Mark

Lauren Kasmer temporarily moved out of the Los Angeles area mid-Spring, 2020. She continued her work on the Momenta exhibition via Zoom, Skype and email to create an impressive collaboration with ten women friends who intermingled to model and photograph each other, wearing and interpreting ten years of an archive of Kasmer's photographically printed wearables.
Cilka 11 (multi)
2020
Photograph
Dimension variable


Flourish From Fire

Lauren Kasmer's Flourish From Fire, is an installation composed of two poetic non-narrative videos surrounded by domestic furnishings and photographically based wall works whose photographic imagery is sourced from a devastating home fire. The arrangement is an inviting space, a reinterpretation of shelter, one that proposes that what can be seen as personal tragedy could instead welcome contemplation and reflection of universal themes.

The barn's burned down:
now
I can see the moon.

Mizuta Masahide
Flourish from Fire Installation View 5
2019
Documentary photograph
Dimension variable
BLACK LIVES MATTER:

An online exhibition of works by 31 artists in response to the killing of George Floyd and the ensuing protests.

Work by:
Phoebe Barnum, Terry Braunstein, Gail Brown, Garrett M. Brown, Pirkko De Bar, Russell Ellis, Keiko Fukazawa, Satoe Fukushima, Yrneh Gabon, Zeal Harris, Wayne Alaniz Healy, Tom Whittaker Kidd, Joyce Kohl, Margaret Lazzari, Gordon Lewis, Peter Liashkov and Don Saban, Karena Massengill, Kathleen Migliore-Newton, Lowell Nickel, Ann Page, George Page, Victor Raphael, Marianne Sadowski, Carl Shubs, Matthew Thomas, Sandra Trepasso, Richard Turner, Robert Tyler, Frank James Williams, David Jordan Williams

October 1, 2020 - January 3, 2021

ONLINE EXHIBITION ONLY

Go to elcamino.edu then type in Art Gallery


Frank James Williams
Self Portrait (fire)
Pastel on paper
29" x 19"
In June, 2020, incensed and saddened by the murder of George Floyd by the Minneapolis police and heartened by subsequent nation-wide protests, it seemed essential to provide a public platform for artists to respond to the issues surrounding Black Lives Matter. At the same moment I contacted Dr. Russ Ellis, a professor whose class titled "Niggers, Negroes and Black People" I had attended in 1967 at Pitzer College. My initial reason for contacting him was to thank him for the class that was to permanently affect my thinking. When I asked Dr. Ellis if he had any lectures online that might be used in tandem with this exhibition he suggested that I pose a series of questions instead. The questions and Russ Ellis' responses follow.

As a brief introduction: Russell Ellis is a visual artist, musician and educator. He went on from teaching at Pitzer College in Claremont, CA to teach in the Department of Architecture at U.C. Berkeley where he later became the Vice Chancellor of the University. He simultaneously worked as a sculptor in both metal and stone and later trained as a painter. Please see his bio that follows the question/answers.

I want to thank Russ Ellis for his willingness to engage in this process of questions and answers and again for his initial class. Also, thank you to the more than 25 artists who take the subject of racism and Black Lives Matter very seriously and respond through their artwork in a broad array of approaches and medias ranging from painting-both figurative and abstract, sculpture, drawing, performance and mixed media installation.
- Susanna Meiers, Art Gallery Director/Curator

Susanna Meiers: Given that you are a visual artist and educator and the fact that this is a website for a college gallery, what do you think the role of the arts might best be during this time? And the role of classes taught within an Art Department?

Russ Ellis: I think my background qualifies me to hazard a modestly informed response to your question. However, indulge me while I enter my response through a side door.

A few years ago I accompanied my art class instructor, painter Katie Hawkinson and her husband, sculptor Joe Slusky, to a joint showing of their work at Stanford University. To my surprise, their work was spread across three campus sites: Center for Integrated Systems, Electrical Engineering, and the psychology Department. The art was scattered among lobbies, conference rooms, laboratories through the windows of which active research could be seen in progress.

In one lobby, I encountered a young man who had set up several interacting computers processing images of various sorts. I asked him about his project. As he was describing it to me he reminded me of applicants to UC Berkeley's Ph. D. program in architecture. Wildy brilliant, intellectually unmoored, confident to a fault. I failed to understand his explanation of what he was demonstrating, but he clearly felt at home and I felt him to be at home.

This was 2014. I was unaware of Stanford's Arts Initiative launched in 2006. <https://arts.stanford.edu/about/> But later, reflecting on the whole experience, I thought Stanford understood something fundamental about human inventiveness; keep art intertwined with everything.

Stanford is securely endowed. Community colleges, state colleges and universities are not. But, to the extent possible, I think we should all struggle to keep art intertwined with everything curricular. Whatever may be dominating the public attention at the moment.

I know nothing of art pedagogy, but I'm guessing that burgeoning artists will, as ever, come bursting with improbable impulses. As ever, the instructor/guide's job will be to respond inventively to those impulses; especially leaving them be.


In 1967 I attended your seminar at Pitzer College in Black Studies. If you were to teach a course now, in light of the current extremis and potential for new understanding, how might you structure it?

The class you took from me in 1967 was titled "Niggers, Negroes and Black People." The goal of the course was to examine race relations from the standpoint of the evolution of how a people are named. That was being publicly contested at the time, as it continues to be today.

Pitzer College had been formed in 1963. It's initial student market was middle to upper-middle class women. In 1970 it went co-ed. I was on the faculty from 1966 to1969. There's no doubt that I chose to use "Nigger" in the class title in order to break open delicate sensibilities. (Course titles at Pitzer tended in that direction. My wife taught a demography class she titled "Hatched, Matched, and Dispatched." Ellen Ringler taught an English literature class she named "Hell: A Survey.")

I did not choose a career trajectory that expanded my expertise in race relations. If I were to teach that course again, I would definitely not title it "Africans, Niggers, Nigras, negroes, Negroes, black people, African-Americans, People of Color, and Black people." (Although that could be the bones of a course outline).

The learnings about naming and the struggle for the name of a people are exportable over time and space, especially in this nation of immigrants. I would cover the same terrain today. Now, it would be a two-semester course.

"What Next?" is the phrase in the minds of most people who are invoking change in the prevalent culture of racism. Would you be willing to speak to this question?

For years I have been mentally framing an essay titled "My Mother's Racism and Mine." It would compare her very hard-wired anti-white sentiments with my fluid, never-ending struggle to manage my judgements of others and keep them from attaching to categories like, Jews, Chinese, Mexican, Women, etc. My thought has been that making my relationship to racist tendencies public might help others think about their own.

We in the United States have chosen to acknowledge, to one degree or another, the principles of our sacred documents. Freedom, equality, caring for those in need, etc. For generations, when it comes to inequality, racism and xenophobia, these have been held as personal responsibilities. That's what my essay would cover.

But the killing of George Floyd somehow shifted significant public consciousness toward an interest in "systemic racism," not the racism of individuals. The necessity of personal anti- racist work is permanent. Dealing with systemic racism is the answer to your question, "what next?"

Are there particular questions that you would encourage individuals to personally tackle in order to further their own consciousness regarding racism?

I'm reluctant to give advice to people I don't know with pathways in life I can't comprehend. Nonetheless, I was recently struck by this haiku:

untitled haiku

because white men can't
police their imagination
black men are dying

-- Claudia Rankine

After 85 years as a Black person in America, I've settled into an understanding that dealing with racism is like freedom of speech, freedom of the press, justice, etc. Their accomplishment, protection, and improvement is not permanently engraved anywhere. They are a constant struggle, both socially and individually.

A practice that I have developed over the years is to confront my own incessant judgments with an incessant "why'd you do that?" I'm in a constant conversation with myself. No one is safe from my leaning toward final judgements and assignments of behaviors I don't like to categories.

In the arena of prejudice, I'm quite astonished by my progress with homosexuality, for example. In my community a "punk" was the lowest of the low. I still have a few problems, but I am not anywhere near where I was before I got to college.

Managing my relationship to race and ethnicity are, in my everyday life, emotional and intellectual equivalents of three-dimensional chess where the game never ends. A constant struggle. Although coming late in my life, five years as Student Affairs Vice Chancellor at U. C. Berkeley was indelibly educational.

Hurtful mistakes, unplanned breakthroughs, constant attention seem to have accumulated into some small form of wisdom and improved life practices for me. Constant attention can be fatiguing. But there are rewards. And it's better than relaxing into the cultural drift. It can be rewarding to stay a constant participant in your own becoming.


As destructive policing appears to be the symptom rather than the root of racial power politics, how would you imagine beginning the re-education of the American public?

After fifty years in and around higher education, my first thoughts spring from those experiences.

When you took that class from me in 1967 U. S. higher education was struggling with the academic accommodation of Black Studies. Pitzer actually did not have Black Studies. Just my class.

For years the U.C. Berkeley faculty struggled with whether or not to make ethnic studies classes a curricular requirement for undergraduates. In 1991, a thoroughly negotiated solution was the creation of a program called American Cultures. <https://americancultures.berkeley.edu>

Upon close inspection, this is not exactly an ethnic studies requirement. But it encompasses and expands the domains of interest. I think now is the time for higher education to look closely at the possibilities of such programs. This is especially relevant because colleges and universities are where other aspects of systemic racism are touched on; economics, political science, business, sociology, health care, justice, demography.

If an individual has had negative experiences in their history with someone of another race how does one overcome the racial supposition that all people who are of another color are suspect?

I am less racist than my parents were. My children are less racist than I am. My grandchildren are the least racist members of the family. Progress is possible; in individual lives and over generations.

I am Black. I have friends who are not Black who have had bad experiences with Black people. I still have white friends and I have had a load of bad experiences with white people over the last eighty years.

I will never be fully free of my prejudicial impulses. It's a constant struggle. My hopeful fantasy is that I walk in a world of people dedicated to the constant struggle.
2020 Bio for Russ Ellis


I was Born in Los Angeles in 1935. During WW II, I lived on a farm in Fontana, California. The KKK were vigorously represented in Fontana.

After the war I went to live with my father and step-mother in a new house purchased in the George Washington Carver Manor Annex at the southern end of Central Ave. in Los Angeles.

A track scholarship to UCLA from Compton High School paid for my college education.

Two years after graduation from UCLA, I returned to its graduate program in sociology where I earned a Ph. D. I married my fellow graduate student, Judith Fairston, here from the London School of Economics. We had two children.

I have had teaching appointments at The University of California, Riverside, Pitzer College, The State University of New York, Old Westbury, Yale University, and The University of California, Berkeley.

The latter appointment was in the Department of Architecture of Berkeley's College of Environmental Design. There, I dealt with social issues in architecture and urban design.

My last five years at Cal I served as Vice Chancellor for Undergraduate Affairs

Upon retirement I continued my untutored practice of stone carving until I hurt my back. I turned to modeling clay and bronzes for a while, but that gave way to painting.

I have had several local shows and had the support of a wonderful painting teacher, Katie Hawkinson for ten years. See also <poopah.net>

Last year I stumbled, accidentally, into song writing. With the help of my children and their friends in the music world, I have completed an album of about eleven tunes called Music From The Garden. It can be found at Berkeley Cat Records (Russ Ellis).


Russ Ellis
Photo credit: Judy Dater
There are also two additional video links provided for Russ Ellis:

Chika Ding - (Change That)
Chika Ding is a collaboration between Poopah McVout aka Russ Ellis and Alcide Marshall. Enthisic celebration of American Democracy. Especially the VOTE!

This video piece can be viewed online at:
https://www.youtube.com/watch?v=ZknpbwCFTYQ&t=31s

Oom Chugga (Remix)
(feat. MicBlake feat: Chris Burger for Panther Fist Studio​​/​​PFS)

This audio piece can be listened to online at:
https://russellis.bandcamp.com/track/oom-chugga-remix-feat-micblake-feat-chris-burger-for-panther-fist-studio-pfs-2




An Acrobat PDF document with the Artists' Statements and Images from the exhibition can be viewed or downloaded from the link below.


In addition to the artwork shown in the sldeshow, several artists' work is available either in Acrobat PDF documents or in online media presentations. Those artists' works are below.
Garrett M. Brown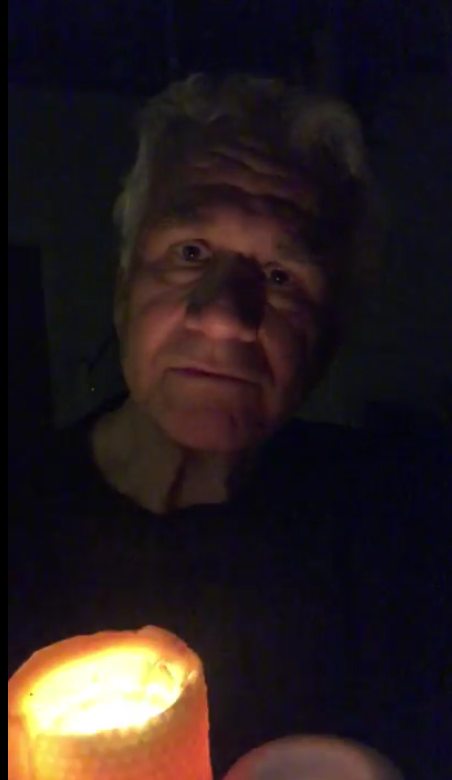 Garrett M Brown; Candlelight Vigils #9...

Candlelight Vigils # 9...Passing An Orchard By Train...by Robert Bly.
In Memoriam, GF.

This video piece can be viewed online at:
https://drive.google.com/file/d/1rm12_waS7HPFvNLSrmaLv1wsHt9vgHRO/view


Satoe Fukushima

Sotoe Fukushims; Relax, Panic, Eat...
Rosa Park's Pancake Recipe
Featherlite Pancakes
Put together
1C flour
2T B.Powder
1/2t salt
2T sugar
Mix
1 egg - 1 1/4C milk
1/3C peanut butter
1T melted shortening or oil
Combine with dry ingredients
Cook at 275°
On griddle

Adapted version
1C All purpose GF flour
1 1/2T B.B.Powder
(use less if the GF flour has B.P.)
1/2 t salt
2T beets sugar
1/4C unsweetened Applesauce
1C alternative milk
1/3C Coconut oil with
3T Kinako (ground roasted soybean)
1T coconut oil Cook as directed in the original recipe.
Relax, Panic, Eat...
It is not only a delicious tradition, but also it gives an opportunity to talk about her courageous action and its meaning for change. America is still suffering the same racial disparity and it became more visible thanks to the technology. We are finally sharing the long sufferings of Black lives and cries for change. We all need Rosa's motherly side to carry on this painful movement to punch through the intolerance. It's okay to panic and cry a bit, but eat breakfast and get ready for action.

This performative audio piece can be listened to onlne at:
https://www.dropbox.com/s/1abj7ws2kqmuki3/BLMRosaParksPancake.mp3?dl=0

An acrobat file for the Rosa Parrks Pancakes recipe can be downloaded from the link below:
Rosa Parks Pancakes
Yrneh Gabon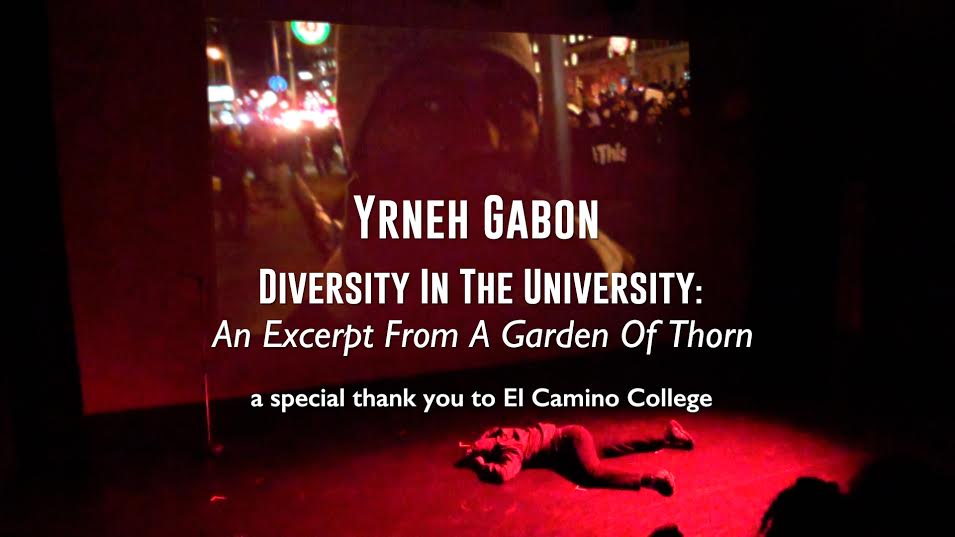 Yreneh Gabon; Diversity in the University

Diversity in the University
This video piece can be viewed online at:
https://drive.google.com/file/d/1BdH_qUEbAY2-Qs_E81U8c2NTLzvOxqZy/view?usp=sharing
Joyce Kohl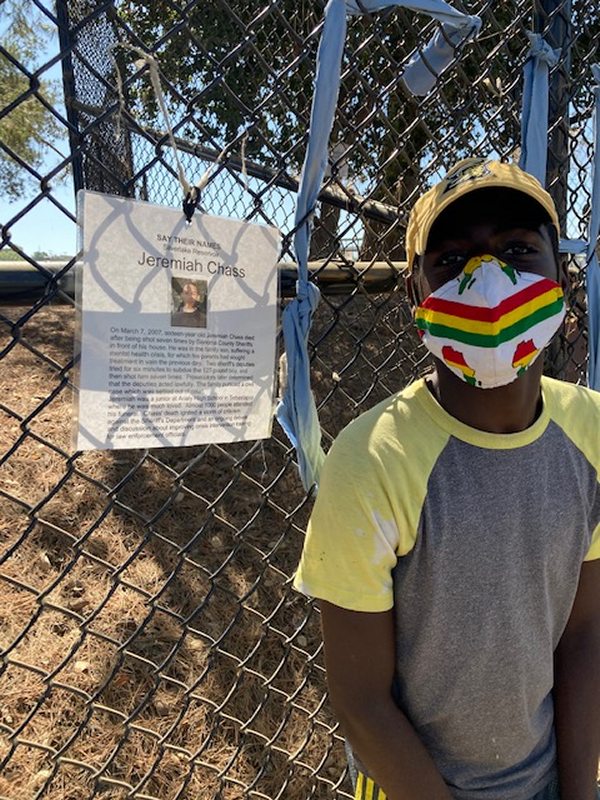 Joyce Kohl; Remembering Jeremiah

Remembering Jeremiah
This powerpoint presentation can be accessed online at:
https://drive.google.com/file/d/1HhU_oFFqvoDbbTQ7v148MfJFR9W3j00t/view


Margaret Lazzari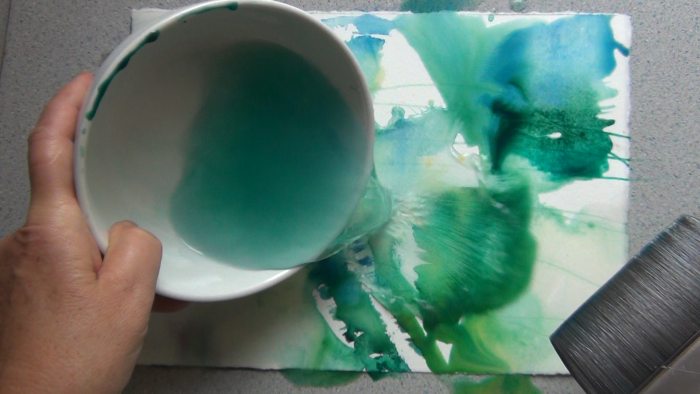 Margaret Lazzari; Start, Flow, Restart
Start, Flow, Restart
Start, Flow, Restart also is a video of my process in making a watercolor painting. In this case, I needed to use video not to show raw emotionality as with Conflict. Rather, I used its the time-based linearity to show the cycles of building/obliterating/restarting. So much political activism is basically fighting the same battles over and over again. The ground under foot always seems to be dissolving away. Start, Flow, Restart was for me an act of faith that progress will be made.

This video can be viewed online at:
https://www.youtube.com/watch?v=JZZ4-8CPTBk

Margaret Lazzari; Conflict
Conflict
Conflict was made after a political fight with a family member, which left me feeling very angry and outraged. I made this mixed media watercolor with splattering marks, gritty charcoal, and scraping pencils that built up on and tear away at the paper. In this case, a finished watercolor is too static to show the energy and emotion that went into this work. Therefore, I recorded my process and edited the video so that it had jarring cuts and staccato rhythm.

This video can be viewed online at:
https://www.youtube.com/watch?v=A_8cvU2DgwA


Peter Liashkov and Don Saban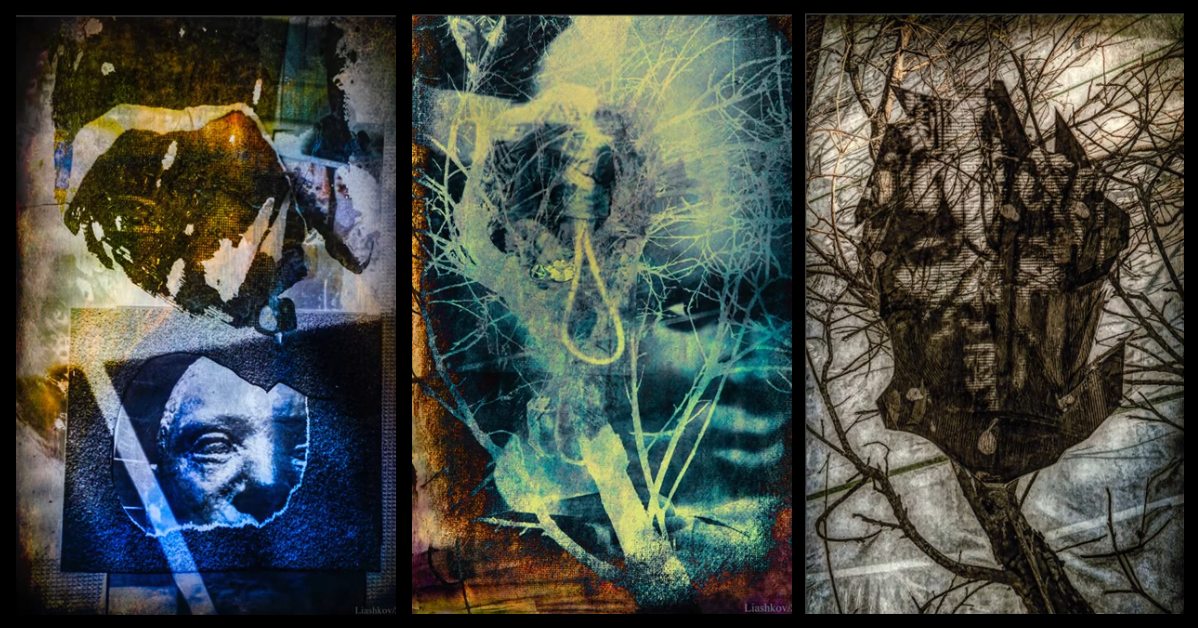 Peter Liashkov and Don Saban; Strange Fruit

Strange Fruit
The STRANGE FRUIT project was conceived after doing a residency at Pike school of Art in Mc Comb , Mississippi. I gathered documentation and photographs dealing with the legacy of slavery & lynching in the Southern United States & soaked up the haunting atmosphere of the countryside as seen through the eyes of photographer, Sally Mann. This resulted in a body of work that included a series of multimedia paintings , short videos & an installation of a tree branch superimposing a series of small prints in a grid formation . My good friend, a prominent L.A . photographer, Don Saban was intrigued by these prints & offered to rework them to enrich the color & the spatial qualities of the images. The addition of the audio of Billie Holiday singing the classic song, Strange Fruit, seemed to be appropriate to evoke the deep sorrow imbued in these works.
-- Peter Liashkov

This collaborative video piece can be viewed online at:
https://www.youtube.com/watch?v=0vtt9QQnQV0&feature=youtu.be

Marianne Sadowski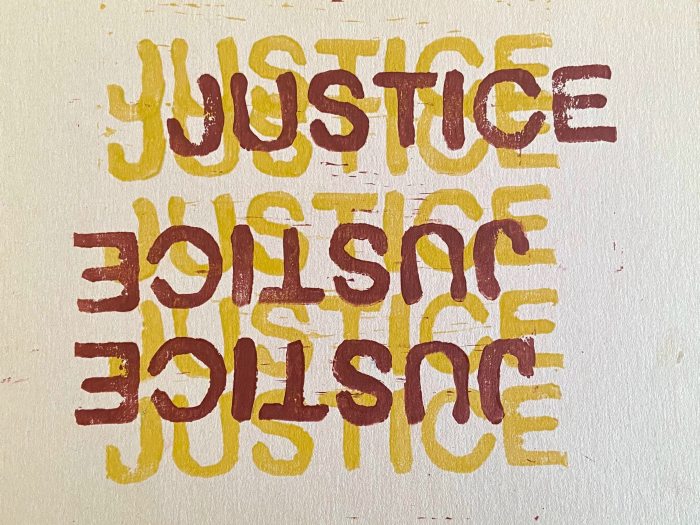 Carolyn Kessler Eaton; Justice, from Justice/Injustice ebook

Justice/Injustice ebook
An acrobat ebook for a printing class project by Marianne Sadowski in coordination with a LACMA online program can be downloaded from the link below:
Justice/Injustice ebook

---
PANDEMIC RESPONSE:

An online exhibition of work by 41 Southern California artists plus one musician in response to the onslaught of COVID #19

Work by:
Luis Alderete, Andrew Alvarez, Victoria Arriola, Mariona Barkus, Phoebe Barnum, Catherine Bennaton, Barbara Berk, Terry Braunstein, Garrett M. Brown, Pamela Burgess, Joyce Dallal, Pirkko De Bar, Raoul De la Sota, David Doms, Aaron Donovan, Lauren Evans, Suvan Geer, Ellen Giamportone, Phyllis Green and Ave Pildas, James Griffith, Rebeca Guerrero, Brenda Hurst, Kira Junge, Tom Whittaker Kidd, Margaret Lazzari, Peter Liashkov, Betsy Lohrer Hall, Michael Lewis Miller, Nancy Mozur, Lowell Nickel, Ann Page, Nancy W. Romero, Marianne Sadowski, Mia Salazer, Christine TsuTsui Saldana, Cory Sewelson, Carl Shubs, Annie Stromquist, Dusty Tailor, Sandra Trepasso, David Jordan Williams

August 15 - September 30, 2020

ONLINE EXHIBITION ONLY


Peter Liashkov; Mister Pandemiko 2020; Acrylic, oil, charcoal, print transfer, washers on fiberglass mesh; 23" x 18"; 2020
In early March this year, 2020, much of humanity was gripped by fear at the news of a globally transmitted virus of new and astonishingly dangerous proportions. In China, where the virus originated through animal to human contamination, the government rapidly mandated that all citizens completely shut down interpersonal contact beyond the family bubble in attempt to contain the spread. Countries throughout the east and west followed suit as the virus traveled and voraciously consumed lives. Within a fairly limited time span China was able to contain the proliferation of the disease by means of rigid and potentially punitive enforcement of rules of conduct.
In the relatively small, parliamentary democracy of Finland where healthcare is entirely socialized and there is a high degree of intentional cooperation, the COVID 19 has been contained and deaths have numbered 329. Different countries have handled the pandemic in ways that are unique to the cultures involved and suppression of the virus has varied accordingly.
Unfortunately the US has been hard hit by the disease due to a variety of problems that range from lack of cohesive strategy in approaching this health crisis, complex American expectations concerning freedom of choice and the politicization of mask wearing, inadequate testing, contact tracing and medical protective gear and growing desperation to recover a collapsing economy. As a result, the pandemic rages on with approximately 155,000 deaths in the US at the end of July 2020.
In April, I began contacting a number of artists, inquiring as to whether they were doing artwork in response to this stressful situation in which human contact is limited, diversion is at low tide and introversion and introspection are given carte blanche. To my amazement a plethora of artists eagerly responded. The work that has emerged during this time period is varied and fascinating - ranging from encaustic abstractions that deal viscerally with anxiety, to stitched political commentary, a community based book project, performance video, printmaking, and photography to meditative paintings and drawings depicting new life and hope. Please take a look at this somewhat lengthy slide show of images and artist statements and weigh your own responses.
This exhibition will be followed by a separate online show in October 2020 addressing the death of George Floyd in the hands of the Minneapolis police and broader issues of Black Lives Matter. If you are interested in be considered for the BLM exhibition please send images and image identification plus statement to: smeiers@elcamino.edu
Susanna Meiers, Curator
An Acrobat PDF document with the Artists' Statements and Images from the exhibition can be viewed or downloaded from the link below.
Am Acrobat file for study guide questions for students can be viewed or downloaded from the link below:
In addition to the artwork shown in the sldeshow, several artists' work is available either in Acrobat PDF documents or in online media presentations. Those artists' works are below.
Garrett M. Brown
Candlelight Vigils # 6...The Wisdom Line, adapted from Maira Kalman's brilliant book, The Principles Of Uncertainty.

This piece can be accessed online at:
https://drive.google.com/file/d/1VS4pSoYiRZd8lZB-RcbDtarbRjV-Bh46/view
Joyce Dallal
Safe at Home
This video is a collage of images and sound recorded at home while my family remained inside during the period of the Covid-19 pandemic from March 16 through July 30, 2020. It encapsulates the fluidity of time as the days ran together, and all we knew of outside life was perceived through screens.

This piece can be viewed online at:
https://vimeo.com/443560087
David Doms
Noise Wheel 1
Noise Wheel 1 was created in the early stages of the Covid 19 pandemic. The origin of the sound is from a realtime performance using a Prophet 12 hardware synthesizer. A sound was designed for the instrument that would allow for the generation and control of noise and distortion freely, while also producing pitched tones. Noise Wheel 1 is from a series of improvisations that explore the space of foreboding, uncertainty and rising anxiety.

This piece can be heard online at:
https://soundcloud.com/user124339966/noise-wheel-1/s-EvEmzUXnF4I


Lauren Evans
I weave toy imagery throughout my work using game pieces to evoke the journeys that we all take over the course of our lives. Toys and game pieces evoke nostalgia for childhood friends and play. With nostalgia comes emory of joy and trauma, connection and loss.

This piece was sparked by the extraordinary and trying times in which we live due to the global pandemic and the response from our government agencies. I'm trying to grapple with the mystery of why science is being overlooked and experts pushed aside. With rampant conspiracy theories taking over logical thought it feels like policies are being communicated through a toy, The Magic 8 Ball.

The video uses actual questions asked of a variety of national news media sources regarding the novel coronavirus. The name of the piece draws from the phrase, Behind the Eight Ball, referring to the game of pool, and means being in an unfavorable or uncomfortable position.

This piece can be viewed online at:
https://www.youtube.com/watch?v=Ux3AFMkFneA&feature=youtu.be

An Acrobat PDF document to accompany this exhibit is available for viewing and download below.
Lauren Evans: Behind the Corona Eight Ball
Mia Salazer
The Pandemic resulting from the novel coronavirus known as COVID-19 has challenged us in ways that we couldn't have anticipated, and each of us has been tasked with making sense of it in his or her own way.

In an effort to provide a forum for sharing advice and encouragement, I invited people on my email list to contribute something ― anything ― to what I conceived would be a simple newsletter, perhaps a page, front and back. I had hoped for at least 10 responses and was surprised and deeply touched when over 60 got back to me including friends of friends.

I ended up making 71 handbound booklets, one for each of the contributors, and one woman graciously created a digital version which will be shared here.

The project has had a heart of its own.

Mia Salazar,
2020

A PDF file of the booklet is available for viewing and download below.
Mia Salazar: Pandemic 2020

Student Art Show 2020
An online exhibition of works in varied media including drawing, painting, ceramics, sculpture, digital media, animation, printmaking, jewelry, graphic design, 2-D design, 3-D design and more.
---
What Is It About Trees?

Work by:
Kim Abeles, Adrian Amjadi, Marthe Aponte, Angela Aylward, Mariona Barkus, Phoebe Barnum, Randall Bloomberg, Gail Brown, Garrett M. Brown, Lorraine Bubar, Curt Caldwell, Art Constancio, Ray Carofano, Joyce Dallal, Raoul De la Sota, L. Aviva Diamond, Jeanne Dunn, Susan Einstein, Kathi Flood, Roger Fuentes, Joel Glassman, Joe Hardesty, Jason Jenn, Joyce Kohl, Noel Korten, Peter Liashkov, Betsy Lohrer Hall, Kaoru Mansour, Aline Mare, Karena Massengill, Nancy Mooslin, Nancy Mozur, Hilary Norcliffe, Sam O'Neal, Vojislav Radovanovic, Roxene Rockwell, Marianne Sadowski, Anne Scheid, Jill Sykes, Pat Warner, Nancy Webber, Naima White

Exhibition contains Images in a broad range of media including photography, drawing, sculpture, printmaking, digital media, collage and jewelry to mixed media installation, dealing with the profound and varied nature of trees as symbols in visual art.

February 18 - March 12, 2020


Ray Carofano; Machado Lake #13;
Gelatin silver print; 13.5" x 20"