Industry and Technology Division
To maintain the health of our community and prevent the spread of COVID-19, our office is currently closed to the public and the staff are working remotely. The division office is supporting students and visitors by phone and e-mail and can be reached at the by e-mail at indtech@elcamino.edu and phone at (310) 660-3600.
INDUSTRY AND TECHNOLOGY DIVISION OFFICE
Industry Technology Education Center (ITEC), Room 102
(310) 660-3600
indtech@elcamino.edu
Fax: (310) 660-3106
Office Hours
All office hours have been halted due to campus closure (except as noted on this page).
Please contact us via email:
NOTICE OF OFFICE HOURS
FOR THE 2ND 8 WEEKS OF FALL 2020 SEMESTER
The division office will be open to students during the following weeks:

2 weeks from October 19 to October 29, 2020
Hours will be: 8:30 am - 4:30 pm, Monday thru Thursday
Walk-ins are welcome; however, to expedite your visit, we strongly suggest that students schedule an appointment by sending an e-mail to indtech@elcamino.edu with the following information:
Student Name
ECC Student ID Number
Who you would like to make the appointment with (i.e. Dean, Associate Dean, Staff, etc.)
Purpose of your visit (i.e. Independent Study, Grade Change, etc.)
Your day and time preference for the meeting--please give 3 options (last appointment time will be 4:00pm)
There will be blank forms available outside the division office. Please complete your form(s) prior to your appointment meeting. If an instructor has to sign your form, please obtain the required signature(s) prior to your meeting day/time.
Please Note: FACE MASKS

MUST BE WORN

IN ORDER TO BE ADMITTED INSIDE THE DIVISION OFFICE AND FOR YOUR APPOINTMENT MEETING.
---
NOTICE

REGARDING THE SUSPENSION OF CLASSES FOR THE LAST 3 WEEKS OF THE FALL 2020 SEMESTER

If you are enrolled in one or more of the classes/sections listed in the letter below, this affects YOU!

Click here for the downloadable PDF version.
---
The Industry and Technology Division offers academic programs that provide marketable skills and occupational education to prepare the student for a successful career or transfer to a four-year college or university. Courses are taught by professionals in their field and students receive an intensive, hands-on educational experience. Instructors also work with students to seek employment, often before the course ends. Students learn how to compete in today's workplace, while learning valuable skills vital to career advancement. A strong work ethic is reinforced, along with dedicated workmanship.
The Industry and Technology Division offers programs for all kinds of students, from high school graduates looking to start a career, to those who want to work toward transferring to a four-year college or university. Through the adult re-entry program, many students enroll in courses to improve skills or retrain for a different position. Other students are looking for courses for their own personal enrichment and education.
Today, options for employment are limitless - as our world becomes more dependent on technology, the demand for skilled technical employees increases.
Air Conditioning and Refrigeration - Architecture / Environmental Technology - Automotive Collision Repair and Painting - Automotive Technology - Automation, Robotics & Manufacturing: Engineering Technology / Machine Tool Technology / Manufacturing Technology - Computer Aided Design and Drafting - Construction Technology - Cosmetology Technology - Electronics and Computer Hardware Technology - Fashion - Nutrition and Food - Welding Department
*Effective July 1, 2020, the Administration of Justice and Fire and Emergency Technology departments will be moving to the HEALTH SCIENCES AND ATHLETICS DIVISION. Contacts for these departments are listed below.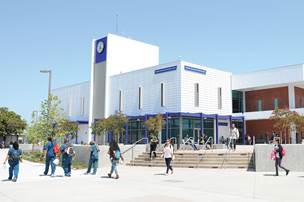 Industry Technology Education Center
The Industry Technology Education Center (ITEC) is a completely renovated space designed to house industry and technology programs as well as the Information Technology Services office. The $38.3 million, 105,090-square-foot ITEC offers 70 classrooms and 24 labs that provide access to 209 new computers, training equipment, and associated tool rooms for drafting, fashion, and cosmetology programs. Administration of justice, architecture, automation robotics and manufacturing, engineering technology, fire technology, emergency medical technology (EMT), electronics and computer hardware technology, and the observatory are also located in the building.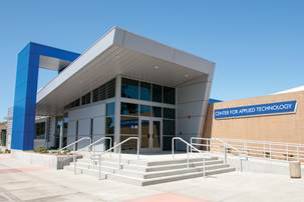 Center for Applied Technology
The $29.9 million Center for Applied Technology (CAT) building features a brand new 44,400-square foot, state-of-the-art learning center. Housing the welding technology, automotive collision repair and painting, automotive technology, and air conditioning and refrigeration programs, the building offers modern learning facilities for students, including exterior covered areas and vehicle/equipment yards, paint spray booths, and state-of-the-art welding equipment. Green technology incorporated into the design and functionality of the new CAT building includes Solatube skylights in some offices and classrooms and the use of recycled/reclaimed water for the landscape irrigation.