Men of Color Conference

Defy the Lie and Embrace your Truth!
A Holistic Approach to Healing Men of Color
Friday, October 11, 2019
8:00 A.M. - 3:00 P.M.
El Camino College
East Dining Room
16007 Crenshaw Blvd.
Torrance, CA 90506
For more information, contact:
Robert Williams
Counselor, El Camino College
310-660-3593 ext. 3819
rowilliams@elcamino.edu
Join us for the second annual Men of Color Leadership Conference and enjoy a day of empowerment, positive social change, and an opportunity to network with other men of color.
Attendees who participate will receive:
• Free Breakfast & Lunch
• Leadership and Wellness Workshops
• Networking Opportunities
• Featured Guest Speakers
• Community Resources
• And much more!
This conference is free for all California Community college students, staff, and faculty.
Seating is limited to 250 attendees.
Register Online Today at:
bit.ly/menofcolorconference

Agenda
Registration and Continental Breakfast
8:00 a.m. - 9:00 a.m.
Welcome and Introduction of
El Camino College President Dena Maloney
Ross Miyashiro, El Camino College Vice President of Student Services
9:00 a.m. - 9:15 a.m.
Opening Keynote Address
Roots of your Trauma
Dr. Yamonte Cooper
9:15 a.m. - 10:00 a.m.
Building your Squad
Men of Color Faculty & Staff
10:00 a.m. - 10:45 a.m.
Breakout Sessions I
11:00 a.m. - 12:00 p.m.
Lunch
Tabling Fair
12:00 p.m. - 1:00 p.m.
Breakout Sessions II
1:00 p.m. - 2:00 p.m
Closing Keynote
Dr. Brad Stone
2:00 p.m. - 2:45 p.m.
Pledge to Self
Reggie Ellis
2:45 p.m. - 3:00 p.m.



Breakout Sessions
Building your Squad
Men of Color Faculty & Staff
Having a well-established squad (network) is an important part of life in becoming a man that is professionally successful and mentally healthy. The easiest way to expand your squad is to build on the relationships with people you know; family, friends, classmates, and attendees at the Men of Color Conference! In this workshop, attendees will learn how to build a squad that will support their educational and professional journey.
The Facade of Toxic Masculinity: Unveiling the 'Masc' for Men of Color
Manuel Diaz
The purpose of this workshop is to provide an overview of toxic masculinity theory. Specific attention will be given to exploring how traditional gender roles for men of color contribute to the development of hypermasculinity, which can lead to negative life consequences. Attendees will also discuss the impact of developing a healthy and positive sense of masculinity and how it can have long lasting effects on mental health and positive relationships.
Financial Wellness
Jose Gutierrez
Financial security is key to a successful foundation in building and keeping your wealth. Learn about important finance topics on credit, cash management, and personal investments. You work hard for your money so learn how to keep it and grow it.
Mindfulness
Jonathan Ng & Antonio Del Real
As Men of Color who face microaggressions daily, we are more susceptible to anxiety and psychological distress through racial discrimination than our White counterparts, however we are the least likely to acknowledge our stress and reach out for help to deal with it effectively. We are going to talk about the stigmas associated with mental health in communities of color, where they come from, and mindfulness strategies we can use to take care of our own.
Spiritual Wellness
Analu Kameeiamoku Cruze-Josephides
Spiritual Wellness is being connected to something greater than yourself and having a set of values, principles, morals, and beliefs that provide a sense of purpose and meaning to life. It's about what inspires you, what gives you hope, and what you feel strongly about. Spiritual wellness is a continuing journey of seeking out answers and connections and seeing things in a new way. It can be the core of ones being, their very identity. It gives meaning to all aspects of life including relationships with one another and the environment. Historically, colonization and westernization brought global disconnect to various peoples that traumatized generations via displacement from their lands, culture, language, and spiritual practices. How do we reconnect with our ancestors, ourselves, the environment, and even our language in order to realign our mind, body, and spirit?
Keynote Speakers
Dr. Yamonte Cooper
El Camino College
Dr. Yamonte Cooper is a Professor of Counseling at El Camino College, adjunct Assistant Professor of School Counseling at USC, adjunct Professor of Clinical Psychology at Antioch University, Licensed Professional Clinical Counselor (LPCC), National Certified Counselor (NCC), ICEEFT Certified Emotionally Focused Therapist (EFT), Certified Gottman Therapist, and AASECT Certified Sex Therapist (CST).He specializes in working with couples, trauma, sexual dysfunctions, gender & sexual identity, depression & anxiety, bipolar disorder, personality issues, grief, and other mental health problems.
He is the author of the upcoming book The Impacts of Racism and Trauma on African-American Men (Routledge). Further, as a Fulbright scholar, Dr. Cooper exchanged best practices in career counseling and development in Germany and has exchanged best practices with higher education institutions in Botswana. He can be reached at dryamontecooper.com.
Dr. Brad Elliott Stone
Loyola Marymount University
Brad Elliott Stone is Professor of Philosophy and Director of the Philosophy M.A. Program at Loyola Marymount University. He has also served as Chair of the Department of African American Studies and Director of the University Honors Program.
Born in Columbia, KY, Dr. Stone received his BA in Philosophy and Modern Language Studies from Georgetown College (Ky.) in 1998. He then spent the 1998-1999 academic year at the University of Salamanca as a William J. Fulbright Scholar. He earned his PhD in Philosophy from the University of Memphis in 2003.
At LMU, Dr. Stone has been active in a variety of student academic mentoring programs, including First to Go, The Learning Community, Praxis Academy (Black Male Initiative), Undergraduate Research Scholars Academy (helping community college students transition into four-year schools), Undergraduate Research Opportunity Program, Undergraduate Research Symposium, Bunche Scholars Program (first-gen study abroad initiative), Office of National and International Fellowships (mentoring Fulbright applications), and many others.
As a scholar, Dr. Stone is the co-author (along with Jacob Goodson) of Introducing Prophetic Pragmatism: A Dialogue On Hope, The Philosophy Of Race, and The Spiritual Blues (Lexington Press, 2019) and the co-editor (again with Jacob Goodson) of Rorty and the Religious (Cascade, 2012). He has published over twenty articles and book chapters. He is currently writing a monograph on Cornel West¹s philosophical historicism.
In the community, Dr. Stone is a lay preacher in the Baptist, Congregational, and Episcopalian traditions. He is actively involved with Safe Place for Youth and Freedom for Immigrants.
Guest Speakers
Dr. Manuel Diaz
Pomona College
Dr. Manuel (Manny) Diaz is an Assistant Dean of Students for Pomona College and is the Director for the Queer Resource Center at The Claremont Colleges. He also serves as an Adjunct Professor for the Ethnic and Women's Studies Department at Cal Poly Pomona where he teaches courses on gender, sexuality, and diverse LGBTQ+ sexual and gender identities. He received his PhD and second MA in Education from Claremont Graduate University. He is also a graduate of Teachers College, Columbia University having earned his first MA in Psychological Counseling and BA in Psychology from Cal Poly Pomona. His current research agenda focuses on the lived and campus climate experiences of LGBTQ+ college students, enacting allyship for underrepresented student populations (e.g., first generation, low-come, students of color, etc.), and how intersections of identity influence student's college trajectories and access.
Jose Gutierrez
Long Beach City College
Jose Gutierrez earned his M.S. in Counseling from San Francisco State University and has over nine year of community college experience working students from diverse backgrounds. He is passionate about student success and enjoys seeing his students achieve their academic goals. Jose is the current lead for the California Catalyst Grant at Long Beach City College supporting undocumented students.
Analu Kameeiamoku Cruze-Josephides
El Camino College
Analu Kameeiamoku Cruze-Josephides began his career with El Camino College two years ago and serves as the Reference Services Librarian. He received his Master's in Library and Information Science from the University of Hawaii at Manoa. Analu has a Bachelor's of Arts in Hawaiian Studies with a focus on traditional Hawaiian society.
Last year Analu completed his fourth film project called Concealing where he played the lead as a schizophrenic husband and father who murdered his wife and convinces his daughter to help bury the body. Analu is a fan of acting in horror and suspense and hopes to accomplish more as he looks to his idol Sir Anthony Hopkins for character building.
Analu is currently working on a historical publication and has published both scholarly articles and research manuals focused on indigenous librarianship, land research, history, and genealogy. Analu is trained in the art of Hawaiian genealogy and was the past Genealogist and Cultural Historian for the State of Hawaii. He was one of many indigenous peoples globally who contributed to the document, "Declaration on the Rights of Indigenous Peoples" adopted by the United Nations General Assembly on Thursday, September 13th, 2007.
Analu says, "I can have my cake and eat it too" on being both a librarian at El Camino College and an actor in Hollywood.
Jonathan Ng
Pasadena City College
Jonathan Ng is a College 1 Professor and Counselor at Pasadena City College (PCC) for the Black Scholars (Ujima) program. Born to a mixed race family who heavily emphasized the importance of education and mental health, Jonathan pursued his education to find a way to blend his passion for culture with his passion for mental health to give back to his community. He recently graduated with his Master's from USC's Educational Counseling program and is dedicated to challenging systems of power in order to achieve educational equity for students from underserved communities.
Parking Information
Automobiles may park in Lot C
There will be a designated area on the top floor to park but participants can park anywhere in Lot C other than the red reserved and blue disability stalls.
Campus Police will not enforce parking in Lots C/D/E/F/B (the entire north side) while the event is in progress. The exceptions would be red stalls and any vehicle blocking the roadway/hazards, etc.

Buses can drop off students in Lot D
Smaller buses/Vans may drop off students at the traffic circle between Lot C and Student Services.
Bus Parking will be in Lot D
Vans may park in Lot C.

Police and Cadet presence
Sgt. Robertson, cadets, and student ambassadors will be in the Lot C, Lot D, and Bookstore area to answer questions and direct people to the Bookstore building (East Dining Room) for the conference.
Media
Below you will find the download links to our digital flyers as well as flyers that are print ready.
Flyer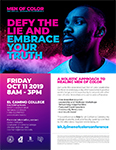 Post Card Handout