Student Equity Reenvisioned Workshops
Welcome!
SER invites you to participate in its College Hour Workshops where you can discover a wide range topics on student equity. Please join us throughout the semester as we explore equity-minded designs and their application in the classroom. SER College Hour Workshops provide faculty with access to a selection topics on student equity. The aim of the workshops is twofold:
1. To inspire faculty to develop equity-minded designs.
2. To help promote student equity across the curriculum.
Fall 2018 Workshops
All of the events are available for enrollment in the Professional Development Reporter.
REGISTER at http://elcamino.flexreporter.com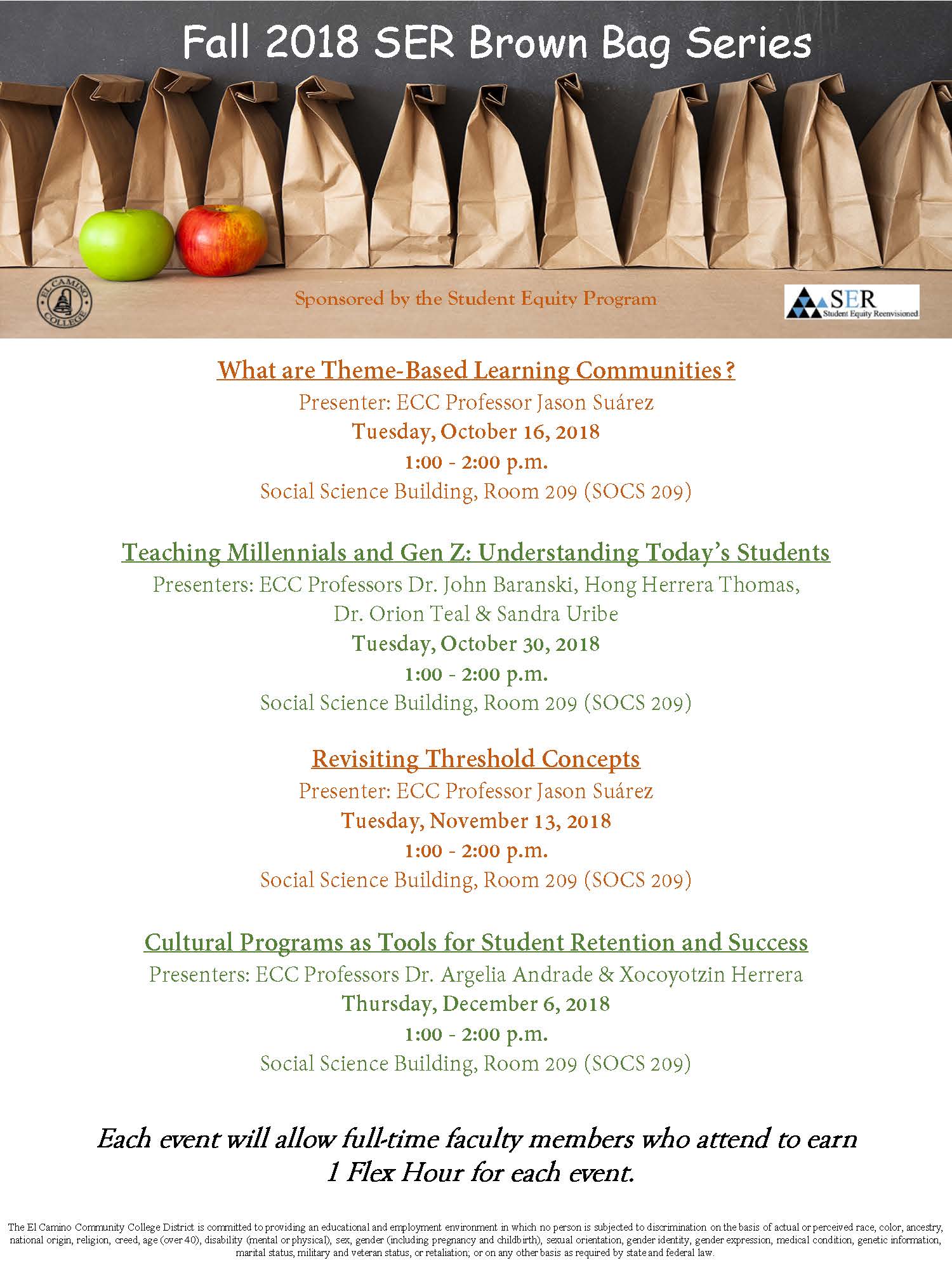 What are Theme-Based Learning Communities?
Presenter: ECC Professor Jason Suárez
This brown bag will explore how theme-based learning communities can provide students with an opportunity to learn in an innovative and dynamic academic setting that embeds high impact practices and creates a culturally responsive learning experience. Participants will also evaluate whether this model can be used to address student equity gaps.
---
Teaching Millennials and Gen Z: Understanding Today's Students
Presenters: ECC Professors Dr. John Baranski, Hong Herrera Thomas, Dr. Orion Teal & Sandra Uribe
Student Equity Re-Envision (SER)/ Behavioral and Social Sciences faculty facilitates a critical dialogue about the changing landscape of the classroom and understanding the learning styles of the "Millennial generation" and "Gen Z." Topics will include: common student issues in the classroom, recommended interventions, and strategies to leverage the assets that these students bring to the classroom.
---
Revisiting Threshold Concepts
Presenter: ECC Professor Jason Suárez
This brown bag will explore what threshold concepts are and how they allow faculty to decode and identify discipline specific procedural, as well as epistemological bottlenecks that impact student mastery of course material. Participants will explore what the threshold concepts are for their discipline and what can be done to help students master them.
---
Cultural Programs as Tools for Student Retention and Success
Presenters: ECC Professors Dr. Argelia Andrade & Xocoyotzin Herrera
This brown bag will stress the importance of programs that provide cultural awareness and instill a sense of identity affirmation among students. These strong outcomes, in many cases, lead to higher rate of retention and success among students. Case studies will be analyzed as supporting evidence.