Black History Month
February is nationally recognized as Black History Month. The Black History Month Planning Committee is planning engaging and entertaining events to educate and celebrate with the ECC community.
Keynote Speaker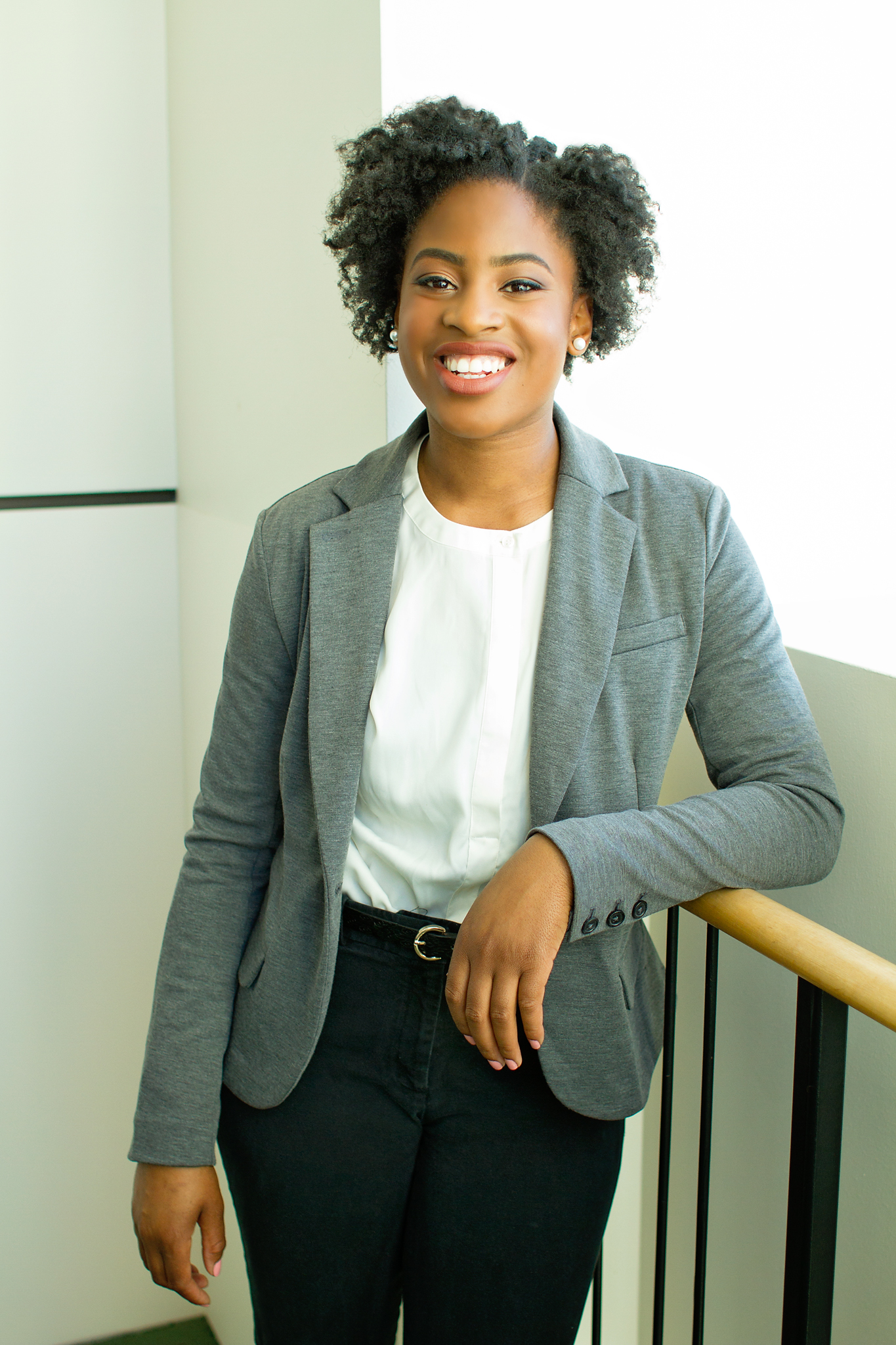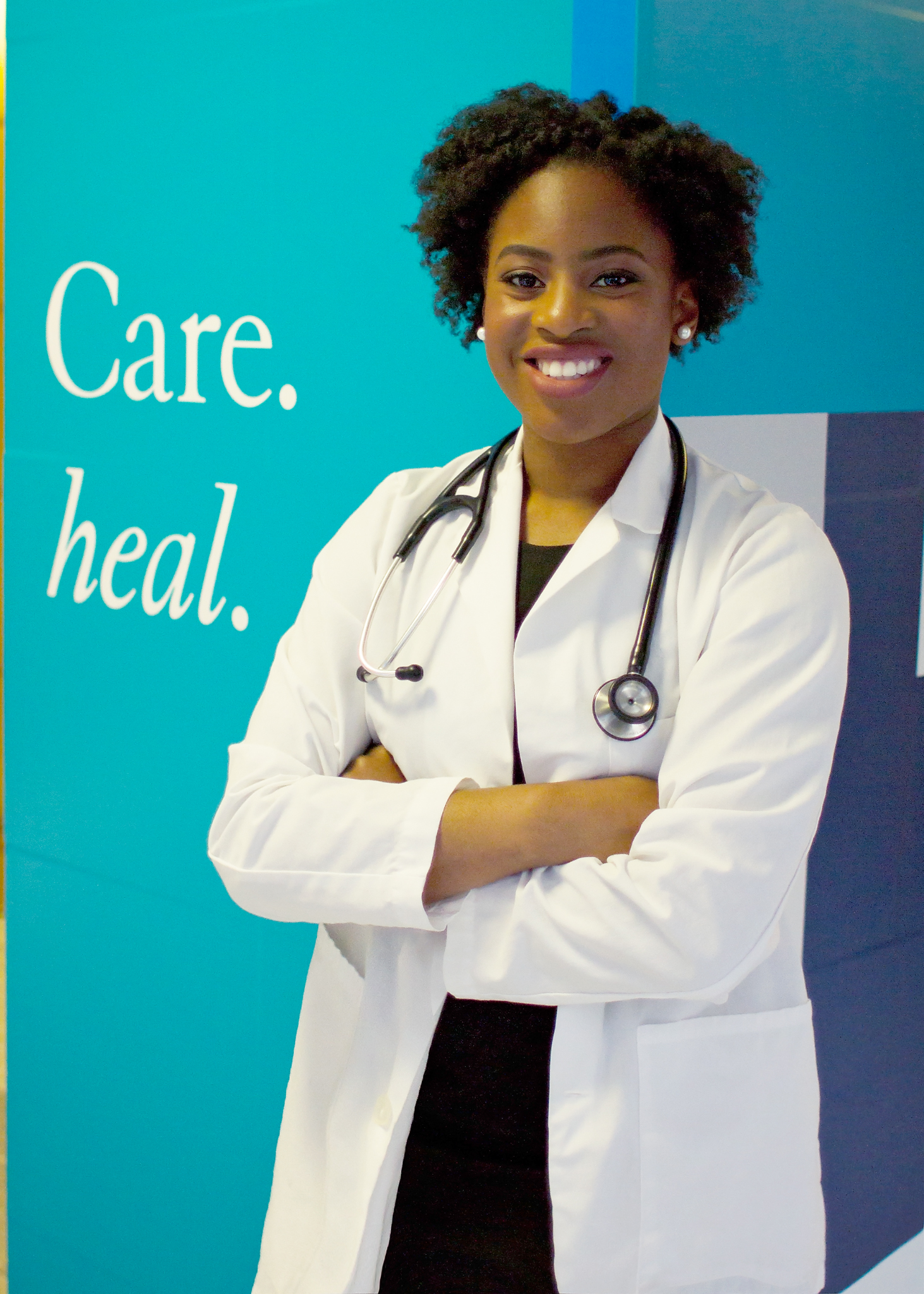 Dr. Hannah Obasi, M.D.
Internal Medicine/Pediatrics, LAC+USC Medical Center
Dr. Hannah Obasi was the 2015 winner of the Sinkler Miller Medical Association (SMMA) Scholarship recipient. She is a native of Richmond, California. She attended Middle College High School which is designed as an alternative educational program that allows for exposure to college while in high school. The school is located on the Contra Costa Community College campus. It is a public school, but highly competitive and primarily for students of the West Contra Costa Unified School District. She attended high school with her twin sister and an older sister. Friends referred to them as the "triplets". She looked back at her high school experience as a great opportunity. Students took 1-2 college courses in addition to high school courses, and received college credit. Upon graduation, the students had enough credits to get their AA degree.
When asked, what inspired you to choose a career in medicine? She replied that since high school she has been interested in global poverty. Since both of her parents are from Nigeria, she is aware of the privileges that she had growing up in the US in contrast to life in Nigeria. Through community service activities with her church, she developed a desire to give back to her community. Science came easily to her, and medicine seemed a natural medium to further her interests in global health, poverty and community service. When asked about life as a medical student, she replied that she asked many questions – such as what does global heath look like in medicine? Being a medical student in San Francisco, she became more aware of the issues of race and its impact on health care. Dr. Obasi was inspired by the Black Lives Matter activisms inspired her. She joined other first and second year medical students to create and organize "White Coats for Black Lives" and the nationwide "White Coat Die-In" demonstrations of 2014. Dr. Obasi felt that it was important to acknowledge that racial bias affects both the justice system and the medical field. She was passionate about the importance of Black medical students taking a stand, and appreciated the SMMA scholarship as it validated the necessity for social responsibility that she and all the other scholarship recipients were participating in.
Dr. Obasi graduated from the University of California San Francisco School of Medicine in 2018. She works in Los Angeles, CA and specializes in Internal Medicine/Pediatrics and Internal Medicine.
Keynote Address
February 25, 2021 | 1:00-2:00P.M.
All El Camino College students, employees, and community members are welcome to join us via Zoom as we celebrate and learn about Black Excellence in the medical field from Dr. Hannah Obasi.
Dr. Obasi will share her journey as a physician and provide a glimpse into working as a physician in the middle of a global pandemic.
Register for the Keynote Address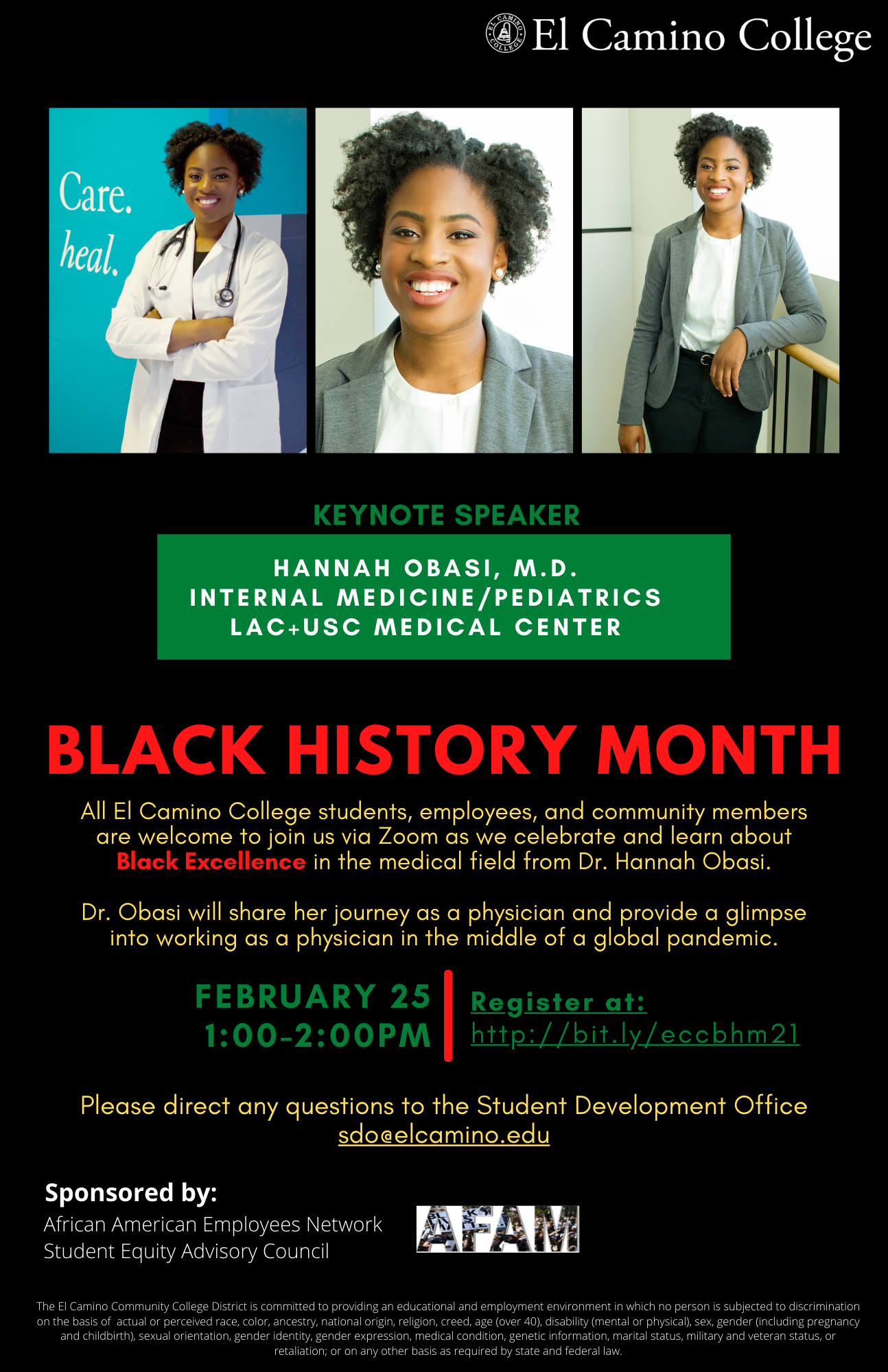 Events
ECC will be hosting events throughout Black History Month. Confirmed events have been posted below: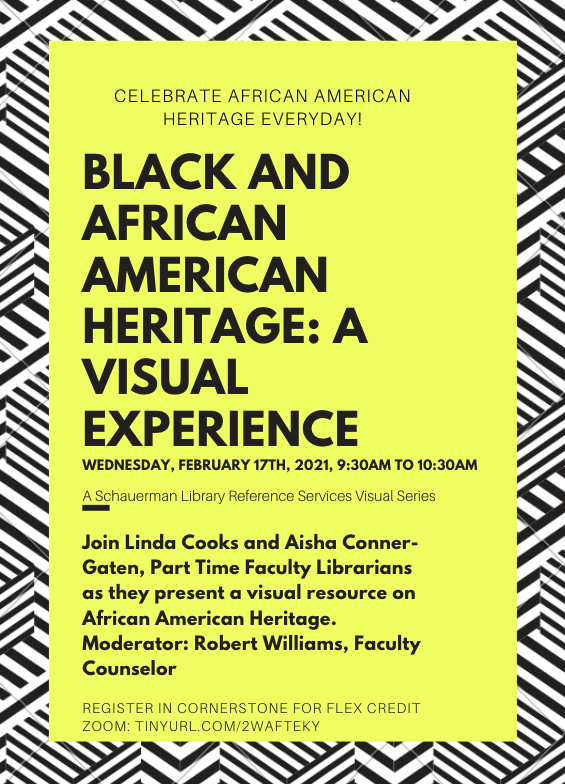 Black History Month Libguide
Wednesday, February 17, 2021 | 9:30-10:30A.M.
Click Here for Faculty Flex Credit
Please consider attending the Schauerman Library Reference Services Visual Series "Black and African American Heritage: A Visual Experience" presentation. Presenters Linda Cooks and Aisha Conner-Gaten, Part Time Faculty Librarians will showcase the Black and African American Heritage: A Visual Experience digital guide. Robert Williams, Faculty Counselor will provide opening and closing remarks and moderate the Q&A. Students are encouraged to attend! Faculty can sign up for flex credit via Cornerstone. All employees of El Camino College are welcome to attend.
The libguide is live and available to view. It will be available to view all year long.
Any problems with accessing presentation please contact Analu Kameeiamoku Josephides, Reference Services Librarian at ajosephides@elcamino.edu for assistance.
Weekly Emails
Weekly emails are being sent to all ECC students and employees highlighting African American pioneers who have made significant contributions to medicine and healthcare. The short biographies for these innovative individuals can be found below:
Resources
Contact
Please direct any inquiries regarding Black History Month to Chris Dela Cruz at chdelacruz@elcamino.edu or ext. 3500.