Annual Scholarships
Annual scholarships are supported through community contributions from individuals and corporations. Scholarships can be established specific to the students they are meant to serve and provide financial support for students to help cover tuition, fees, textbooks and educational supplies.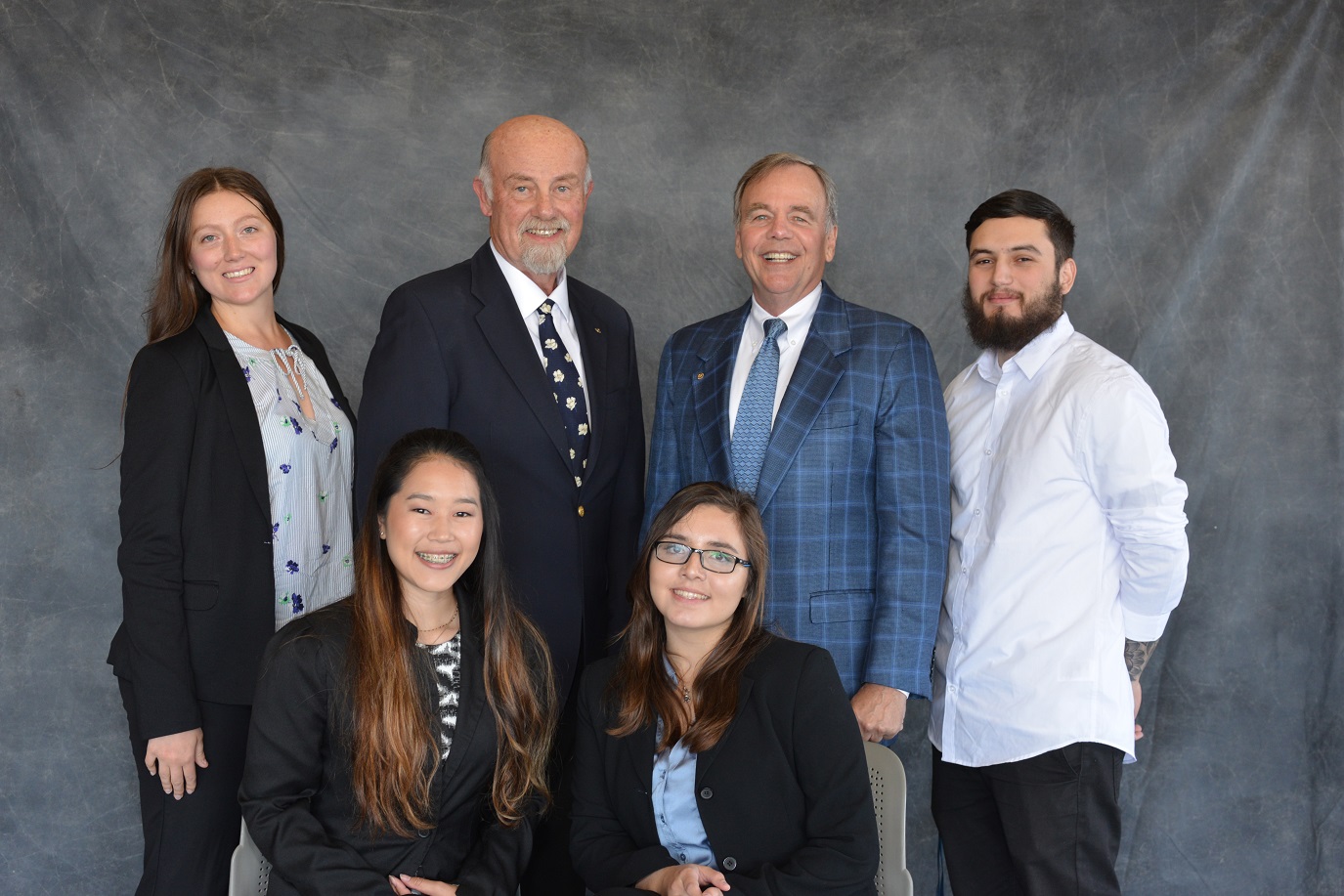 Manhattan Beach Rotary 2018 scholarship recipients with Rotary President Mark Burton (center R) and club member Ken Deemer (center L).
There are many annual scholarships currently available for El Camino College students, including, but not limited to:
ABS Foundation Scholarship
Pauline Adalian Memorial Scholarship
Alpha Gamma Sigma Scholarship
Marilyn and Austin Anderson Scholarship for Teachers
Robert H. Anderson Memorial Scholarship
Baxter Memorial Scholarship
Beaupain Family Scholarship
Kathy Benz Woodwind Players Scholarship
Evelyn Berman Scholarship for Teaching
BQE Scholarship for Computer Science
Patrick Breckheimer Memorial Scholarship for Teaching
Bruins of the South Bay Academic Award
CIS STEM Scholarship
Enrique Caponi Memorial Scholarship
Sandy Casey Memorial Scholarship
Corine Sylvia Carmon Memorial Scholarship
Jolene Combs Memorial Journalism Scholarship
Dominico and Annina Dalessio Memorial Scholarship
ECCE Scholarship
Edison Scholars Scholarship
Frank Ego Social Justice and Athletic Scholarships
El Segundo Rotary Community Service Scholarship
John Featherstone Football Scholarship
Federation Scholarship
Larry Finan Scholarship
First Year Experience Scholarship
Constance Fitzsimons Art/Art History Scholarship
Freshman Aquatics Scholarship
Louis and Susan Garcia Memorial Scholarship
Gene Haas Scholarship
Jane Skinner Hardester Music Scholarship
Pamela Gayle Hester Memorial Scholarship for Nursing
Honors Transfer Program (HTP) Scholarship
Human Development Transfer Scholarship for Excellence
Surendra and Kala Jain Foundation Scholarship
Nils Johnson Scholarship
Southern California Kaiser Permanente Scholarship
Lorna Katz/Jennifer Worrell Music Scholarship
Kinecta Federal Credit Union Scholarship
Brian Keith Kutil Memorial Scholarship
Leonhard Family Machine Tool Scholarship
Manhattan Beach Rotary Club Scholarship
Dr. Stuart and Audrey Marsee Scholarship
Marian McCandless Buck Memorial P.E.O.Scholarship
Edward R. McCray Memorial Scholarship
Tim Muckey Memorial Scholarship
Eva M. Murdock Scholarship
Neptunian Women's Club Scholarship
Joe Boyd Noble Memorial Scholarship
Cynthia and Charles Marquis Noreen Noel Memorial Scholarship for Nursing
Noreen Noel Memorial Scholarship for Nursing
Hedley Nosworthy Memorial Scholarship
Dr. Elizabeth Oberstein Dance and Study Abroad Scholarships
PRIDE Industries Scholarship
Rachael Parker Memorial Scholarship
Carmen Perry Scholarship
Real Estate Scholarship
Michael P. Reddy Memorial Scholarship
Rede Family Scholarship
Virginia and Thomas Riddle Scholarship
Barbara Riser Scholarship
Riviera Garden Scholarship
Room to Grow Scholarship
Sawelson Family Healthcare Scholarship
SME Gene Haas Foundation Machine Technology Scholarship
Scholarship for Nursing Success
Scholarship for Student Success
Horace Simmons Memorial Scholarship
Merl Sloan Memorial Scholarship
Dave Snowden Memorial Scholarship
Ray Southstone Scholarship
Robert R. Sprague Foundation Scholarship
Jessie Steensma Scholarship
Richard Swartzman Scholarship
Charles E. Thompson Jr. Memorial Business Scholarship
Chris Turner Scholarship
Chuck Turner Theatre Scholarship
Vakil-Jessop Family Scholarship
Verizon Scholarship
Vette Set Scholarship
Lorrie and Ted Wegrich Memorial Scholarship
Stanley F. Wilson Award
Dr. Harold Wolpert Scholarship
Myrna Zimmerman Automobile Driving Museum Scholarship
Interested in establishing an annual scholarship at El Camino College? Please contact Andrea Sala, Executive Director at asala@elcamino.edu.