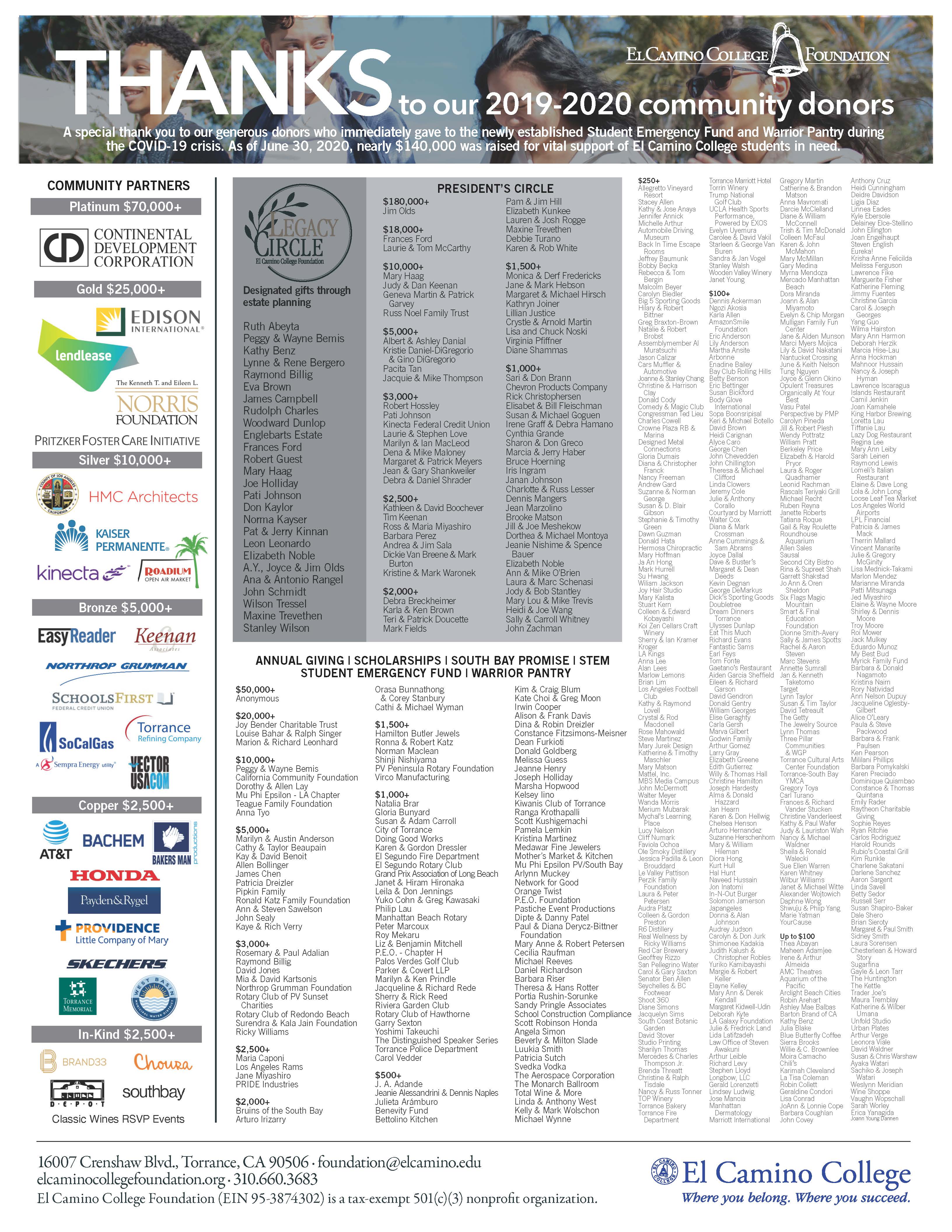 Throughout August and September 2020, our valuable donors will be recognized in multiple local publications including The Beach Reporter, Daily Breeze, Easy Reader, and El Segundo Herald. Again, thank you for providing vital academic success opportunities for our students!
Ways of Giving
Outright Gifts
You can support the work of the Foundation with a gift of cash or securities (stocks or bonds), real estate or other personal assets.
Charitable Gift Annuity
Income for Life for You … Benefit for Future Generations
A charitable gift annuity is an extraordinary way to make a gift, increase your income and slice your tax bill – all in one transaction! Our charitable gift annuity program was created as a service to our many friends who have expressed a desire to make a gift of significance, while still retaining income from the gift property during their lives.
A charitable gift annuity is a contract in which you exchange a gift of cash or securities for a fixed income each year for the rest of your life (or for the lives of two people). Your gift annuity offers five distinct advantages:
Income for Life – at attractive payout rates for one or two lives
Tax Deductible Savings – a large part of what you transfer is a deductible charitable gift
Tax-Free Payout – a large part of your annual payment is tax-free return of principal
Capital Gains Tax Savings – when you contribute securities for a gift annuity, you minimize any taxes on your "paper profit"
Personal Satisfaction – from making a gift of lasting significance
You can choose how frequently payments will be made – quarterly, semiannually, annually; single-life or two-life annuity; cash or securities to fund your gift. Cash gifts allow maximum tax-free payments; gifts of securities allow you to minimize capital gains taxes.
Bequest Through Will or Living Trust
A bequest to the Foundation can be for a specific amount, a percentage of your estate, real estate or property, or what will be left after you have provided for your survivors and can be designated for a specific program or Division, such as textbooks, scholarships, Fine Arts or Sciences.
Charitable Remainder Trusts (Annuity and Unitrusts)
Cash, securities or real estate are transferred to a trust which pays you joint-or single-lifetime income. You select the rate of return, set a fixed or variable annual payment, avoid capital gains taxes and receive an additional tax deduction.
Endowments
An endowment is a gift of financial resources that provides a stable base for funding. Endowments ensure that your contribution supports not only our current students, but also the next generation of students.

El Camino College Foundation is a 501(c)(3) tax exempt organization. All contributions to the El Camino College Foundation are tax deductible.