Puente Project
---

A RESOLUTION of the El Camino College Academic Senate to declare that the lives of Black students matter; and
WHEREAS, the El Camino College Academic Senate acknowledges the recent deaths of George Floyd, Breonna Taylor, Ahmaud Aubrey, Eric Garner, Michael Brown, Sandra Bland, Trayvon Martin, Tamir Rice, and too many others; and
WHEREAS, these deaths are part of a long legacy of racial oppression and discrimination in this country and are indicative of a socio-economic divide that
continues to grow and threatens the current and future well-being of our students of color; and
WHEREAS, we express solidarity with the thousands of protesters in Minnesota and throughout the nation who are peacefully expressing their outrage and frustration at the deaths of unarmed African Americans; and
WHEREAS, the killings of unarmed Black men, women, *trans-men, and *trans- women, have left our students searching for answers to incredibly complicated and
infuriating questions; and
WHEREAS, schools should be places for the practice and enforcement of equity,
for the building of understanding, creation of knowledge, and for the active engagement of all in creating pathways to freedom and justice for all people; and
WHEREAS, the El Camino College Academic Senate will seek to address institutional racism on our campus and to offer spaces for dialogue among teaching faculty, counseling faculty, adjunct faculty, classified professionals, and staff by supporting and facilitating professional development work related to race and other challenging topics; and
WHEREAS, the El Camino College Academic Senate upholds the ideals of equal justice under the law, racial justice, and human dignity for all of our students; and
NOW THEREFORE, BE IT RESOLVED, that the El Camino College Academic Senate declares that the lives of our Black students matter; and to affirm the rights of Black students, staff, faculty, administrators to be treated with respect and dignity within schools and communities.
BE IT RESOLVED, that the El Camino College Academic Senate encourages faculty across disciplines and content areas to specifically include in their curricula
materials that address topics of racial bias, systemic racism (both historically and contemporarily), and racial stereotypes that are present in different vocations and fields of study; and
BE IT FURTHER RESOLVED, that El Camino College Academic Senate invites faculty across disciplines and content areas to use resources that are inclusive of all of our diverse learners to enrich instruction throughout the whole year, not just one week or one month; and
BE IT FURTHER RESOLVED, that the El Camino College Academic Senate will stand in solidarity with students who lead non-violent on-campus demonstrations and other educational events related to systemic and institutional racism; and
BE IT FURTHER RESOLVED, that we encourage ongoing critical reflection and for staff, faculty and administrators to have difficult and honest conversations concerning systemic racism, social injustice, racial and ethnic bias.
Puente Spring 2018 Newsletter (PDF)
Creating Leaders for California's Future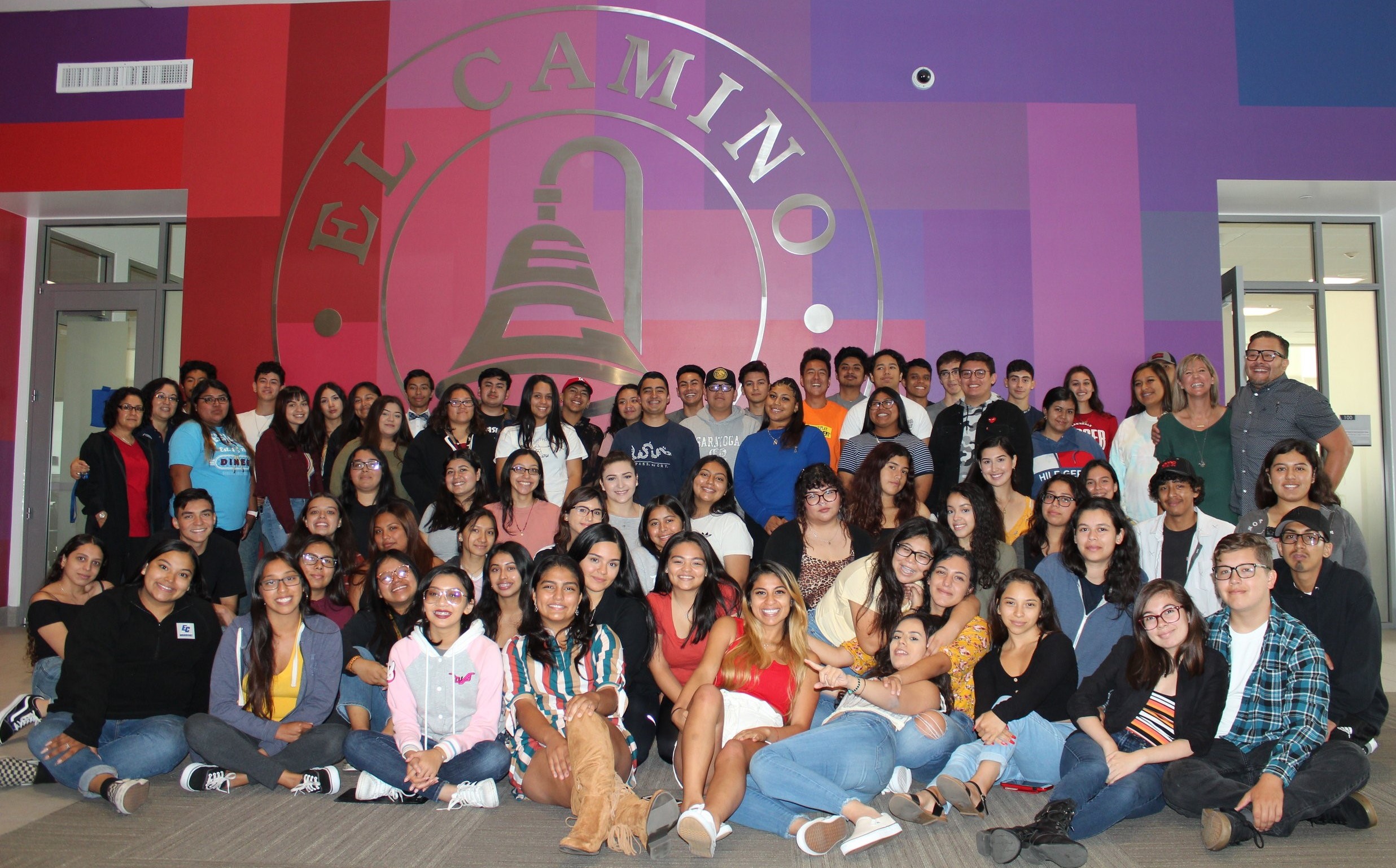 Current Puente Students (Puente 34)

Puente Project Mission
The mission of the Puente Project is to increase the number of educationally underserved students who enroll in four-year colleges and universities, earn degrees, and return to the community as leaders and mentors to future generations.


Puente Project History
The co–directors, Felix Galaviz and Patricia McGrath at Chabot College in Hayward, founded Puente in 1981. The program mission was to increase the number of Mexican American/Latino students transferring to four–year colleges and universities. Since then, Puente has expanded to over 60 community colleges throughout the Country. As an outgrowth of its success as a community college program, Puente high school programs were added throughout the State in 1993.


Celebrating 34 Years of Puente!


The Puente Program
Puente provides three areas of service to students to help them transfer to a four year institution:

English Instruction
Puente students take two consecutive writing classes, English 1As in the fall and English 1C in the spring. These classes provide a supportive and stimulating environment for Puente students to build confidence in their writing skills through an exploration of the Mexican American/Latino experience and multicultural literature.
Counseling
Puente students work closely with their Puente counselor until they graduate, exploring career options, developing an academic educational plan and identifying lifetime goals. Students visit University of California and California State University campuses and attend Puente student transfer conferences.
Mentors
Each Puente student is matched with a mentor from the business or professional community. Mentors share with students their personal, academic and career experiences, and provide a window into "real life" work environments. The network of trained Puente mentors provides many resources for the Puente students, their families, colleges and the community.

Puente Students
Succeed academically
Are recognized as leaders and scholars
Graduate from four–year colleges and universities
Belong to a statewide and national network of leaders and professionals
Receive priority registration

Eligibility
Students are only accepted during the fall semester to the Puente Program
Students must be eligible for English 1AS in the fall semester, either by completion of prerequisite coursework Survey.
Students must be committed to the goals of the Puente Program, including an intent to transfer to a four-year college/university.
Students must attend a Puente Information Session in the Spring/Summer semester. Enrollment in the program is on a rolling basis.
Students must be able to take the Human Development 101 and Human Development 105 courses with the Puente Program.

Outstanding Results
Over 5,500 students have enrolled in the Puente community college program.
Over 2,000 professionals donate over 18,000 hours annually to Puente students.
An estimated 200,000 non–Puente students have benefited from Puente's staff development programs.
Community colleges with Puente programs transfer 44% more Latino students to the University of California than colleges without the Puente Program.

---