Associated Students Organization (ASO) Discount Program/Student Activities Fee
The ASO Discount sticker has been eliminated and will be transforming into an electronic card and application. Not only is this program replacing the discount sticker but will also work as your ECC Photo ID Card along with other options all from your phone. While we await this modern marvel, please see below on how you can continue recieving discounts as an ASO Discount Member during this pandemic.
Did you know that you can still save money as an El Camino student in the midst of a pandemic? Restaurants are still open see if your favorite restaurant is on the discount list. Even more discounts exist now that we have a new discount savings partner Employee Savings Tickets (EST) - www.est.us.com check it out then let the adventures begin. Go to ASO Member Discounts/Vendor Information for discount details to EST. Off-campus benefits include discounts for products and services to local restaurants, beauty and fitness services, computer and printing services, clothing accessories, etc. To learn more and where you can save, again, check out the ASO Member Discounts/vendor Information.
How does the ASO Discount Program work?
Students can buy into the ASO Discount Program online when they enroll during the primary terms (fall and spring). It will automatically be added to your fees if you do not opt-out. The ECC Cashier's Office then enters your purchase into your account. Once the information has been entered you can start using it immediately. Make sure your ECC email address is correct so that you receive your discount information.

When the Cashier Windows are allowed to reopen, Staff, faculty, alumni may also purchase the $15 discount program at the Cashier's Office located on the southeast corner of the Bookstore.
Expiration Date
The Discount that you purchase for Spring also covers the entire summer sessions and expires the day before the Fall semester term begins. Likewise, the Fall discount program is active throughout the winter session and expires the day before the spring term begins.
Proof to Vendors of the ASO Discount Purchase
Along with another form of an ID (driver's license, Passport, High school ID) To recieve a discount at a participating ASO vendor, from your phone prior to purchasing, show your info to the discount vendors cashiers or point of purchase by following these steps :
Go to my ECC
Click on "Financial Information"
Click on "View Account and Make Payments"
Click on "Student Finance"
Click on "Account Summary"
Click on "Current Semester"
Click "Charges"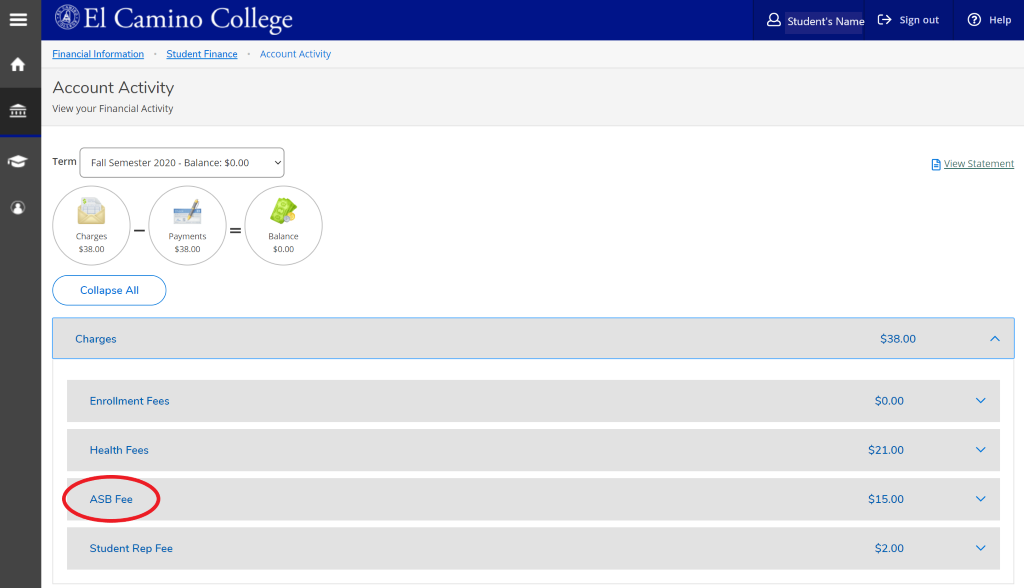 It will display the different purchases that you have compiled including your ASO purchase.