Bookstore
The Bookstore is CLOSED for walk-in customers due to the COVID-19 outbreak but the online bookstore is open 24/7.


Spring 2021
Winter textbook information is available now on our online Bookstore.
Students can now select store pick up at El Camino College Bookstore for their online orders. Students should wait for a confirmation email that their order has been processed. Online textbook orders for Spring 2021 can be picked up at the bookstore windows during the following hours:
The bookstore pick up window is open Monday – Friday 10:00 a.m. to 4:00 p.m.
Students can park on the first level of parking Lot C (free), follow the signs to the bookstore, wear a mask and maintain social distance. When students arrive to the bookstore follow the instructions posted and they can pick up their books. Only order pick up or refunds will be handled at the windows.
Textbook Refunds
Last day for Spring 2021 Textbook refunds is Friday, February 26, 2021
Textbook Rentals
Spring 2021 Textbook Rentals must be returned by Friday, June 11, 2021.
Spring 2021 Textbook Rental Returns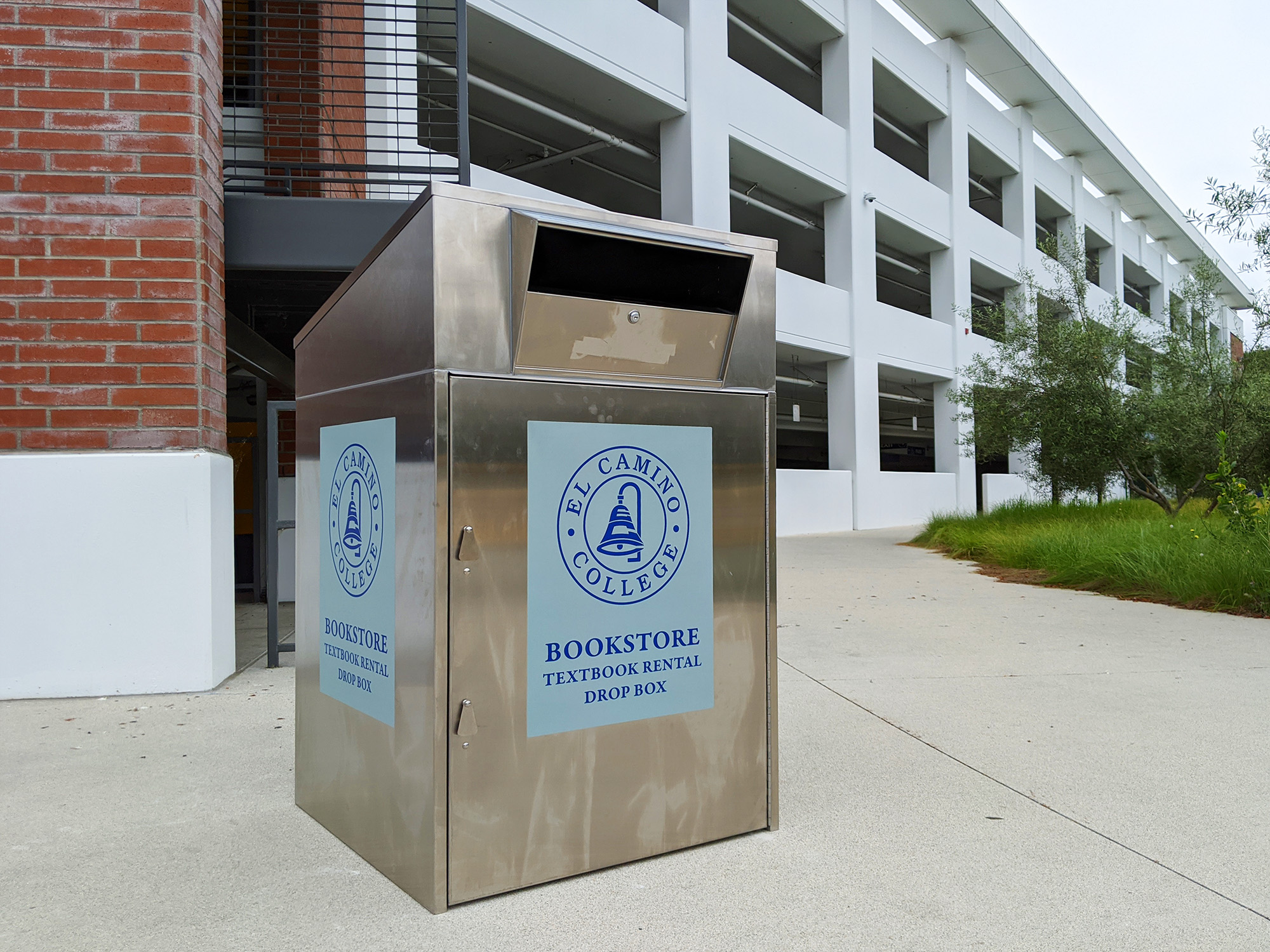 The El Camino College Bookstore has installed a Textbook Rental Return box on the southeast side of Lot C parking structure (between the stairway and the turnaround loop at Lemoli and Manhattan Beach; See image on the right). Information has been sent to the student's email address on what outstanding textbooks they have with the bookstore for the Spring 2021 semester. A follow-up email will be sent informing the students that the box is ready to accept returns. The deadline to return Textbook Rentals is Thursday, Friday, June 11, 2021.
Textbook Buyback
Textbook Buyback will be performed online for students wishing to sell back textbooks that were purchased (not rented books). Click below for a link to our online buyback.
https://onlinebuyback.mbsbooks.com/index.php?jde=7923
Students may contact the Bookstore by email at eccbooks@elcamino.edu if they have any questions.
The Bookstore is owned and operated by the El Camino Community College District. Its primary purpose is to provide, at the lowest possible cost, required textbooks and essential supplies to the El Camino College community. All net proceeds are used to support the Auxiliary Service Fund and site improvements on campus.


Online Bookstore
The El Camino College Bookstore is now open 24/7. We can ship your books to your home or you can pick them up in the store. We are always open! Enter the Online Bookstore

Location
The Bookstore is located on the north side of campus, in the bookstore building, near the intersection of Manhattan Beach Blvd. and Lemoli Ave. (View Campus Map).