Black + Mental Health + Matters
The Art with Impact organization is collaborating with the Student Health Services and the Umoja-Project Success program to conduct a mental health workshop called Black + Mental Health + Matters.
Black + Mental Health + Matters is a virtual workshop that is designed to be a place of refuge for Black students. Knowing that Black humans in America face unique and specific barriers to mental health, this workshop provides a place for Black students to be seen and heard, both collectively and individually. It equips participants with tools to help them heal and thrive.
While this event centers Black students, all campus community members are invited to attend. However, comments or participation from allies that pull focus away from Black mental health will be respectfully redirected.

Event Info
Tuesday, May 11, 2021 from 1 - 2:30 p.m.

Registration

Learn More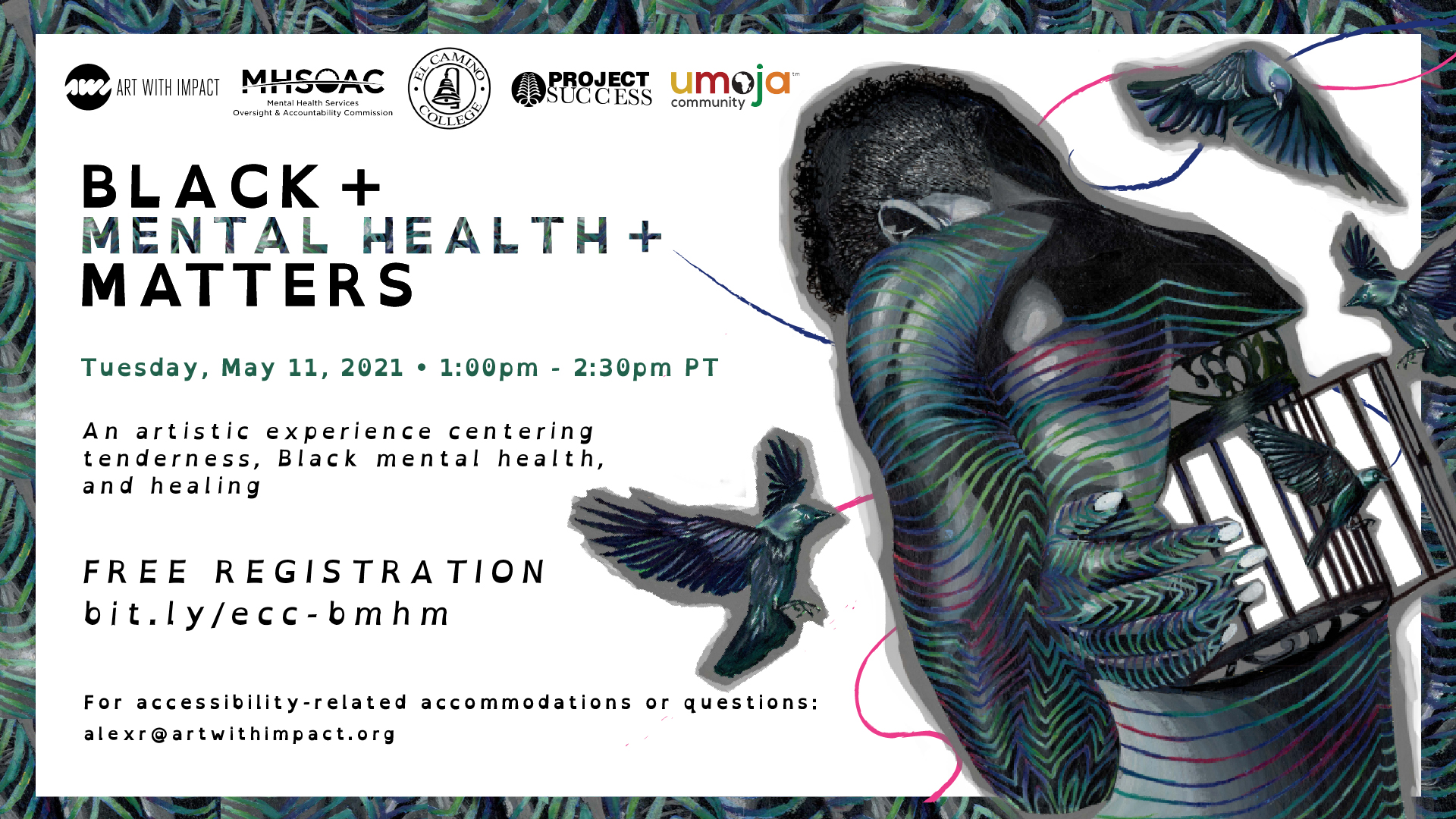 Speakers
Natalie Patterson
Director, Black + Mental Health + Matters; Movies for Mental Health Facilitator
Natalie Patterson (she/her) is a highly acclaimed African American poet and teaching artist. Over the last 15 years, she has traveled the country teaching and performing at universities, colleges, and high schools. Natalie leaves no topic untouched from inspiration to social justice. She was the first female producer and host of the nation's largest poetry venue, Da Poetry Lounge, President of Sister Support and has worked extensively in non-profit, education and with major brands like Sephora and SoulPancake. Over the last year, Natalie has been teaching poetry as a healing tool to incarcerated youth in Los Angeles. You can learn more about her at Natalieispoetry.com
La Faune Gordon
Ph.D. Licensed Clinical Psychologist, Certified Clinical Trauma Professional
Dr. Gordon received her Ph.D. in Clinical Psychology in 1993 and a post-graduate Masters of Science in Clinical Psychopharmacology in 2001. Her areas of specialty and interest are providing therapeutic intervention to young children, adults, and families who have experienced trauma.
James Coomes, LCSW
James Coomes is a licensed clinical social worker with the Los Angeles County Department of Health. He holds a bachelor's degree in sociology and a master's degree in social welfare from UCLA. He has held a number of positions over the past 24 years with the County and has been the program manager of the Olive View Community Mental Health Urgent Care Center since 2007. In addition to crisis mental health work, he has a background in crisis negotiations, mediation and child protective services. Outside of his day job, James lives with his family in Burbank, California, coaches high school softball, and has had the honor of serving as the announcer for the UCLA Bruin Marching Band.

Contact
Brian Mims
Umoja-Project Success Coordinator/Counselor
bmims@elcamino.edu