Newsletter/Blog
Welcome to the official TOP Newsletter/Blog!
Here we will be discussing topics like study tips, self-care, time management skills, and so much more. So allow TOP to serve as your go-to resource for quick tips on mastering college success!
Newsletter -
Volume 1 Volume 2
Article 5 - TOP Free Summer Events
Hope you're enjoying your summer Warriors! Here at TOP Blog we have listed some fun and FREE events that are happening this August in Long Beach, Los Angeles, and many more! Please visit the listed websites for additional information

Article 4 - TOP Study Apps
Do you love apps? If so, you're in luck because here at TOP Blog we have provided you with some top rated with learning apps to keep track of deadlines, goals, take notes, and more. Download these apps today and start learning Warriors!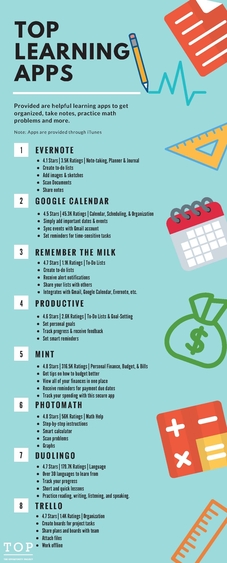 Article 3 - TOP 5 Spotify Study Playlists
Get your study jam on with some of Spotify's top playlists as we begin to approach finals. Provided are a variety of different playlists from peaceful guitar, hip-hop instrumentals, piano pieces and more. So get tuned in Warriors!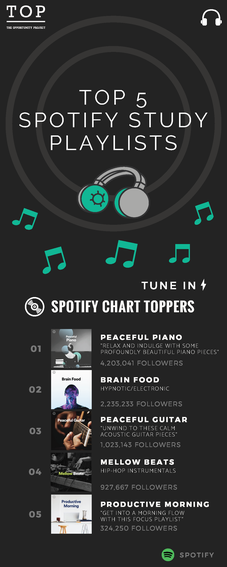 Article 2 - 6 TOP Foods Around Campus
Interested in a good meal spot near El Camino College? Well, not to worry because here at TOP Blog we have listed six great food spots to check out nearby campus ranging from 0.8 to 3.0 miles! This list was provided by your very own TOP team. Information and ratings are provided by Yelp. Check them out and get your grub on Warriors!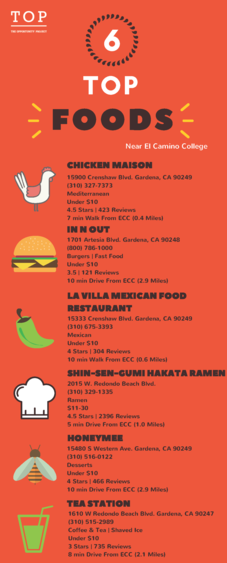 Article 1 - How to Survive Post-Spring Break Blues
Welcome back from spring break Warriors! Having difficulty getting back into the rhythm of everything? Do not fret, because we got you covered here at TOP Blog. Listed are five quick tips to help you get back on track and stay focused as you recover from the spring break blues!