Warrior Food Pantry
For a list of alternative food pantries in the South Bay area,

click here

.
NEWS in the pantry: Warrior Pantry receives a new freezer from LumensparQ - Watch the video
SPRING SEMESTER DRIVE-THRU HOURS
Beginning February 16, 2021
Tuesdays 11:00 am - 2:00 pm
Thursdays 11:00 am - 2:00 pm
* Please note that the Warrior Pantry will be closed when classes are not in session, or if there is a holiday on the day of distribution *
NEW Drive-Thru & Walk up Distribution
GRAB-A-BAG POLICY
Starting March 24th, 2020
Due to the COVID-19, the Warrior Pantry has made some changes to protect both students and staff, while still being able to utilize the Warrior Pantry.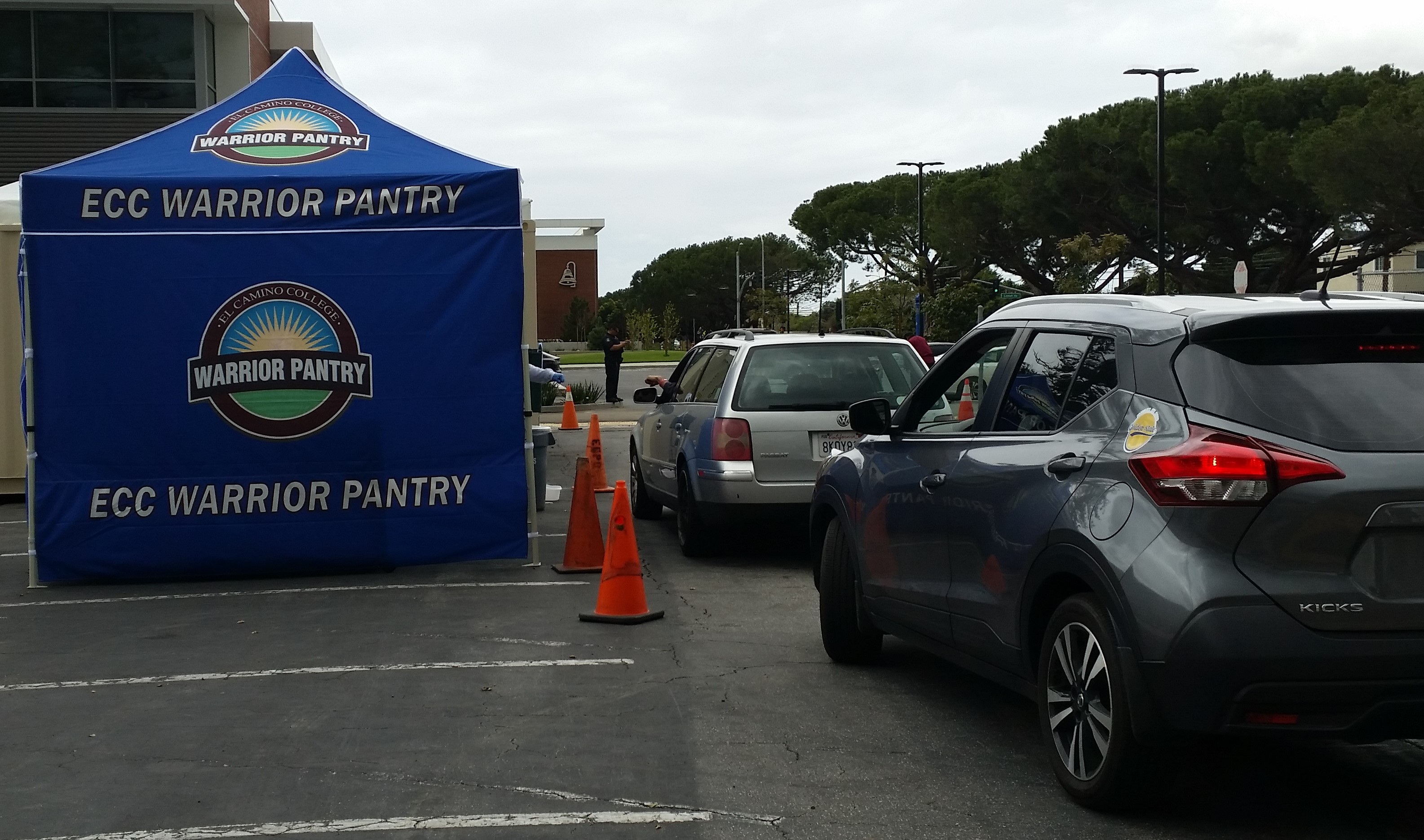 We are offering a drive-thru and walk-up distribution with a pre-packaged bag filled with various food items for our students to pick up from the Warrior Pantry, "Cupboard," during our new operating hours. We are now offering fresh produce for our students to choose from as well. This is our new, "Drive-Through Grab-A-Bag", policy that will allow us to keep the Warrior Pantry open and serve our students during this difficult time.
Students who were registered for the 2021/winter session, or the current 2021/spring semester will have the opportunity to drive through or walk up in parking lot B and pick up their food bags at the large white canopy on Tuesdays and Thursdays from 11:00am-2:00pm. Students will need to register for the Warrior Pantry once during the fiscal year to receive items from the pantry.
Parking Lot B can be accessed from Manhattan Beach Blvd.

Eligibility
Students must have been enrolled for 2021/winter session, or enrolled for 2021/spring semester to receive services from the Warrior Pantry / Cupboard
Students must have a valid ECC ID number
Students need to fill out a registration form / SEE BELOW FOR THE LINK:
2021 SPRING SEMESTER REGISTRATION FORM ‍
---
Volunteer
We are asking for volunteers for the Warrior Pantry
If you would like to volunteer to work in the Warrior Pantry, please fill out the appropriate form below and give us a call for any questions or concerns at 310-660-3593 x3500.
---
Donations
Item donations are accepted year-round and will directly support ECC students. Please contact Kim Cameron at kicameron@elcamino.edu or call: 310-660-3593 x 3500 for further information.
For a list of items to donate, click here.
---
The History of The Warrior Pantry
The El Camino College Warrior Pantry was established through the leadership of the Student Equity Advisory Council, Associated Students Organization, and the Inter-Club Council, with the support from the Student Development Office and Student Equity Program.
A number of ECC students face serious financial challenges, and often find it difficult to support themselves while also paying for college. Research indicates that students without proper nutrition can have trouble focusing on school work and often worry about where they will find their next meal. The Warrior Pantry offers support for our students in a comfortable setting.
The Warrior Pantry will assist students facing food insecurity, provide toiletries, offer access to a computer, and connect students to additional resources in a supportive environment and judgment-free zone. These services can be used by all currently enrolled El Camino College students needing assistance.

Questions?
For more information, contact warriorpantry@elcamino.edu or call us at 310-660-3593, ext. 3500.