Meet Nancy Freeman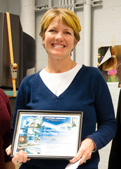 Hired: September 2005

Hobbies: Reading (especially historical fiction); working in her garden where she tends fruit trees

Little Known Fact: Nancy won a "calf-dressing" contest when she was a student at Oklahoma State University.
Nancy Freeman has always loved animals. Growing up, her room resembled a small zoo, featuring hamsters, turtles, fish, and other assorted creatures. When it came time to pursue a career, she looked for something that would allow her to follow her dream to help as many animals as she could. She found the perfect combination in biology and teaching.
"Looking at all my options, I decided that I could make a difference as a teacher," said Nancy, who taught middle school science and high school biology for 23 years before joining the ECC faculty. "I consider myself very lucky to be doing what I am doing. I have been teaching for a long time and community college teaching is the best there is.
"I feel like a real teaching professional here at El Camino College – I like being on a college campus; I like adult learning. Students are mature and ready to learn; they are here because they want to and they step up to any challenge I give them."
In recognition of her outstanding efforts in the classroom, Nancy recently received the 2010 Northrop Grumman Award for Teaching Excellence. Generally given to faculty members in STEM (Science, Technology, Engineering and Math) fields at four-year universities, Nancy is the first community college professor to receive this prestigious honor, which comes with a $1,000 award. She is known for making biology fun and interesting for her students through lectures, demonstrations, current events, computer interaction, and discussions.
Outside of her work at ECC, Nancy participates in biology teaching and learning activities at California State University, Dominguez Hills, specifically the QEM Forum – a program that provides quality science education to minority students. She is also active in recruiting future teachers into the field of biology through MSTI (Math and Science Teaching Initiative) and contributes to ECC's annual Onizuka Space Science Day. Nancy has two master's degrees from San Diego State University, one in curriculum and instruction and one in biology, in addition to a bachelor's degree in biology from Oklahoma State University.