MBA Building Grand Opening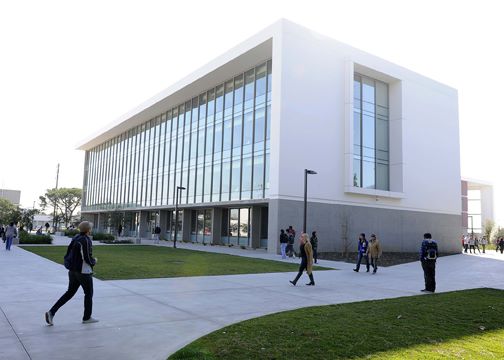 A March 6 grand opening of the college's new Math Business Allied Health Building drew community members, elected officials and other college supporters to celebrate ECC's newest instructional building. Visitors had the opportunity to hear from current students and tour a computer lab, "convertible" classroom, and Health Sciences labs. All 58 classrooms have wireless access and state-of-the-art "smart" classroom technology. Eleven computer labs outfitted with a total of 480 computers are also available. The first floor features a 3,000-square-foot computer lab and tutoring center, in addition to a spacious student lobby with study areas.
The energy savings of the building are significant – it exceeds California energy standards (also known as Title 24) by a remarkable 25 percent. The building connects to the campus' Energy Management System, with the heating and air conditioning controlled by computer. Energy efficient lighting includes day lighting and motion sensors. Thank you to the communities in the El Camino Community College District for supporting Measure E this past November. The 2002 facilities bond funding made this outstanding new building possible, ensuring improved facilities and educational opportunities for students well into the future. Media coverage included the Daily Breeze who featured photos of the MBA Building. Click here to view the photos.
Celebrate Women's History Month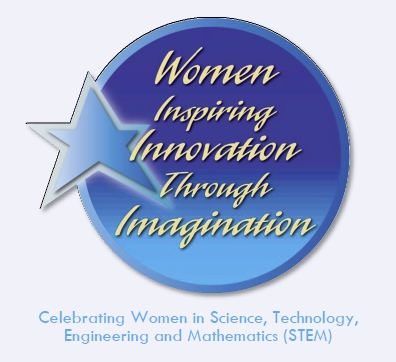 March is Women's History Month and variety of events is planned at ECC to celebrate throughout March. This year recognizes women in "STEM" careers, with the theme: "Women Inspiring Innovation through Imagination: Celebrating Women in Science, Technology, Engineering and Mathematics (STEM)." The celebration began with the Women's History Month luncheon featuring guest speaker Special Agent Meredith Burke, coordinator for the FBI Los Angeles Evidence Response Teams.

An Industry & Technology conference for girls and women is also scheduled from 8 a.m. to 2 p.m. March 15 in the college's East Dining Room. This conference is designed to introduce women and girls to study paths and jobs in non-traditional careers. In addition, a tea and book discussion is scheduled for March 28. One highlight of Women's History Month is the El Camino College Women's Wall of Fame Ceremony on March 21, where the 2013 Women of Distinction will be honored. Women's History Month is sponsored by ECC offices of Staff Development, and the Women's History Month Committee. For a full list of Women's History Month activities, click here or call 310-660-3868.
"Grease" is the Word!   
The ECC Theater Department will present the musical "Grease" at 8 p.m. March 15-16, 22-23, 29-30; and at 3 p.m. March 17 and 24 in the Campus Theatre. Here is Rydell High's senior class of 1959: duck tailed, hot-rodding "Burger Palace Boys" and their gum-snapping, hip-shaking "Pink Ladies" in bobby sox and pedal pushers, evoking the look and sound of the 1950s in this rollicking musical. Head "greaser" Danny Zuko and new (good) girl Sandy Dumbrowski try to relive the high romance of their "Summer Nights" as the rest of the gang sings and dances its way through such songs as Greased Lightnin, It's Raining on Prom Night, Alone at the Drive-In Movie, recalling the music of Buddy Holly, Little Richard and Elvis Presley that became the soundtrack of a generation. An eight-year run on Broadway and two subsequent revivals, along with innumerable school and community productions place "Grease" among the world's most popular musicals. The production is directed by Valerie Rachelle, along with Ron Scarlata, artistic director; Brent Crayon, music director; and Camden Gonzalez, choreographer. Tickets cost $25. More…

Student Displays Photo Exhibit at Madrona Marsh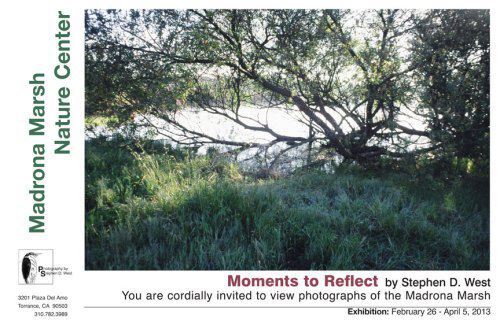 Congratulations to El Camino College advanced photography student Stephen D. West who has a photo exhibition on display at the Madrona Marsh Center. "Moments to Reflect" is on exhibit thru April 5. Madrona Marsh is located at 3201 Plaza del Amo in Torrance.
Library Receives Muslim Resources    
The Schauerman Library recently received a special collection of resources highlighting the Muslim culture. The book and DVD collection, "Bridging Cultures Bookshelf: Muslim Journeys," is sponsored by the American Library Association, in conjunction with the National Endowment for the Humanities. The ECC Library is one of 843 libraries and humanities councils nationwide to be awarded this grant. The intent of these resources is to provide trustworthy and accessible resources about Muslim beliefs and practices, as well as the cultural heritage associated with Islamic civilizations.

The "Muslim Journey Bookshelf" includes 25 books, 3 DVDs, and a one-year subscription to "Oxford Islamic Studies Online." Book titles are organized by five themes: American Stories, Connected Histories, Literary Reflections, Pathways of Faith, and Points of View. ECC Library staff, along with the Muslim Student Association, are developing programs to highlight this collection, so that the public will be informed of and make use of these unique resources.

For additional information re: the Muslim Journeys Collection, please contact Alice Cornelio, Acquisitions Librarian, at 310-660-3593, extension 3522 or Ed Martinez, Public Access Librarian, at 310-660-3593, extension 3876.
Robotics Competition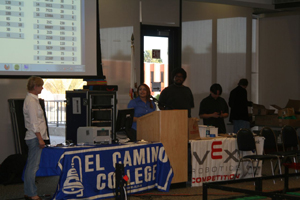 El Camino College recently hosted a competition for area robotics teams. The Southern California Skills and Programming Challenge included 28 high school and middle school VEX robotics teams working to build the most innovative robots possible. In addition to having a great time and building amazing robots, students learned many academic and life skills.
13th Annual Cherry Blossom Festival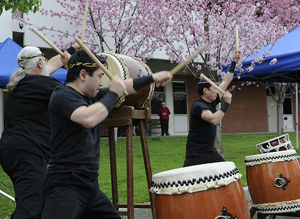 El Camino College's 13th Annual Cherry Blossom Festival opened with an amazing Taiko drum performance led by the master Rev. Tom Kurai of the Taiko Center of Los Angeles. The event included Haiku poetry readings from instructor Clint Margrave's Introduction to Poetry students Aria Brooks, James Fletcher, Mason Klein, Tess McKelvey, Marilyn Mejia, Anais Najera, and Maria Revolinski. Dr. Don Hata's inspirational address was well-received under a spectacular display of cherry blossoms, perfect for Hanami (Japanese for "flower viewing").

The Dr. Nadine Ishitani Hata Memorial Cherry Blossom Festival is named after the college's former vice president of academic affairs, who passed away in 2005. Dr. Hata was an internationally known scholar who was extremely involved in academia and community work. She was instrumental in bringing the cherry trees to the campus 13 years ago, one of the many programs she supported during her 34-year career at the college. Under Dr. Hata's leadership, the Cherry Blossom Festival has become a college tradition – a way to welcome the spring season and celebrate friendship. The annual festival is sponsored by the El Camino College Foundation and the Office of Staff and Student Diversity.
Congrats to ECC SSTARS!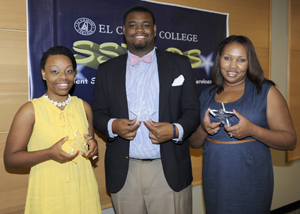 Congratulations to the 2013 honorees of the Galaxy of Stars Hall of Fame!  The ECC SSTARS (Student Success Transfer and Retention Services) Program celebrated 10 years of helping students reach their academic goals with its 10th Annual Breakfast Fundraiser in the East Dining Room. The event also celebrated the achievements of ECC students while raising money for student scholarships. Hall of Fame honorees include:
Deyja Charles: FYE and FYE Summer Orientation/ ASO Speaker and Mentor
Regina C. Lee: EOPS/CalWORKs/CARE, SSTARS Committee
Jonathan Lucas: Project Success/ SAIL
Scholar-Athletes Honored  
The California Community College Athletic Association recently announced the Scholar Teams for the 2011-2012 academic year. The Warriors had four teams named for this distinguished honor: men's cross country, women's basketball, women's badminton, and men's tennis. This distinguished honor recognizes the academic achievements of athletic teams in the CCCAA. Congratulations to each of these teams!
Save the Date: Space Science Day 2013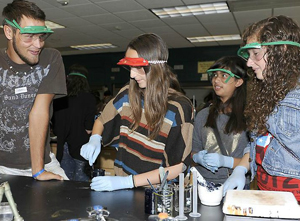 South Bay youngsters are invited attend El Camino College's Space Science Day 2013 on April 20 in the college's planetarium and science classrooms. The daylong event marks the 27th anniversary of the Space Shuttle Challenger tragedy where Astronaut Ellison Onizuka perished along with the six other crew members in 1986. Space Science Day will feature an astronaut presentation as well as classroom workshops and demonstrations led by El Camino College professors, students, and guests from JPL and other institutions. The event is sponsored by El Camino College and American Honda Motor Co., Inc., and coordinated by the El Camino College Astronaut Ellison Onizuka Memorial Committee. It is free and open to serious-minded science students in grades five through 12. To register, contact SpaceDay@elcamino.edu; for more information call 310-660-3487.
Athlete of the Month Honorable Mention:
David Howard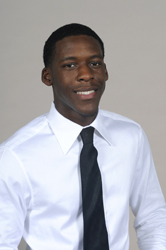 Congratulations to David Howard, a sophomore from El Segundo High School, who was recognized by the California Community College Athletic Association for outstanding performance during the month of January. In the month of January, Howard averaged 14.6 points per game and 17 points per game in conference play. Against Long Beach, Howard scored a career high 31 points, hitting eight three-pointers for the Warriors.
Foundation for the CCCD Reaches Osher Scholarship Endowment Goal
One of the main goals of the Foundation for the Compton Community College District (FCCCD) since its establishment in 2009 is to help maintain and expand educational programs and services through financial support, scholarships and other needed resources. To further this mission, the Foundation participated in a historic fundraising campaign for the largest-ever scholarship endowment – the Osher Initiative for California Community College Students. Initially, the Foundation set a goal to raise $146,000 before June 30, 2011, in order to be eligible for a 50 percent match from the Bernard Osher Foundation. Ultimately, the FCCCD surpassed that goal and raised more than $190,000 toward the Osher Scholarship Endowment, an amount that was increased by the 50 percent match from the Osher Foundation. More…

Share your comments about these stories!
You can use your Facebook, Hotmail, Yahoo or AOL account to make a comment!


Sections
Share this newsletter with
your friends:



Tweet

Share your thoughts on these articles! Leave your comments at the bottom of this newsletter!
Safety Matters
Department News
ECC Alumni

Submissions
Newsletters
MBA Building Grand Opening!
Did you tour the new MBA Building after the grand opening ceremony? What was the best part?