Welcome to Commencement 2011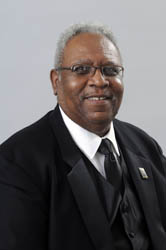 We welcome Harold Tyler back to campus as our guest speaker for the 64th Annual El Camino College Commencement Ceremony, scheduled at 4:00 p.m. June 10 in Murdock Stadium. Parking and admission are free – no reservations required. We invite everyone in our college community to this celebration and wish congratulations to all our graduates! For more info on commencement, click here.
Harold retired from his position as director of student development this past December, after 35 years of service to El Camino College. His contributions through the past four decades have led to the success of thousands of ECC students. He knew all five of the college's presidents, and has enjoyed watching ECC grow and change. For a story highlighting Harold's career and contributions to El Camino College, click here.
Journalism Takes 20 Awards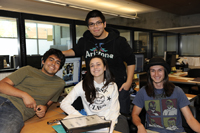 Our highly successful ECC journalism department won 20 awards at the recent Journalism Association of Community Colleges (JACC) annual convention in Sacramento. Our journalism and photojournalism students competed in 15 on-the-spot competitions against approximately 500 students representing 45 community colleges from throughout California and as far away as Rhode Island. The journalism department's student publications, the Union newspaper and Warrior Life magazine, each brought home General Excellence awards. Haipha Simon, outgoing JACC student president, was editor-in-chief of both publications. The department also won the prestigious Pacesetter Award, given to colleges that "set the pace" for the rest. More...
Team Building Extravaganza!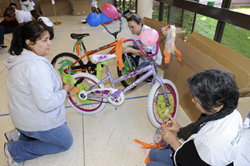 Our Classified Professional Development Week's Team Building Extravaganza turned out to be a festive afternoon of great collaboration, wacky trivia questions, toolkits, and a surprise ending. Teams of ECC and ECC Compton Center employees got together for a bicycle-building exercise where they had to answer some pretty tough questions in order to earn chips to "purchase" the bikes to be built, as well as the tools to be used and colorful decorations to top it all off. The dancing and cheering by the participating teams added to a very lively event. More...
ECC Compton Center
Welcome to Commencement 2011!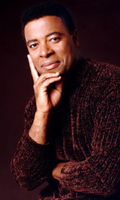 We are pleased to have William Allen Young deliver the commencement address at the Fifth Annual El Camino College Compton Center Commencement Ceremony. Young is an acclaimed actor, orator, and advocate for higher education, and was selected because of his passion for inspiring young people to become future leaders and champions of change in their communities and society.
A Washington, D.C. native who grew up in South Central Los Angeles, Young has risen from humble beginnings to achieve notable success. His acting career spans two decades and includes starring roles on hit television series like "Moesha" and "CSI: Miami," as well as in stage and film productions – including the Academy Award-nominated film, "A Soldier's Story." For more information on Young's career, click here.
Warrior Volleyball Standouts
Congrats to our 2011 Warrior volleyball team! Sophomores Nick Dimarco and Jon Petit were named first team All Western State; Hunter Hovland, Spencer Fournell and Joseph Tanuvasa were named to the second team. In addition, Warrior Coach Dick Blount was named the 2011 Conference Co-Coach of the Year. Congratulations!

Fire Academy Receives Equipment Donation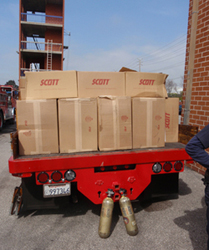 The El Camino Fire Academy recently received three generous donations to its excellent program. One donation came from the El Segundo Fire Department in the form of a "retired" air filter station. The cost for this particular equipment in new condition is approximately $40,000. The Torrance Fire Department also made a recent contribution to the Fire Academy – numerous Self Contained Breathing Apparatus (SCBAs) to be used in training. In this instance, fire departments in the Los Angeles area received a grant to replace existing SCBAs. As a result, most of the cities have either donated or sold their existing SCBA's. This recent donation includes more than 110 units and 230 bottles, a value of approximately $200,000. In addition, Northrop Grumman recently donated a fire truck to the academy. More...
Student Art Show 2011

The El Camino College Art Gallery will present its annual showcase of student artwork May 16 to June 3. All of the works in this exhibition were selected by instructors as some of the best examples of student work produced at the college. The Student Show includes a variety of works created in a wide range of media. The exhibit provides a glimpse into the educational and aesthetic philosophy advocated by the ECC Art Department and shows a diversity characteristic of the contemporary art world. The majority of the works in the gallery are grounded in an academic approach to art study and training. More...
READ Poster Celebrities Announced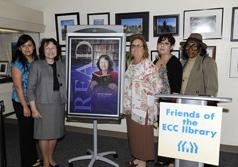 Congratulations to our new READ poster celebrities who were recently honored at our annual READ Poster Unveiling in the Library Lobby. Dr. Gloria Miranda, dean of behavioral and social sciences, and Vi Pham, a law instructor, Business Division, were selected based on their continued support and use of the library during the past year. Since 2005, the Library has celebrated reading in the month of April by creating posters featuring campus personalities posing with their favorite books. The event is part of the library's annual celebration of National Library Week/Month, and is designed to remind everyone on campus, especially students, of the importance of reading and libraries. Come on by, and check out who is "hanging around" the library!
Space Science Day 2011
25th Anniversary of Challenger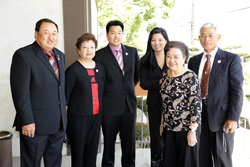 Our Space Science Day 2011 was an amazing success, with hundreds of area youth gathering at our planetarium and science classrooms to explore the science of space. This year's Astronaut Ellison S. Onizuka Memorial Space Science Day marked the 25th anniversary of the tragic events of 1986 when Space Shuttle Challenger astronaut Ellison S. Onizuka perished, along with six other crew members. In association with the 25th anniversary, nearly all of the members of the Onizuka Family attended the event this year. More...
ECC Math Team Sums up Success
The El Camino College math team, which came in seventh place in round one of a national math contest this past fall, finished the season in 12th place out of 191 community colleges! Students participated in the 2010-11 AMATYC (American Mathematical Association of Two-Year Colleges) Student Math League Contest, the only national math competition devoted solely to community colleges. The overall result was the team's second-best finish ever, in six years of competing. Two ECC students placed in the top 20 of the western region, regarded as the toughest, most competitive section in the contest. Huijing Gong, came in 14th, while Ting Fung Lam came in 20th for the entire region. Congrats to the team and coach Greg Fry.
Athletic Hall of Fame
Congratulations to all our athletes honored at the 24th Annual El Camino College Athletic Hall of Fame! The ECC Hall of Fame Banquet celebrated the athletic accomplishments of outstanding alumni as well as today's top scholar-athletes, with scholarships and awards. More...
Computer Science Honors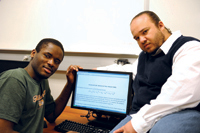 Three outstanding El Camino College computer science students recently won first place awards in a recent computer programming contest at California State University, Los Angeles. Austin Cathey, Dubem Enyekwe, and Jose Gallegos Lugo won the awards in the contest's junior college division. Each student was recognized with certificates and a plaque that will be mounted on the wall in the ECC CompSci Lab. The contest was sponsored by Cal State LA's College of Engineering, Computer Science and Technology and features an annual programming challenge that offers high school and community college students the opportunity to solve college-level and real-world programming problems by applying the principles of computer science. For detailed results, click here.
Forensics Team Defends National Title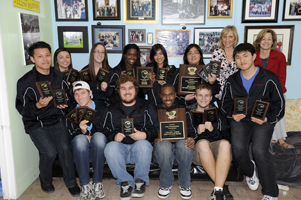 Our powerhouse debate team recently returned from the Phi Rho Pi Community College National Tournament with its best finish to date. The team successfully defended its national title in debate with a margin of about 86 points, placing second in the nation overall. The national victory follows an outstanding performance at the state championships, where the team scored its best performance in more than 25 years. At the Phi Rho Pi Community College National Tournament, the team was honored with two special awards, selected by their peers as the students who represent the finest qualities in their respective events. Tony Liu and James Nee won the Bossard-Twohy Award in parliamentary speaking and Shannon Meredith won the Fish-Nelson Award in Lincoln-Douglas debate. More...
Guitar Fest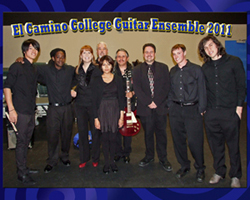 Hundreds of musicians came to ECC's Second Annual Guitar Festival for two full days of concerts, clinics and master classes featuring representatives from guitar programs from nearly every college and university in the area. All was free and open to the public. The event offered workshops, career discussions, and "Wild Stringdom," a concert showcasing the talents of ECC guitar faculty John Dearman, Matt Greif, Richard Hastings, and Chris Mello. The festival wrapped up with "Guitar Frenzy," a concert featuring more than 20 Southern California college/university guitar ensembles of varying styles. More…
Fashion Forward!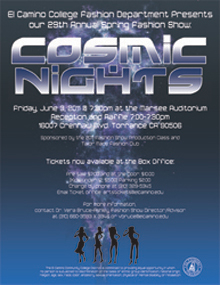 Congratulations to our ECC Fashion Design students who recently attended a fashion symposium at the California Mart and won honorable mention in the denim deconstruction contest. In this competition, a team of three students were challenged to make a garment from a pair of jeans and various trim and notions. In addition to the contest, students enjoyed other professional activities, including: a guest speaker, fashion show, discussions with various industry workers who shared their business and concepts with students, and lunch. The ECC 29th Annual Fashion Show is scheduled for June 3. More…
CTE Career Conference
Our CTE (Career & Technical Education) Conference welcomed high school and middle school counselors, faculty, and administrators to learn about El Camino College and ECC Compton Center's academic and support services, including how students can earn college credit in high school and specific CTE career pathways. "The Road Less Traveled" conference featured keynote speaker Brian McAllister from "Roadtrip Nation," a public television series and grassroots movement that encourages people to move outside their comfort zone and explore the world. In addition, Carmen de la Paz, host of the HGTV show "Hammer Heads," was a hit as the conference celebrity emcee.
ECC Child Development Center
Open for Enrollment

Enrollment is now open at the El Camino College Child Development Center (CDC) for its fee-based preschool program. Flexible schedules are offered in this high-quality, year-round program, which is open to children ages 2 to 5. All students must be completely toilet trained. The CDC is centrally located in the South Bay area, and offers a warm and inviting environment for children preparing for kindergarten, housed in a building specifically designed for preschoolers. More...
ECC Compton Center Grad Lands Position in
Prestigious Summer Institute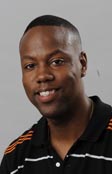 Congrats to ECC Compton Center alumnus Jamal Stokley, who is one of only 20 students who will spend the summer at Carnegie Mellon University's prestigious Public Policy & International Affairs (PPIA) Junior Summer Institute. Stokley was chosen from an exceptional pool of applicants to receive not only admission to the program, but also a fellowship. His fellowship includes roundtrip airfare, stipend, meal allowance, university housing, books and related course materials. More…

Celebrate Student Success!
Project Success will celebrate its 23rd anniversary of helping students reach their goals at its annual awards luncheon, scheduled for May 19 at Marsee Auditorium's South Patio. Awards will be given to outstanding students, and participants are welcome to join an opportunity drawing. Everyone is invited to celebrate student success! Please contact B. Mims with any questions at extension 6037 or bmims@elcamino.edu.
ECC Compton Center Mathematics Instructor
Participates in Jaime Escalante Legacy Project
ECC Compton Center instructor Ruth Zambrano dedicates her summers to engaging inner-city youth in a demanding academic schedule of pre-college and college mathematics through the Jaime Escalante Math Program where she teaches pre-algebra and algebra. Instructors for this program are carefully selected based on their teaching skills and a passionate dedication to the success of their students. More...
Share your comments about these stories!
You can use your Facebook, Hotmail, Yahoo or AOL account to make a comment!


Sections
Newsletters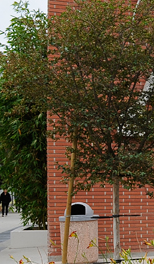 Can you guess where this photo was taken on campus? Submit your best guess here and be eligible to win a gift certificate to Food Services! Submit entries by May 30.

Congratulations to Mayra Thrush in the Special Resource Center! Mayra correctly indentified last month's photo, which was the north side of the Student Activities Center Building. Mayra won a gift certificate to Café Camino, generously donated by Campus Food Service.