Recycling Week ~ Save the Date!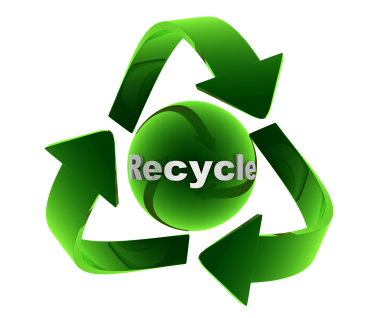 As ECC continues with new and innovative programs to become a more environmentally sustainable campus, one project coming up next month is Recycling Week, scheduled for November 7-10. The week is designed to raise awareness about the benefits of the "refuse, reduce, reuse, recycle" concept. Our ASO will coordinate a student club recycling competition for Recycling Week and all are encouraged to pitch in! Clubs will be "sponsored" by different departments on campus and will pick up any cans and bottles collected during the week. Stay tuned for more details on Recycling Week and other "green" projects such as our campuswide environmental audit and our upcoming series of "green bag lunches." Thanks go to students Jasmine Hormati and Joshua Casper, co-chairs of the ASO Sustainability Committee who are leading the campuswide planning group, and group organizer Irene Graff. Start collecting those bottles and cans, and remember to refuse, reduce, reuse, and recycle!
Art Award from the Heart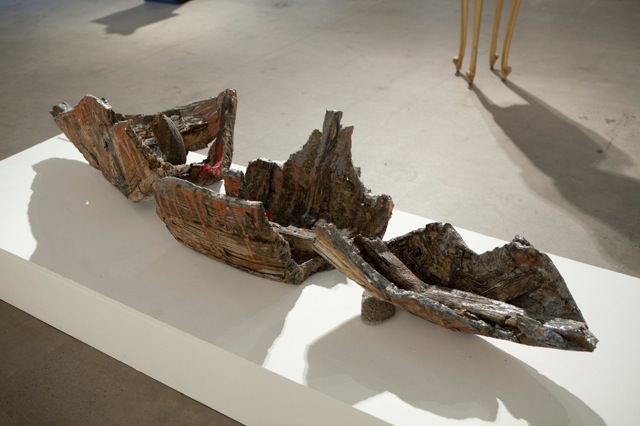 photo: Laramie Jones
Congratulations to ECC art student Jan Davids who recently won the "best in show" award at the Barnsdall Open Call Los Angeles exhibition. The annual juried show drew work from more than 500 artists from all over Southern California and is presented by the Los Angeles Municipal Art Gallery. Jan worked on this conceptual piece titled
Adieu Mon Coeur or Farewell My Heart
last semester while under the guidance of ECC Professor Russell McMillin.
Distinguished Alumni Awards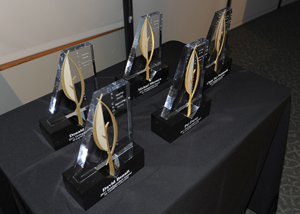 Congratulations to the El Camino College 2011 Distinguished Alumni Awards honorees who were recognized at a reception and dinner attended by about 110 family and friends in the college's newly renovated East Dining Room. The festive evening began with a reception where alumni reconnected, while the guitar duo of ECC music instructor Chris Mello and student Eliseo Borrero performed throughout the evening. Derf Fredericks, past president of the El Camino College Foundation Board of Directors, served as master of ceremonies, while Foundation Board President Steve Napolitano provided closing remarks for the evening. Honorees, along with those who nominated them, shared entertaining and heartfelt stories about their time at ECC and how the college helped them achieve their goals. For a list of 2011 and past honorees, click here.
Classified Service Awards
Mark your calendar and save the date for the annual Classified Service Awards ceremony scheduled for 2:00 p.m. Thursday, November 17 in the Student Activities Center. This annual event is a great way to bring our staff together to celebrate their contributions to student success. Staff members will also be honored for their many years of dedicated service.
Share a Ride to Work
Do your part for the environment and carpool to work! As many of us know, Southern California leads the nation in air pollution and traffic congestion. Currently eight in 10 commuters drive alone to work, and traffic congestion is growing by three percent each year. If changes aren't made, average rush-hour speeds will drop by more than half in the next decade – from 35 mph to 15 mph! At least one day during the week, consider carpooling, taking the bus or rail, walking, or riding a bike to work. Contact Erick Mendoza today in Parking Services at extension 3138 to learn more about the Rideshare Program.
Volleyball Twins Know the Score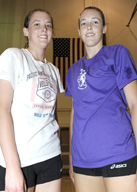 Check out our women's volleyball team schedule and watch the winning Warriors in action! The volleyball team continues a proud 20-year tradition of winning under head coach LeValley Pattison that includes 11 South Coast Conference titles and two state championships. Two teammates to watch are twins Kaitlyn and Lauren Edwards, 2010 grads of West Torrance High School. The sisters were thrown right into the fire and did not disappoint during their freshman campaign. This year, the sisters will take on a leadership role as they work to help El Camino College reclaim the state championship. Read more about ECC volleyball and the Edwards sisters here.
Transfer in 3D!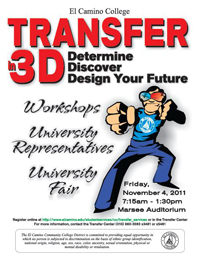 All students are invited to attend the Transfer Center's Eighth Annual Transfer Conference, "Transfer in 3D" at 7:15 a.m. November 4 at Marsee Auditorium. The transfer conference is designed to help students who want to transfer learn more about the process. A series of workshops covering topic such as choosing the right university, getting ready to transfer, and financing a university education will be available. University representatives will also be on hand to answer questions. Participants will also be able to attend a university fair. Want to register? Need more info? Click here.


ECC Art Gallery to Present El Dia
de los Muertos Exhbit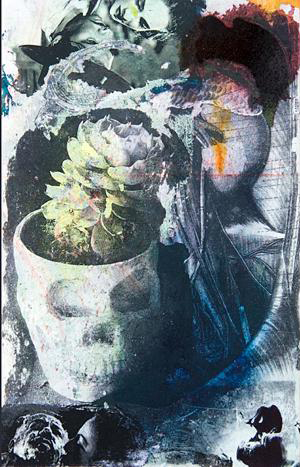 The ECC Art Gallery will present Recuerdos Vividos: Altars and Images Celebrating El Dia de los Muertos through November 4. The exhibit was curated by Susanna Meiers and celebrates Day of the Dead with Recuerdos Vividos, presenting altars and artworks by 29 artists from Southern California, honoring loved ones who have passed away, as well as images that address broader contemporary issues. In addition to traditional altar making, this exhibition includes installation, painting, printmaking, collage, mosaic work, sculpture, photography and folk art works in clay, sugar and paper mache. The artworks and altars in Recuerdos Vividos are sometimes highly personal, incorporating photographs, mementos, flowers, letters, candles and offerings of food, welcoming the departed souls to partake of this festivity in their honor. The El Camino College Art Gallery is open from 9 a.m. to 4 p.m. Mondays and Tuesdays and from noon to 8 p.m. Wednesdays and Thursdays. For more information, call Ext. 3010. Admission is free. For more information, click here.
El Camino College Compton Center
Welcomes YESS
El Camino College Compton Center is one of nine educational institutions in Los Angeles County to offer The Foundation for California Community Colleges' Youth Empowerment Strategies for Success (YESS) program. The YESS program is designed to provide foster youth ages 16-21 with academic and life-skills training so that they may successfully transition into adult life. Students are able to earn high school and college credits, as well as gain scholarship and financial aid information. If students enroll in 12 or more units they may be offered a job at ECC Compton Center, a great incentive to continue their education. For more information, click here. For more information about the YESS program at El Camino College Compton Center, call 310-900-1600, Ext. 2767.
Follow us on Facebook    

Are you following ECC on Facebook? "If you haven't already, please "like" our Facebook page and become one of the more than 6,500 fans – this is double the number of ECC fans this time last year! Facebook followers get all the latest ECC info, highlighting student success, faculty/staff news, activities and events, Warrior athletics, and other happenings at El Camino College. You will also find the latest ECC news on Twitter, the Mobile Website, and our Mobile App - MOX.

Share your comments about these stories!
You can use your Facebook, Hotmail, Yahoo or AOL account to make a comment!


Sections
Newsletters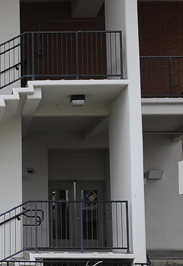 Can you guess where this photo was taken on campus? Submit your best guess here and be eligible to win a fabulous prize! Enter by October 31.

Congratulations to Vicki Lockridge for correctly indentifying last month's photo, which was the east end of the Social Science Building. Vicki won a Café Camino gift card.