Onizuka Space Science Day 2012: NASA Astronaut and ECC Alumnus Mike Fincke Welcomed as Guest Speaker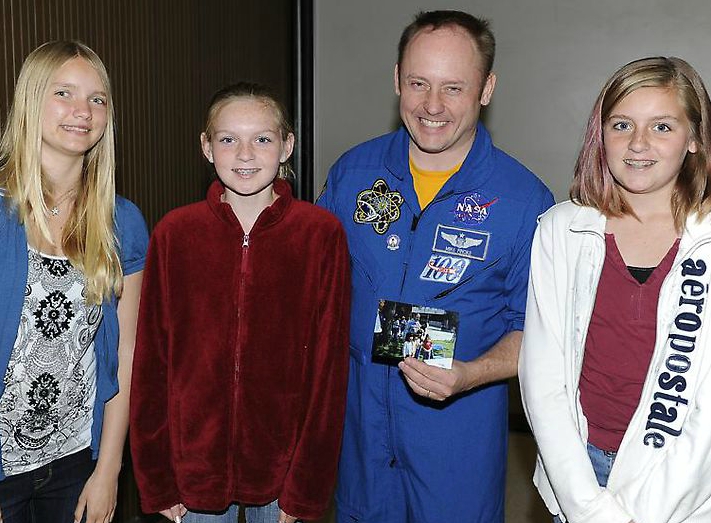 Torrance residents Sarah Cornelison, Judi Eppele, and Allison Eppele have their photo taken with NASA astronaut Mike Fincke for the second time. The Eppele sisters attended the 2005 Space Science Day when Fincke was also the keynote speaker.
NASA Astronaut and ECC grad alumnus Edward Michael "Mike" Fincke was the guest speaker at El Camino College's Space Science Day 2012. Serious-minded science students in grades five through 12 attended this free event and had the opportunity to listen to Astronaut Fincke and ask questions about his career. Student Camryn Marble, a sixth grader at DaVinci Middle School in Hawthorne, won the essay contest for writing about the topic "The Importance of Space Exploration for our Planet's Future."
Many South Bay families have made Onizuka Space Science Day an annual tradition. Dana Eppele brought her daughters to the event for the eighth consecutive year and shared a photo with Fincke from his first ECC speaking engagement in 2005 that showed the astronaut, Eppele's daughters, and some friends. Astronaut Fincke autographed the original picture. For more images from Onizuka Space Science, go to the ECC Photo Gallery. More...
Students, Faculty Attend Geology Conference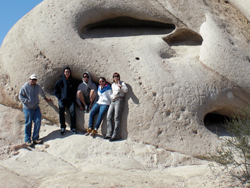 Congrats to 12 students and seven faculty members from the ECC Earth Science Department who hosted and attended the annual conference of the National Association of Geoscience Teachers (NAGT). The group was the largest number of students from one college to ever attend an NAGT conference in California. ECC student and geology major John Burton won a first prize award for his research poster presentation: "Geologic Sites Used by NASA to Prepare Apollo Astronauts for Lunar Landings." Faculty who attended included Joe Holliday, Sara DiFiori, Chuck Herzig, Jim Noyes, Lynn Fielding, Patty Neumann, and Rebecca Donnegan. Geology members in attendance included Ian Walker, Nick Buzga, Connie Nguyen, Richard Egger, Andrea Fabian, Paul Kee, Nicanor Bautista, David Saldana, June Choi, Alison Prizlow, Jeff Maeyama, and Angela Appel. The conference was located at the Zzyzx Research Station near Baker, and featured speakers each evening, with field trips across the Mojave Desert each day. The field trips covered topics such as volcanology, geomorphology, and mining.
Science Club Volunteers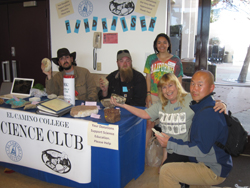 The El Camino College Science Club had a table for the first time ever at the Mineral and Gem Show sponsored by the South Bay Lapidary and Mineral Society (SBLMS) earlier this month. Twenty Science Club volunteers set up and closed down the show as a gesture of appreciation for the SBLMS, which provides funding for the annual ECC earth science scholarships. The mineral and gem show proceeds (raffle tickets, food and drink sales, etc.) are donated to fund El Camino College scholarships! The show featured beautiful jewelry and mineral objects, and of course, outstanding ECC volunteers. Several ECC personnel were also in attendance: Natural Sciences Dean Jean Shankweiler, ECC Foundation Director Katie Gleason, and Counselor Madeleine Carteron. Professors in attendance included Joseph Holliday, Lynn Fielding, and Chuck Herzig.
READ Poster Celebrities Announced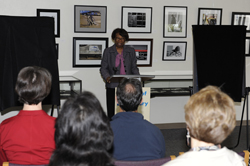 Congratulations to our new READ poster celebrities who were recently honored at the annual READ Poster unveiling in the Library Lobby. This year's celebrities are Tom Cody, English professor, and Irene Graff, Institutional Research director. Both were selected based on their continued support and use of the library during the past year. Since 2005, the Library has celebrated reading in the month of April by creating posters featuring campus personalities posing with their favorite books. The event is part of the library's annual celebration of National Library Week/Month, and is designed to remind everyone on campus, especially students, of the importance of reading and libraries. Come on by, and check out who is "hanging around" the library!
Third Annual Guitar Festival 
Everyone is invited to attend ECC's Third Annual Guitar Festival, scheduled for May 4-5. The festival includes two full days of concerts, clinics and master classes, with representatives from guitar programs from nearly every college and university in the area. All activities and clinics are free and open to the public. An interactive panel discussion and question and answer period titled "Career Paths for Guitarists in the Music Industry" is also part of the celebration and will give students interested in pursuing a career in music some insights into the industry. The festival wraps up with "Guitar Frenzy," a concert showcasing the talents of guitar ensembles from area colleges & high schools. For more information, click here.

ECC Presents New "Green Bag" Lunch Series  
ECC's "Green Team" will present the latest in the Green Bag Lunch Series, featuring "Rideshare/Bike to ECC." The seminar will be led by ECC Police Officer Erick Mendoza and Institutional Research Director Irene Graff from noon to 12:50 p.m. May 10 in the Alondra Room. Bring your lunch and learn about alternative ways to get to ECC. Are you interested in finding out more about rideshare opportunities for employees?  Have you been considering using your bike to get to campus?  This presentation is for you! Erick will highlight different options available, along with the benefits of ridesharing. Irene, an experienced bicycle commuter, will cover the basics of riding to work: personal safety, bicycle rules and resources, and nuts and bolts of commuting. This event also coincides with Bike Week LA, May 14-18. More...
Save the Date! Classified Professional Development Week: May 21-25
Everyone is encouraged to join the activities scheduled for Classified Professional Development Week, May 21-25. Several workshops will be offered, along with the Creative Hobby Showcase, and the Faculty & Staff Appreciation Day Reception. A highlight of Classified Professional

Development Week is our Team Building Extravaganza on May 25. Watch for more information in the coming weeks! Since 1986, California has honored the invaluable contributions of classified school employees during the third week of May.
Old School Cool!   
Check out a piece of El Camino College history! Narrated by the ECC's first president, Forrest Murdock, the video features the college's first 11 years, complete with footage of the football stadium construction, homecoming parades, student art exhibits, pep rallies, and many other aspects of student life in the late '50s.
igrant Applications Available
Applications are available for 2012-13 El Camino College igrants. The igrants program is designed to fund projects promoting innovative, state-of-the-art opportunities that advance the education of our students. Grants are intended to provide resources when no other source of funding is available. Since 2003,109 igrants requests have been funded, totaling $568,179. Only grant requests in Plan Builder or Program Review will be eligible for funding. Please contact the El Camino College Foundation for an igrants Information Sheet and Request for Funding form. Applications must be completed and returned to the Foundation Office by May 18.
Student Success: Journalism
Congratulations to El Camino College journalism students for winning nine awards at this year's Journalism Association of Community Colleges annual convention in Burbank. ECC students com­peted against about 550 students from 40 commu­nity colleges. The journalism department's student publications, the Union newspaper, Union Online and Warrior Life magazine all took home General Excellence awards. This is the first time the Union Online has won a General Excellence award. Professor Lori Medigovich received a Lifetime Achievement in Journalism Education Award from the California Journalism Education Coalition (Cal-JEC). In addition, professor emeritus Jolene Combs was honored posthumously with the Distinguished Service to Journalism Education Award. For a list of student award winners, click here.
Blood Drive Results   

The recent Inter-Club Council blood drive with the American Red Cross was a great success. The college collected 237 units of blood, which will help save approximately 711 lives! Thank you to everyone who participated and donated blood. Thanks also go to student chairman Ricky Gonzalez, who organized the three-day blood drive. Volunteers from the ICC Cabinet and club members also pitched in, along with student volunteers from ECC human development courses. This is a great El Camino College tradition of generously donating life-saving blood to the American Red Cross, which relies on donors to replenish the blood supply that is in constant demand.
Congratulations to 2012 ECC "Women of Distinction"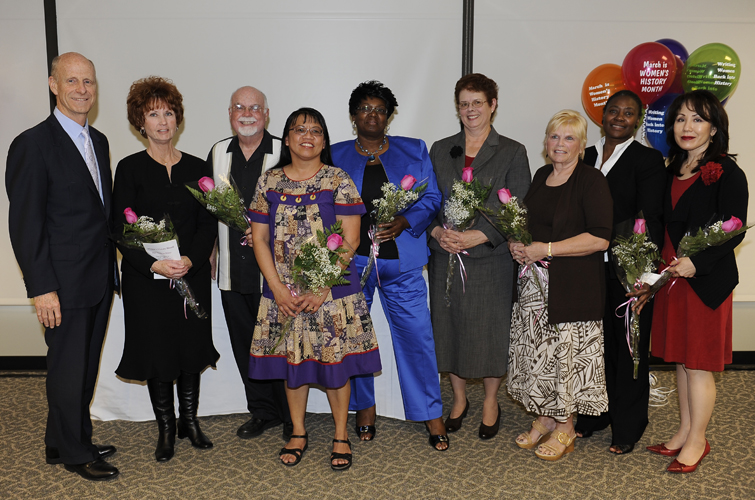 Eight exceptional community leaders were honored at the 2012 El Camino College Women of Distinction Ceremony. All eight of these "Women of Distinction" were recognized for their dedicated service and contributions to the community. Nominated by friends, family, and colleagues, award winners were selected by the ECC Women's History Month Committee, based on service in one or more of the following areas: professional accomplishments; leadership and/or mentorship; and social, educational, or health services. All honorees live or work within the El Camino Community College District. The accomplishments of these award winners will be featured on the El Camino College Women's Wall of Fame (in the Schauerman Library) throughout the year and their names will be engraved on a plaque that is a permanent part of the display. For a full list of 2012 Women of Distinction, click here.
Compton Community College District Foundation Book Fund Program
The Foundation for the Compton Community College District recently introduced the Foundation Book Fund Program. With the increasing cost of textbooks, ECC Compton Center students often arrive to class each day deprived of one critical tool for their success – textbooks. The Foundation's goal is to raise $45,000 to distribute textbook vouchers to eligible El Camino College Compton Center students who have financial challenges. Just $150 buys a book for a student! Any and all support is welcome. To make a donation, or for any questions regarding the Foundation Book Fund Program, please contact Kimberly Stanback at (310) 900-1600, Ext. 2971.
Golf Classic and Athletic Hall of Fame 
Registration is now open for El Camino College's 25th Annual Warrior Athletics Golf Tournament, set for May 11 at the scenic Los Verdes Golf Course in Rancho Palos Verdes. The event features a four-person scramble format with a 1 p.m. shotgun start. More...
Athletic Hall of Fame Banquet
Celebrate Warrior pride at the 25th Annual Athletic Hall of Fame Banquet, scheduled for 5:30 p.m. May 17 at Ayers Hotel in Hawthorne. This festive event celebrates the athletic accomplishments of outstanding alumni as well as today's scholar-athletes. Scholarships and awards will be given out to outstanding ECC student-athletes. For reservations or more information, click here, or call the Athletic Office at 310-660-3545.
ECC Police Make Safety Visit to
Area Elementary School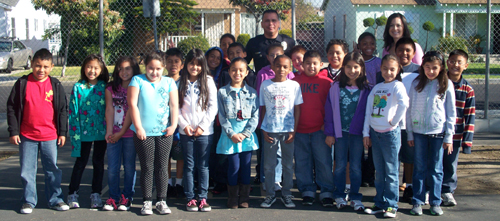 El Camino College Police Sergeant Dal Toruno recently visited the third grade class of Julie Hidalgo at Chapman Elementary School in Gardena. Toruno conducted an informative classroom safety presentation, covering topics such as how/when/why to call 911, strangers, general safety, and good citizenship.
Congratulations to Spring 2012 Scholar Ballers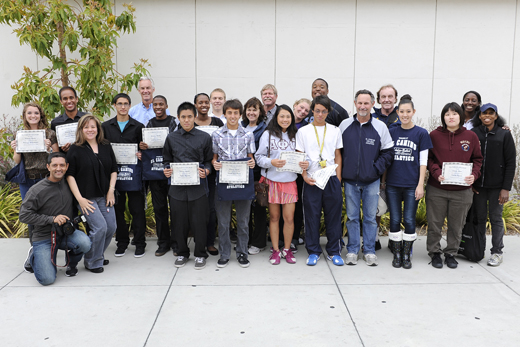 The El Camino College Athletics program recently acknowledged several 2012 Spring Semester Scholar-Ballers. The Scholar-Baller organization recognizes academic success and those athletes who excel in academics by achieving a 3.0 GPA or higher. Click here to view a complete list of Spring 2012 Scholar-Ballers. Congratulations to all!
Paramedic Graduation  
Congratulations to the 221st graduating class of the El Camino College Paramedic Training Institute. Students will celebrate with a graduation ceremony at 3:00 p.m. May 1 in Marsee Auditorium. A reception will follow on the South Patio of the Auditorium
For more information, please contact dzavala@elcamino.edu.
Share your comments about these stories!
You can use your Facebook, Hotmail, Yahoo or AOL account to make a comment!


Sections
Newsletters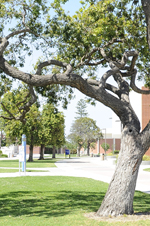 Can you guess where this photo was taken on campus? Submit your best guess hereand be eligible to win a fabulous prize! Submit entries by May 3.

Congratulations to Martha Angel from the Veterans Office! Martha correctly indentified last month's photo, which was an image of the Bookstore Building (north), from the sand volleyball courts. Martha won a gift card to Starbucks for her correct answer.