Classes Added to Fall 2013!   

REGISTER NOW!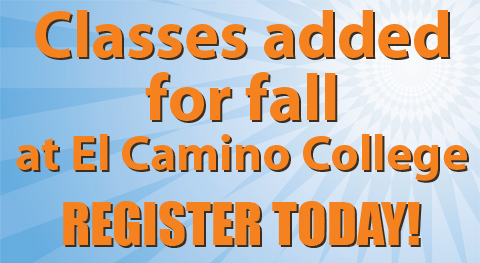 Click here for just of few of the classes added to the fall course offerings at El Camino College. A variety of classes are offered, including English and math. This is only a partial listing; click here for the most current class list. Fall 2013 begins August 24. Register now!
Congratulations to the Class of 2013!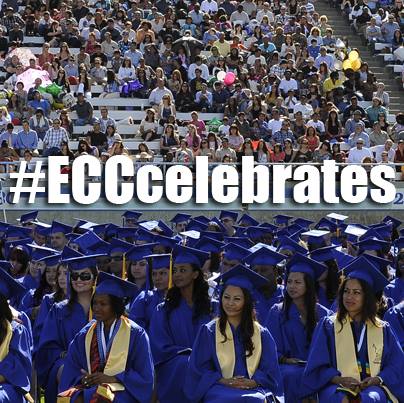 Congrats to the El Camino College Class of 2013! The 66th commencement ceremony on June 7 in Murdock Stadium featured Bart Aslin, director of the Society of Manufacturing Engineers (SME) Education Foundation, as the guest speaker, addressing grads and hundreds of friends and families in attendance. This year, graduates joined the fun on the "ECC Blue Carpet!" A special El Camino College photo opportunity, complete with a celeb-style backdrop, was available during the commencement reception for graduates, family, friends and ECC employees. Joyful images from commencement were tagged, shared, and enjoyed by all. See a sampling at http://storify.com/ECC_Online. Keep posting photos to Facebook and tag ECC on Twitter and Instagram using #ECCcelebrates!
ECC Digital Archive     
The El Camino College Digital Archive is now open! This database provides access to the entire run of ECC yearbooks, the initial issues of "Warrior Life Magazine" and the school newspaper, called "La Campana," "War whoop," "Warwhoop," and now the "Union," dating back from 1947 to 2012. Everyone is invited to run a specialized search of ECC history! Try it out and see if your name or a colleague's name is in the database. Or, type in a subject such as football, financial aid, the library, or any other subject you can think of, and see what comes up. Here is the link. More...

Warrior Athletics 2012-13: Scholars and Champions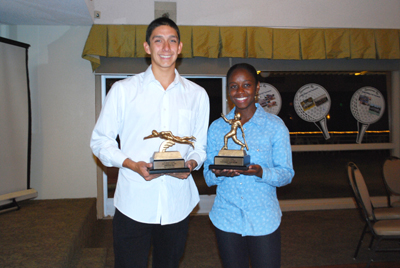 With 21 athletics programs and hundreds of student athletes participating, the 2012-13 athletic year turned out one state champion, a number of conference championships, MVP and coach of the year awards, and 23 Scholar-Ballers. Chun Young-Shin was named the California Women's Tennis Student Athlete of the Year and Steve Van Kanegan (men's and women's tennis coach) was named Community College Women's Coach of the Year. The women's tennis team also won the scholar team award for highest tennis team GPA for the third year in a row. In addition, El Camino College named the Athletes of the Year for 2013: freshman swimmer Jonathan Diaz and sophomore softball player Olufunmike "Aisha" Salami. Click here for bios on these two outstanding scholar-athletes.
Outstanding Academics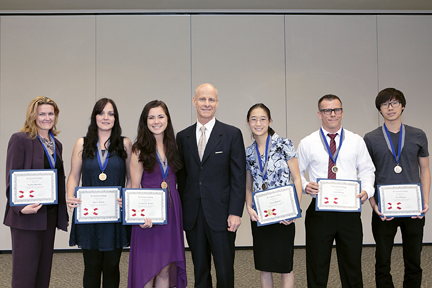 Congratulations to the 2013 El Camino College Presidential Scholars and Academic Award winners! These students represent the best and brightest at ECC. Congratulations to all!
ECC Free Summer Math Academy  
El Camino College will sponsor a free, three-week math academy for new students this summer. The 2013 El Camino College Summer Math Academy provides an opportunity to study math for three weeks in a friendly, stress-free environment. Students will learn how to study efficiently and become well-prepared for placement testing. Math academies cover basic skills, algebra and precalculus. Students must be enrolled in a math course for fall 2013. The Summer Math Academy runs Mondays through Thursdays, July 22 through August 8. An orientation meeting is scheduled from 5-6:30 p.m. July 10 in the Math Business Allied Health Building, room 319. More...

STEM Center and I&T Groundbreaking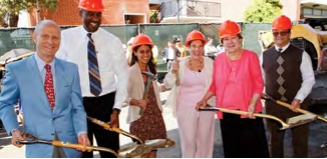 A groundbreaking ceremony on May 20 marked the start of renovations for the El Camino College STEM Center and Industry & Technology Building. The STEM Center will be a new 9,334-square-foot, state-of-the-art learning support center for students studying STEM (Science, Technology, Engineering, Math) disciplines. This $2.1 million project will convert the lower level of the Natural Science Building to house the new STEM Center. The former Math/Computer Science Building will undergo a $25.4 renovation to house Industry & Technology programs. Both projects are supported by funding from the 2002 Measure E Facilities Bond.
Recycled Fashion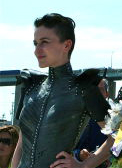 Fashion student and aspiring costume designer Tamta Kazaishvili's has an eye for style that also helps save the earth. Tamta's design recently won first place in the Urban Ocean Festival Trashin Fashion Show and Contest sponsored by the Aquarium of the Pacific. Her award-winning punk rock-style dress is made of recycled inner tubes held together with glue and rivets. She modeled the ensemble herself and accessorized the short, angular dress with black boots and a matching short, sleek hairstyle. To read more about Tamta and her creation, click here.

Distinguished Faculty and Staff 2013  


Congratulations to El Camino College librarian Ed Martinez and trainer/instructional technology specialist Francine Vasilomanolakis were recently honored at a reception for their dedication to students, college, and colleagues. Martinez and Vasilomanolakis, honorees for the 2013 El Camino College Distinguished Faculty and Staff Award, were recognized at the 16th Annual Faculty and Staff Appreciation Day, an event designed to thank all members of the campus community for their commitment to the college and its educational mission. More…

Classified Professional Development 

The Fourth Annual Team Building Extravaganza included fun, high-energy games and team building activities! Led by Dave Bacon, who teaches recreation classes, everyone participated in activities designed as a way to meet new people and interact in unexpected ways and circumstances. The challenging part was following the hilarious instructions – confusion and laughter ensued. Congratulations to Cesar Lopez with the Copy Center, who won a raffle drawing for a $25 Visa card sponsored by Schools First Credit Union. In addition, the Office of Staff and Student Diversity provided flash drives and lanyards to several winning ticket holders. Classified Professional Development Week also included a variety of interesting personal and professional development activities, including the Creative Hobby Showcase and workshops.
26th Annual El Camino College Golf Classic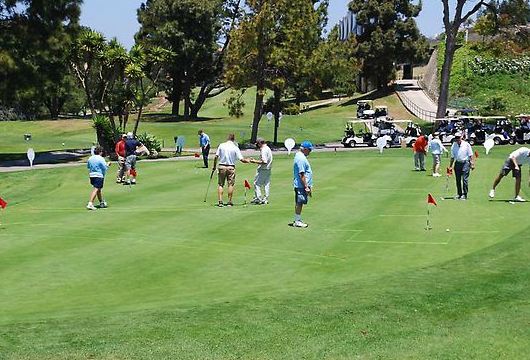 The 26th Annual ECC Golf Classic was a big hit where many members of the El Camino College community had the chance to show off their golf game. Nearly 130 players hit the links at Los Verdes Golf Course in Palos Verdes to test their mettle with putting and longest drive contests, along with a closest to the pin competition and finally, playing 18 holes of golf. As for the results out on the links, Charles Hodges showed off his short game by winning the putting contest. Warriors' men's volleyball assistant coach Kurt Peters showed off his game as he took home the top prize in the men's closest to the pin contest while journalism instructor Kate McLaughlin showed off her grace with the golf clubs, winning the women's contest. More…

ECC Compton Center Honors Students at Annual Academic Awards Tea 
Congratulations to the outstanding students honored at El Camino College Compton Center's annual Academic Awards Tea on May 19. The event served to recognize the academic achievements of 20 honor students, two Presidential Scholars, and 23 scholarship recipients. Scholarships awarded by both ECC Compton Center and the Foundation for the Compton Community College District totaled $27,000.

HTP Success at Annual Conference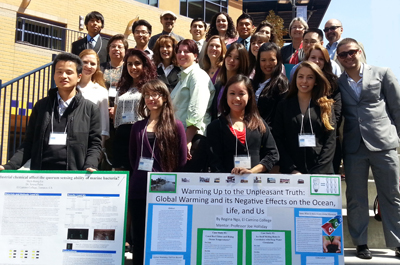 Twenty-one students in the El Camino College Honors Transfer Program (HTP) recently presented research projects at the statewide Honors Transfer Council of California (HTCC) Student Research Conference at UC Irvine. Three students were honored at the conference for their accomplishments: Cindy Barrientos received a scholarship for her work, and Helin Hernandez and Daniella DeLucia received HTCC Exceptional Achievement Scholarships for displaying extraordinary commitment or overcoming obstacles to success. The conference is designed to allow honors students at community colleges to present their research in a university setting. Each student presented either a research poster or an oral presentation at UC Irvine. More…

ECC Compton Center Baseball Standout: New York Bound!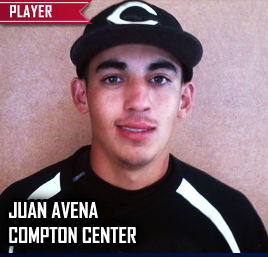 Congrats to El Camino College Compton Center infielder Juan Avena who was recently selected by the New York Mets in the 37th round of the Major League Baseball first-year player draft. The former Warren High School standout and Compton native was chosen as a first baseman in the 40-round draft. A first-team All-South Coast Conference selection, Avena batted .385 with a homer, four triples, 16 doubles and 28 RBIs for the 26-18 Tartars, who advanced to the state Super Regionals. He had a .447 on base and .544 slugging average. Read more about Avena here.

Share your comments about these stories!
You can use your Facebook, Hotmail, Yahoo or AOL account to make a comment!


Sections
Share this newsletter with
your friends:



Tweet

Share your thoughts on these articles! Leave your comments at the bottom of this newsletter!
Safety Matters
Department News
ECC Alumni

ECC Alumni:
William Allen Young

Submissions
Newsletters