Congratulations to the Class of 2014!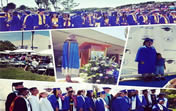 El Camino College recently celebrated its 67th Annual Commencement. Among the Class of 2014, 1,125 students received associate of art degrees, and 652 students received associate of science degrees this year. In addition, 402 certificates were awarded. This year, the excitement of commencement was captured in hundreds of online images and posts from students who snapped photos and shared what it is like to be an El Camino College graduate. The proud graduates and their loved ones took to social media to celebrate the Class of 2014, posting photos and describing special moments from the May 16 commencement ceremony.
A collection of students' graduation photos and posts on Facebook, Twitter and Instagram were compiled into an easy-to-read story on this online 2014 Commencement Storify album. El Camino College students, their families, faculty and staff were provided an opportunity to share and take part in the larger celebratory conversation that was happening online by using the unique hashtag #ECCGrad, which was a huge success, resulting in more than 200 unique tweets on Twitter, Instagram photos and Facebook posts.
Classes Added: Register Now!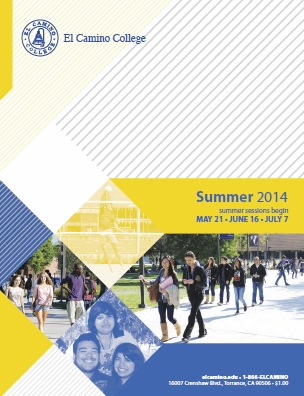 Hundreds of classes have been added for Summer and Fall 2014! The added courses cover a variety of subjects, including high-demand classes in English and math. Click here to view the class schedule. Students are encouraged to register as soon as possible. The eight-week summer session began Monday, June 16; the second six-week summer session begins Monday, July 7.
Honors Transfer Program Students Win Scholarships, Present Research Projects at Annual Conference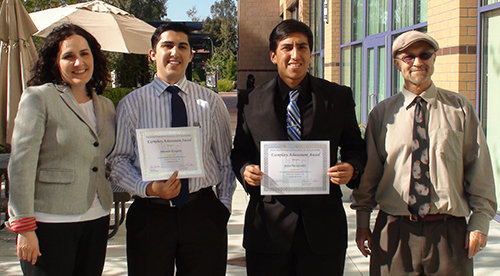 Scholarship Recipients Photo: HTP Co-director Rachel Williams, Andy Bangash, Jerry Hernandez, Co-director Joseph Holliday
El Camino College student Jerry Hernandez was one of 20 students in the El Camino College Honors Transfer Program (HTP) who attended the California Honors Transfer Council of California (HTCC) Student Research Conference at UC Irvine. He and classmate Andy Bangash both won the HTCC Exemplary Student Scholarships at the conference, two of only 25 students in the state to win this award. Along with the students, eight faculty members and two administrators also joined the conference. ECC always sends one of the largest contingents of student research presenters. The conference is designed to allow honors students at community colleges to present their research in a university setting. In addition, most of the students will have their abstracts printed in a UCI publication.
More…
front row: students Avery Thomson, Brianne O'Donoghue, Gus Pamungkas, Apurva Sharma, Sean Bonyadlou, Christian Wooten, Nayeon Kim
second row: students Michael Thompson, Diego Terry, Charlie James, Andy Bangash, Rabeya Rahman, Sean Borden, Shea Adair, Brittany Hubble
third row: students Rachel Reilly , Jerry Hernandez, Luis Mendez, Ajejandro Rivera, Joy DeGuzman
fourth row: Co-director Joseph Holliday, faculty members Susan Bachmann, Barbara Jaffe, Debra Breckheimer, Karen Whitney, Dean Jean Shankweiler
back row: faculty Nancy Hurtado, Teresa Palos, Vice President Jeanie Nishime, Co-director Rachel Williams
STEM Center Grand Opening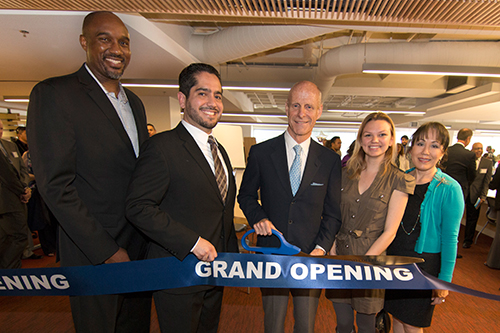 A grand opening recently celebrated the new El Camino College STEM Center. The STEM Center will support student success, retention and graduation by serving as a hub for tutoring and academic support programs. This new $3.4 million, 9,334-square-foot learning support center is designed for students studying STEM (Science, Technology, Engineering, Math) disciplines. The STEM Center will house the highly-successful Mathematics, Engineering, Science Achievement (MESA) program and provide STEM enrichment and outreach activities. The new STEM Center and numerous other improvements on campus were made possible with funds from the 2002 Measure E facilities bond.
Distinguished Faculty and Staff         
Congratulations to Francis Bernard Rang and Linda Detwiler Burner, two exemplary members of the El Camino College community who were honored for their work on behalf of the college at the 18th Annual Faculty and Staff Appreciation and Recognition Reception. Francis Bernard (Bernie) Rang is a longtime Spanish professor who has taught all levels of language acquisition since he joined ECC full time in 1984. He is known for his commitment to teaching and learning that brings out the best in students through his classroom rapport and high expectations. Linda Detwiler Burner is an ITS user support technician for the Financial Aid (FA) Office who has played an instrumental role in improving the efficiency and effectiveness of the FA offices at ECC and ECC Compton Center. Linda is responsible for ensuring that the Datatel system is able to accept new financial aid applications in compliance with ever-changing state and federal regulations, in addition to keeping communication lines defined and making sure FA staff have the tech support needed to perform their jobs. More…
ECC Announces READ Poster "Celebrities" for 2014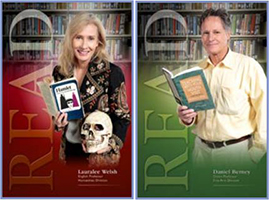 The new READ poster "celebrities" for 2014 were recently revealed at a celebration of reading and libraries in the Schauerman Library Lobby. This year's celebrities are Lauralee Welsh, English professor in the Humanities Division, and Daniel Berney, dance professor in the Fine Arts Division. They were selected for their longstanding dedicated support of the Library and for fostering student information literacy skills and the use of Library resources. Since 2005, the El Camino College Schauerman Library has celebrated reading in the month of April by creating posters featuring college personalities posing with their favorite books. The event is part of the Library's annual celebration of National Library Week/Month, and is designed to remind everyone on campus, especially students, of the importance of reading and libraries.
Retiring Faculty, Staff, Managers             
Congratulations to retiring employees who have served El Camino College and ECC students. Click here for the full list:
STEM Week = Success!
ECC's first-ever STEM Week was a great success – a celebration of the STEM (Science, Technology, Engineering, Math) disciplines where students and guest speakers demonstrated the opportunities and innovations found in these fields of study.

The weeklong celebration was organized in conjunction with the opening of the college's new STEM Center, and also included student club demonstrations, academic presentations and career workshops.
Student Success: Scholarships Awarded  
Congratulations to the outstanding students honored at the annual Scholarship Awards ceremonies. About $1.4 million will be awarded to approximately 650 students for the 2014-2015 academic year. A record number of students applied for scholarships this year using the online system. The ECC scholarship program continues to grow each year, providing critical support to students in a variety of academic disciplines. More...
ECC Athletics Hall of Fame 2014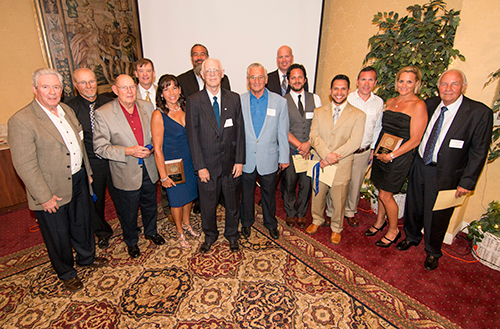 Congrats to all those honored at the 26th Athletic Hall of Fame Induction Dinner Ceremony. The 2014 El Camino College Athletic Hall of Fame inductees include: Nick Carr, 1978-81, cross country/track; Sylvia Gurrola, 1980-82, volleyball and softball; Dennis Hansen, 1960-61, cross country/track; Tike Karavas, 1956-59, basketball; Heidi Nelson, 1999, swimming; Scott Provin, 1983-84, football; Chuck Shaffer, 1980-present, football (meritorious); Kenny Talanoa, 1991-92, football; and the 1963 State Champion Golf Team. Student honorees include the 2014 Athletes of the Year: Roy Powell, volleyball, and Crystal Lizaola, track & field. The Norm Verry Scholarship, honoring scholar athletes at El Camino College, will be awarded to Liliana Lopez, track & field and Clarizzah MacAtugal, basketball.

ECC Kid's College – Summer Classes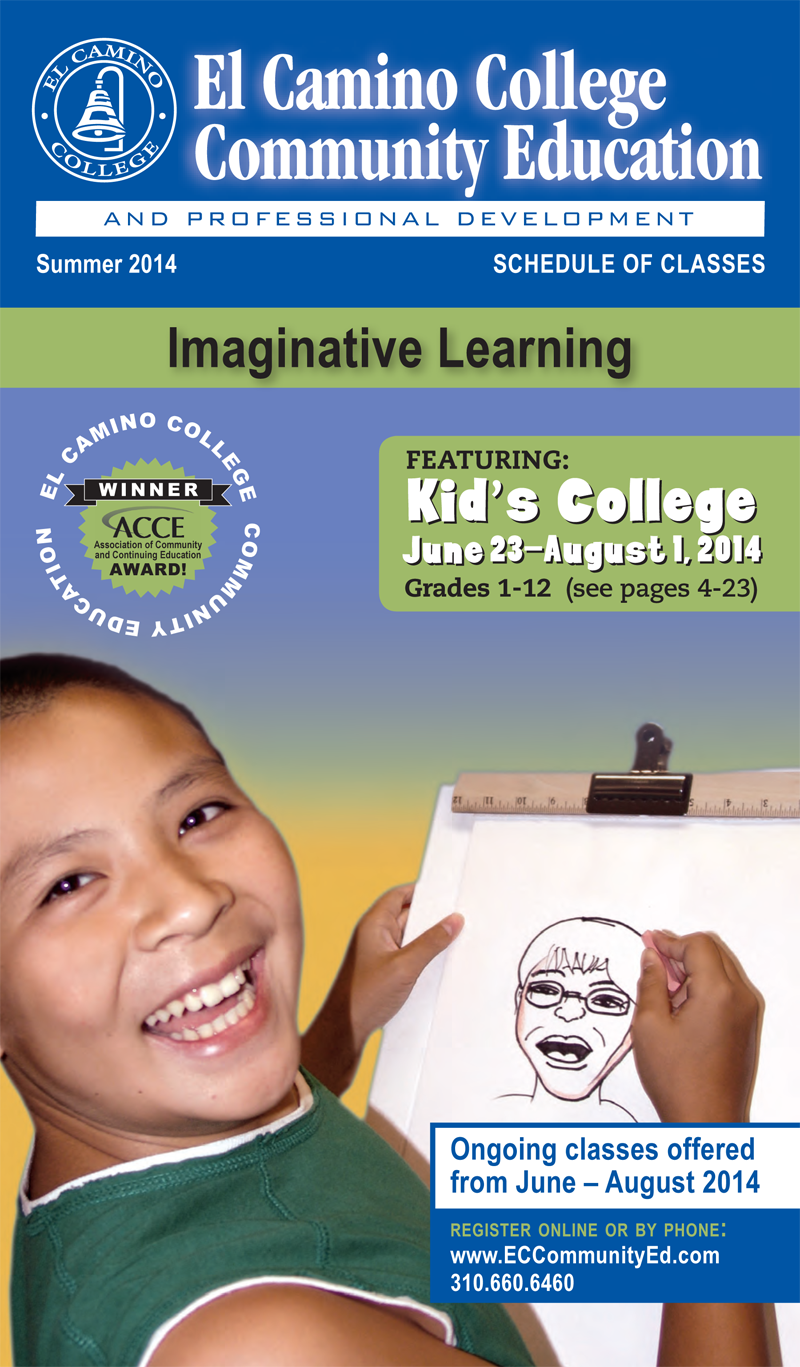 Registration is now open for Kid's College this summer! Kid's College has something for all area youngsters in first through 12th grade. Art, writing, music, woodworking, sports, science – the list goes on! Classes are offered from June through August. Sign up now for some serious learning fun! Click here for the summer schedule.

Spring 2014 Scholar Ballers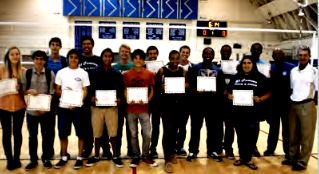 El Camino College scholar-athletes were recently honored as members of the Scholar-Baller organization. Scholar-Baller recognizes academic success of athletes who excel in the classroom by achieving a 3.0 grade point average or higher. Click here for the full list:

Distinguished Alumni Award Nominees
The El Camino College Foundation is seeking nominees for the 2014 Distinguished Alumni Award. This award recognizes and honors outstanding ECC alumni for their contributions to the community. Nominees have a proven track record of achievement in their chosen career, service to the community, or area of endeavor, and have gained local, state, or national recognition for their involvement. In addition, 10 years must have elapsed since candidates attended El Camino College. Nomination forms must be returned to the Foundation by July 31. The Distinguished Alumni Awards Dinner is scheduled for October 4. For more information, contact Katie Gleason at extension 3683 or click here.

Southern California Edison Grant to Establish STEM Scholarship Program
A new grant totaling $25,000 from Southern California Edison will help start a new Science, Technology, Engineering and Mathematics (STEM) scholarship program for ECC Compton Center first-generation students who are economically disadvantaged. The scholarships will be awarded annually to students who meet the established academic requirements in math, engineering and science, and are renewable for one additional year if the student continues to make academic progress. More…

Share your comments about these stories!
You can use your Facebook, Hotmail, Yahoo or AOL account to make a comment!


Sections
Share this newsletter with
your friends:



Tweet

Share your thoughts on these articles! Leave your comments at the bottom of this newsletter!
Safety Matters
Department News
ECC Alumni

Submissions
Newsletters