Artistic Endeavors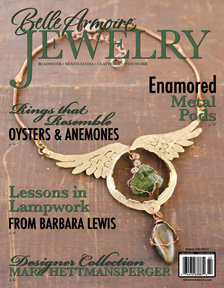 ECC student Silvia Peluso's artwork is featured on the cover of the Summer 2012 edition of "Belle Armoire Jewelry" magazine. The full-color photo features her original "Angel Diva Amulet," made with green tourmaline and labradorite crystals. A related article gives step-by-step instructions on how to create the necklace, in addition to photos and instructions to create her "Mystic Ocean Bracelet." Peluso is a Redondo Beach-based artist who has been a member of The Redondo Beach Art Group since 2006, serving as vice president from 2009-2010. She also volunteers with Hands On Art, bringing art techniques to students in Redondo Beach schools.
ECC Art Gallery to Present Tropical Planet:
Works by former ECC Professors David
and Deborah Patterson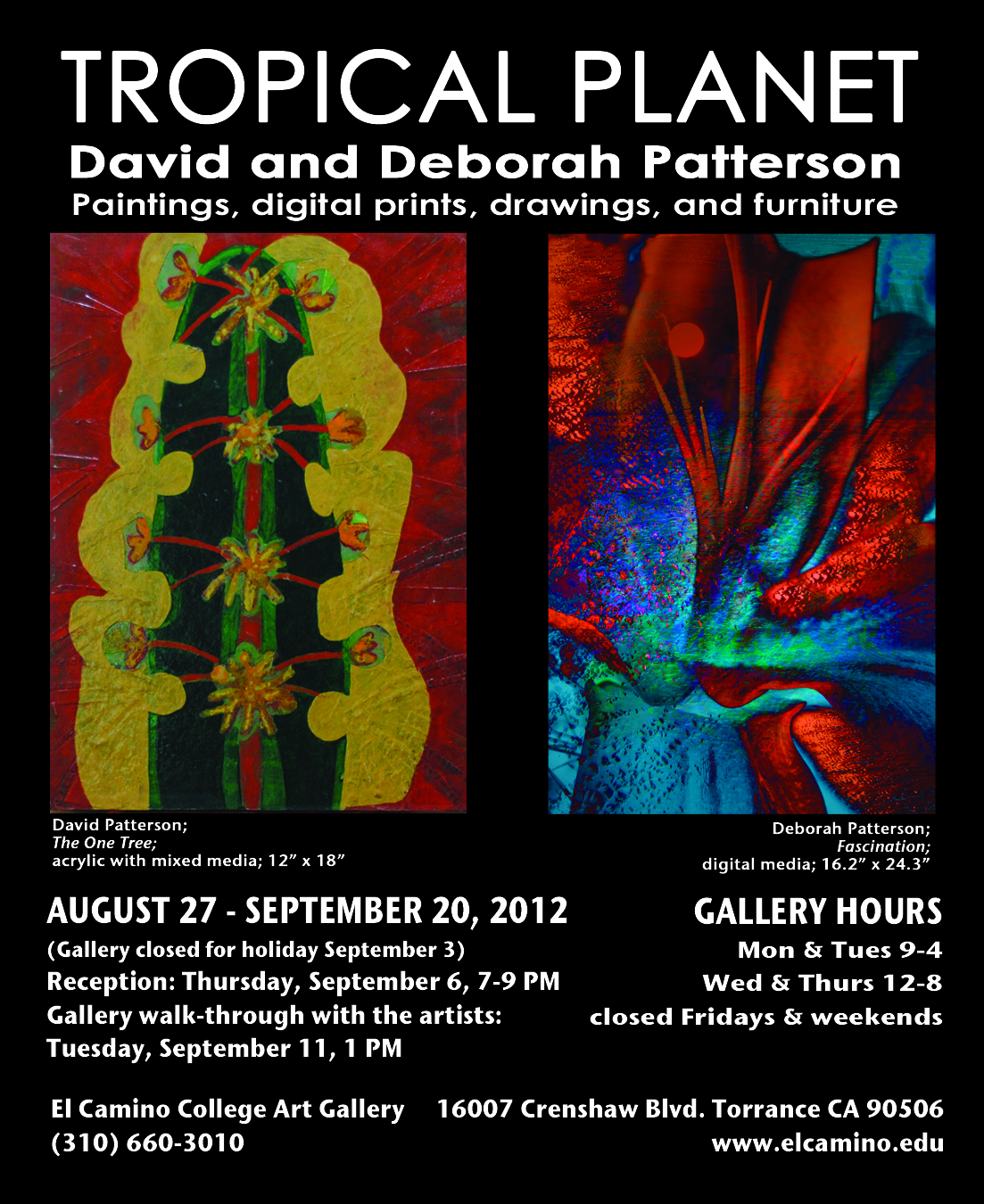 The El Camino College Art Gallery will present Tropical Planet, featuring paintings, collage, drawing, digital prints by ECC Professor Emeritus David Patterson and his wife Deborah Patterson, who was an adjunct faculty member in the digital area of the art department for a number of years. The exhibit runs August 27 through September 20, with an artist's reception from 7-9 p.m. September 6 and a gallery walk-through at 1 p.m. September 11. The exhibit's curator is Susanna Meiers.

Warrior Baseball Transfer Students    
Congratulations to the 10 ECC baseball players headed to four-year universities to continue their education and baseball careers. The baseball team won 30 games and reached the Southern California Super Regionals this past spring. click here for a list of players.
Outstanding Teacher Award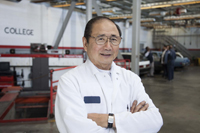 El Camino College's own Hiram Hironaka, professor of automotive technology, was recently honored with the Teacher of the Year award by the Los Angeles County Industrial and Technology Education Association. Hiram has been teaching at El Camino College since 1983.

"I found my dream job – teaching and working with students," Hiram said about his chosen profession. "It's all about helping build lives and seeing them succeed." Before he began his teaching career, Hiram earned an associate degree from El Camino College, and then went on to earn bachelor's and master's degrees from California State University, Long Beach. In his spare time, Hiram owns and operates a restaurant; rebuilds classic cars; and builds and plays five-string baritone ukuleles.
Clever Construction     
Kudos to students in Ross Durand's Construction 100 (fundamentals) and 110 (additions & remodeling) classes who helped complete a storage/stage structure at the Gardena Willows Wetland Preserve after the original contractor failed to complete the project. Approximately 35 students pitched in to finish the building, which is used as storage, but also serves as a backdrop and stage setting for workshops and demonstrations. It resembles a California home and backyard, surrounded by California native plants.
The START Program: STEM Training
and Robotics Technology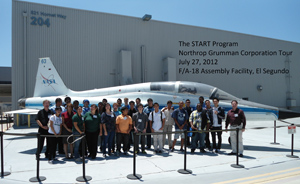 The START Program recently completed a successful summer session! The hands-on, project-based program for El Camino College students was designed to create awareness of career pathways in science, technology, engineering and math (STEM). Students learned to solve problems and develop solutions used in real-world applications found in day-to-day life and the workplace. They also had the opportunity to design and build a VEX robot for class competition. The development of critical, creative and innovative reasoning skills was a main focus. Funding for this program is through a HSI STEM grant, lasting through 2016. Click here for more info.
Video Awards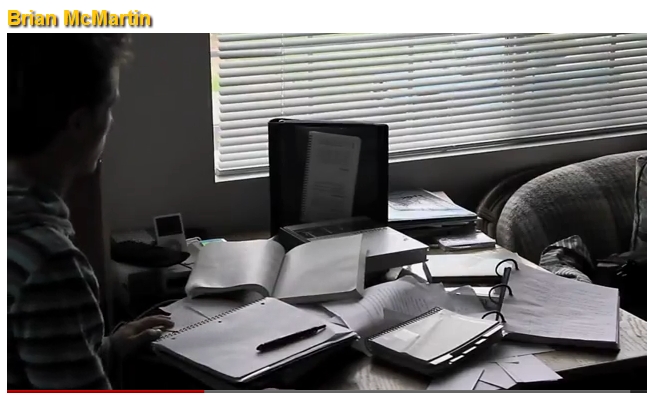 Congratulations to ECC student Brian McMartin, who was a finalist in a national McGraw-Hill Higher Education video contest. Brian entered the "Get Connected and Win Video Contest" and placed in the Top 20. The contest asked students to create a one-minute video about how McGraw-Hill Connect and digital learning has enhanced their education. Brian's film "Mission Possible" shows how McGraw-Hill Connect can help with study skills "no matter where I am or what I'm doing." View his award-winning video here. More than 100 students from across the country submitted videos, which were judged by top academicians, leading third-party educational organizations, and members of the media who are covering and influencing key issues such as technology in the classroom. Winners were selected based on creativity, originality, theme communication, and the number of votes received from the public on www.getconnectedandwin.com during the public voting period.
ECC Child Development Center
Open for Fall Enrollment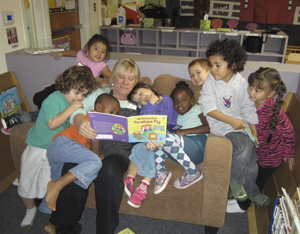 The El Camino College Child Development Center's (CDC) fee-based, year-round preschool program is now open for enrollment for children ages 2 to 5 who are completely toilet trained. The CDC is accredited by the National Association of Child Care Professionals. Located on the ECC campus, CDC enrollment is open to all children, including those of college students, employees, and members of the community. Low child/staff ratios and an emphasis on social skills are hallmarks of the academic curriculum. The El Camino College Child Development Center prepares youngsters to enter elementary school, setting the stage for a lifetime of learning. The school's mission has become increasingly important in recent years, as kindergarten curriculum adopts more rigorous standards, with the bar of achievement rising higher and higher.
ECC Compton Center Installs New
Daily Permit Parking Stations 

El Camino College Compton Center's Daily Permit Parking Pay Stations make paying for parking more convenient than ever. Three automated stations are located near the Administration, Math/Science and ESL/Philosophy buildings. Students and visitors will find the Daily Permit Parking Pay Stations easy to use, and may pay with cash, coins or credit cards. Daily permits are $2 each and generate about $500 per week in revenue, which will be used for parking-related expenditures such as security, signs and parking lot maintenance. View a map of the Daily Permit Parking Pay Station locations here.
Share your comments about these stories!
You can use your Facebook, Hotmail, Yahoo or AOL account to make a comment!