Spring Flex Day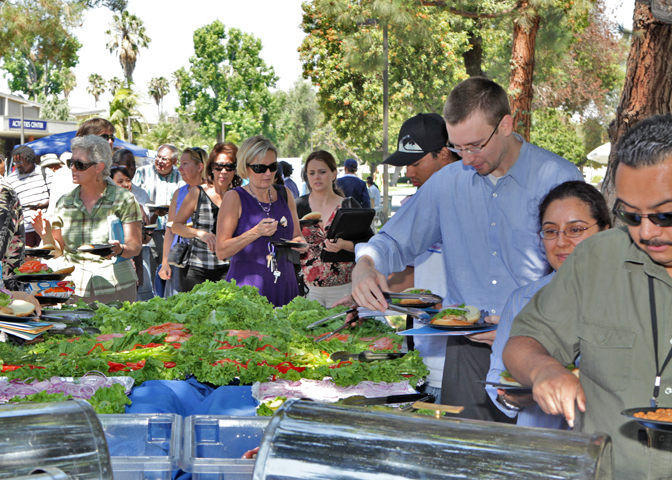 Our Spring 2011 Flex Day is set for February 9. The day begins with morning refreshments and check- in from 8:00-9:00 a.m., followed by a general session and division/department meetings. Workshops will be offered following lunch. Our Spring Flex Day is a great opportunity to meet up with colleagues after the winter recess and get ready for the new semester. We look forward to seeing everyone there!
Galaxy of the SSTARS Breakfast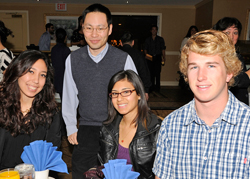 All are invited to attend the Fifth Annual SSTARS Breakfast Banquet fundraiser to benefit SSTARS (Student Services Transfer And Retention Services). The festivities will run from 9:00 to 11:00 a.m. January 28 at the Doubletree Hotel in Torrance. This year's event will recognize outstanding SSTARS student achievements and will honor Harold Tyler, the recently retired director of student development. Proceeds from the banquet will support SSTARS programs and students.
The event is designed to celebrate El Camino College student accomplishments and to raise scholarship funds for students involved in SSTARS programs. Tickets cost $35 per guest. For more information or to purchase a ticket, click here. 

Scholarships Available
All students are encouraged to apply for scholarships via MyECC through February 28, 2011. More than 300 scholarships are available to: incoming high school students, current ECC students, and students who are planning to transfer to a four-year university. Scholarships range from $150-$5,000; multi-year scholarships from $1,000-$2,000 per year for two years are also available. Last year, about 322 El Camino College students were awarded scholarships at the ECC annual Scholarship Awards Ceremony and Reception. More than $315,000 in scholarships were distributed. Apply for a scholarship today!

ECC Fitness Center: Winter Hours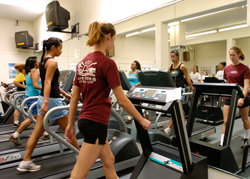 Make your New Year resolutions work for you! Take a healthy break at the Fitness Center, open to students, faculty and staff. Winter hours are 7:30–10:30 a.m. Monday, Wednesday, Friday and from noon-5:00 p.m. Tuesday and Thursday. The Fitness Center is located in the Physical Education North Building, Room #33.
South Bay Youth Orchestra Plans Expansion
Expansion plans are underway for the South Bay Youth Orchestra (SBYO). The group of about 45 young musicians ages 10 to 18 rehearses and performs at El Camino College and offers a great environment for these talented performers to learn how to relate and communicate with other players. SBYO members have the opportunity to perform at El Camino College with world class musicians and Grammy award winners such as Daniel Ho and Jake Shimabukuro, ukulele master. The SBYO is led by Dr. Patrick Shultz, a full-time ECC faculty member and composer. 
The orchestra's vision is to expand the organization to include several beginning string ensembles that rehearse in local communities such as Lawndale, Gardena, and Hawthorne. Advanced students from these "satellite" groups would eventually become a part of the youth orchestra rehearsing at El Camino College. About two years ago, a parent of a Lawndale Elementary student started a string program in Lawndale. This program is now a vibrant part of the South Bay Youth Orchestra. Many of the first students in the Lawndale string ensemble are now ready to move on to the SBYO at El Camino College for advanced instruction. There are at least 50 more students ready to take their place and begin learning a string instrument. More Info.
Open Auditions: Godspell

The ECC Theatre Department will present the Broadway musical "Godspell" this spring. Before he wrote "Wicked" and "Pippin," Stephen Schwartz created "Godspell," a fun, modern day retelling of New Testament parables from "The Gospel According to Matthew." The show features a sparkling rock gospel score, and is at times comedic and sentimental. Preliminary vocal auditions for the ECC production of "Godspell" run from 1 to 5 p.m. January 15 and from 7 to 10 p.m. January 17 at Haag Recital Hall. Auditions are first come, first served – no appointments.
Participants should plan on attending only one of the preliminary auditions listed above, and be prepared to bring sheet music and sing a song in contemporary pop/rock/musical theatre style. An accompanist will be provided. Positions for this performance are open in all areas, including lights, scenery, sound, make-up and costumes. No experience needed. Performance dates are set for March 12, 18, 19, 25, and 26 at 8 p.m. and March 13, 20, and 27 at 3 p.m. in the Campus Theatre. "Godspell" Director: Bill Georges; Music Director: Mike Walker; Vocal Director: Patty Breitag; Choreographer: Candice M. Clasby; and Artistic Director: Ron Scarlata. For callbacks and rehearsal info, click here.

Child Development Center: Open Enrollment
Enrollment is now open for the El Camino College Child Development Center (CDC), which offers a breakfast and afternoon snack, at no separate charge to enrolled children, as part of the Child and Adult Care Food Program (CACFP). Flexible schedules are offered, along with a choice of two programs. The state preschool is open for children ages 3 to 5 years and the fee-based preschool is open to children ages 2 to 5. All students must be completely toilet trained.
Preparing children to meet the challenges of kindergarten is a goal of the program, focusing on a developmental curriculum, which prepares the child cognitively, socially, emotionally, physically and linguistically. Teachers at the CDC are academically prepared and trained in early childhood education. Parents are encouraged to participate in their child's education, and an open door policy is maintained throughout the center. For more information about the CDC, call the office at 310-660-3720.

Sections
Meet Nancy Freeman

Newsletters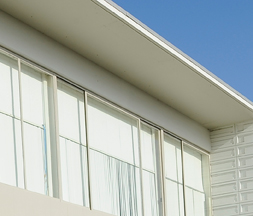 Can you guess where this photo was taken on campus? Submit your best guess here and be eligible to win a fabulous prize! Submit entries by January 17.

Congratulations to Dave Snowden in the Admissions Office! Dave correctly indentified last month's photo, which was the overhang on the second floor of the bookstore building. Dave won a gift certificate to Starbucks for his correct answer.