12th Annual Cherry Blossom Festival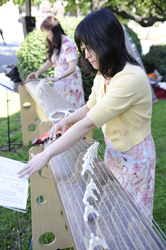 The college's 12th Annual Cherry Blossom Festival on March 8 celebrated friendship and the beginning of spring. The Dr. Nadine Ishitani Hata Memorial Cherry Blossom Festival is named after the college's former vice president of academic affairs, who passed away in 2005. Dr. Hata was an internationally known scholar who was extremely involved in academia and community work. She was instrumental in bringing the cherry trees to the campus 12 years ago, one of the many programs she supported during her 34-year career at the college. Koto artists also performed and students from English instructor Clint Margrave's poetry class presented haiku poetry. The festival is sponsored by the El Camino College Foundation and the Office of Staff and Student Diversity.
Celebrate Women's History Month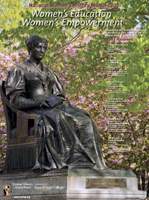 March is Women's History Month and a variety of events are planned at ECC to celebrate throughout March. A panel discussion titled "Women Working & Teaching Non-Traditional Careers," is scheduled for 1-2 p.m. March 20. Women's History Month wraps up with the El Camino College Women's Wall of Fame Ceremony on March 22, and a "Hat Fashion Show" from 12:30-2 p.m. March 29. For more information on ECC Women's History Month activities, click here, or call 310-660-3868.
Join Environmental Education Seminars:
New "Green Bag" Lunch Series
ECC's "Green Team" invites everyone to attend a new series of seminars, or "green bag" lunches, designed to offer information about preserving the environment and promoting sustainable practices. The first event is "Grow Your Own Food…in Small Spaces," scheduled for noon to 12:50 p.m. March 22 at the Distance Education Conference Room (Library 166). Participants are asked to bring a bag lunch to this educational and engaging seminar. Guest speaker is Mike Lieberman, a Los Angeles-based urban organic gardener and the creator of UrbanOrganicGardener.com. Lieberman focuses on gardening in areas with little to no space. He is an active speaker and motivator, and has been featured on HGTV, "The Huffington Post," and "Mother Earth News," among other media sources.
The new "green" bag series, a takeoff of workplace lunchtime "brown bag" meetings, is an effort to educate others on topics related to learning about the environment while reducing the environmental footprint. Additional El Camino College green bag events this spring include: "Ocean Eddies, the Marine Environment, and Climate Change," presented by ECC oceanography instructor Changming Charles Dong on April 19, and "Rideshare/Bike to ECC," on May 10, led by ECC Police Officer Erick Mendoza and Institutional Research Director Irene Graff on May 10. More…
Space Science Day 2012  

South Bay youngsters are invited to attend El Camino College's Space Science Day 2012 on April 21 at the college's planetarium and science classrooms. The daylong event marks the 26th anniversary of the Space Shuttle Challenger tragedy where Astronaut Ellison Onizuka perished along with the six other crew members in 1986. Space Science Day will feature an astronaut presentation as well as classroom workshops and demonstrations led by El Camino College professors, students, and guests from JPL and other institutions. The event is sponsored by El Camino College and American Honda Motor Co., Inc., and coordinated by the El Camino College Astronaut Ellison Onizuka Memorial Committee. It is free and open to serious-minded science students in grades five through 12. To register, click here.
Fire Academy Graduation    
Congratulations to El Camino Fire Academy Class 133 as they prepare for their graduation ceremony, scheduled for 10:00 a.m. April 20 at the fire academy, 206 West Beach Street in Inglewood. The El Camino Fire Academy graduation ceremony will feature several action-packed demonstrations highlighting student work, including rappelling from a five-story building, controlling a fully involved vehicle fire where graduates pull up with sirens blaring to put it out, and dealing with a full-blown building fire, which students will also contain. An open house is also on the agenda, where visitors can tour the facility. For more information on the El Camino Fire Academy, click here. 

ECC Chorale Shines at Invitational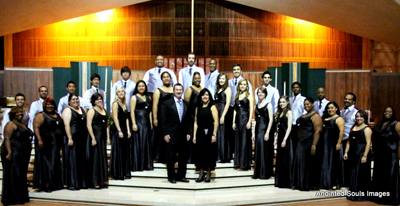 The ECC Chorale recently participated in the USC Community College Choral Invitational Festival, featuring eight community college choirs, with the USC Chamber Singers closing the event. Even though the semester had just started and a third of the chorale members are new singers who just joined (only three rehearsals under their belt), their performance was most impressive and was the only choral group to receive two spontaneous and rousing standing ovations. Comments from the two adjudicators, Charlene Archibeque and Don Brinegar, included: "amazing versatility of tone qualities," "you showed people what true commitment is," "Lovely sense of articulation and time," "Wonderful soloist," and more!

Participating colleges, in addition to the USC Chamber Singers include: College of the Sequoias Chamber Singers, Long Beach City College Viking Chorale, College of the Canyons Chamber Singers, Mt. San Antonio College Chamber Singers, East Los Angeles College Chamber Chorale, Cabrillo College Il Dolce Suono, and the Riverside City College Chamber Singers. The El Camino College Chorale is directed by Joanna Medawar Nachef.
"Once On This Island" Comes to the
ECC Campus Theatre   

The ECC Theater Department will present "Once on This Island" at 8 p.m. March 23, 24, 30, and 31; and at 3 p.m. March 18, 25, and 27 in the Campus Theatre. A great show for the entire family, this highly original and theatrical Caribbean adaptation of Rosa Guys' book My Love, My Love or The Peasant Girl garnered eight Tony nominations for its Broadway run, including Best Musical, Book and Score. In almost non-stop song and dance, the show tells the story of Ti Moune, a peasant girl who rescues and falls in love with Daniel, a wealthy boy from the other side of her island. When Daniel is returned to his people, the fantastical gods who rule the island guide Ti Moune on a quest to test the strength of her love against the powerful forces of prejudice, hatred and death. The production is directed by caryn desai, along with Ron Scarlata, artistic director; Brent Crayon, music director; Joanna Nachef, vocal director; and Camden Gonzalez, choreographer. Tickets cost $25. More…
ECC Grad Tom Desmond Named new
MBFD Fire Captain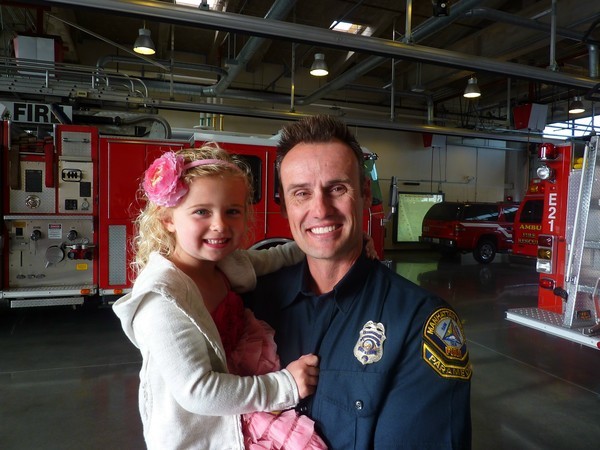 MBFD Chief Tom Desmond with daughter Emma after his badge pinning ceremony.
Photo: Patch.com
Redondo Beach resident and ECC alumnus Tom Desmond was recently named the new captain of the Manhattan Beach Fire Department. Desmond, a South Bay native and local engineer and paramedic, is an 18-year veteran of the Manhattan Beach Fire Department, where he has served as an acting engineer, fire inspector, and acting captain. He began his service as a paid-call firefighter, before becoming a firefighter and paramedic in 1999. Captain Desmond is a graduate of North High School in Torrance and El Camino College, where he received his associate degree in fire science. He then transferred to California State University, Los Angeles, where he earned a bachelor's degree in fire protection administration.
ECC Art Gallery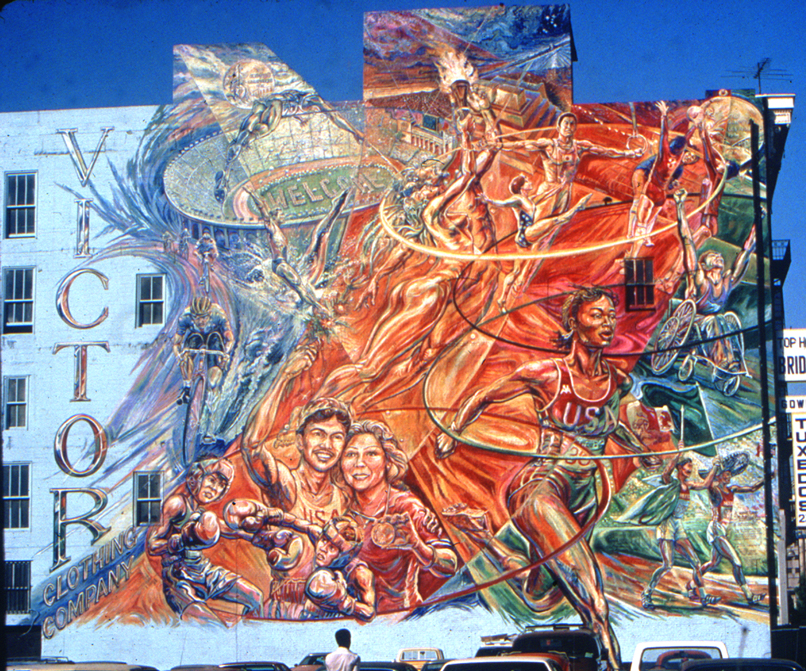 The ECC Gallery will present "The Expressive Line of Wayne Alaniz Healy: Murals, Paintings, Prints, Sculpture" from March 26-April 26. (The Art Gallery will be closed April 9-13 due to spring recess.) A reception is planned from 7-9 p.m. March 29, with a gallery walk-through led by Wayne Healy scheduled for 1 p.m. April 17. The Art Gallery is open from 9 a.m. to 4 p.m. Mondays and Tuesdays and from noon to 8 p.m. Wednesdays and Thursdays. For more information, call curator Susanna Meiers at 310-660-3010. Admission to the El Camino College Art Gallery and gallery events is free. On-campus parking is $2. The gallery will be closed April 9-13 due to spring recess. More…

ECC Compton Center's Transfer Center Helps Students Focus on the Future
The Transfer Center ECC Compton Center has a whole line up of services, programs and activities for students looking to transfer to a four-year college or university. Students are encouraged to check out the calendar and find out how they can achieve their individual transfer goals.
Click here for a list of services offered.
ECC Athletes: ScholarBallers Named 
Congratulations to our ECC Winter Scholar-Ballers who were recently honored for their academic and athletic excellence.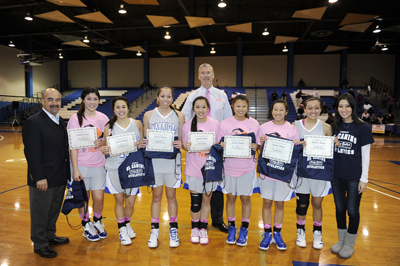 Pictured with Coach Steve Shaw are (L-R); Vice President Arce, Kristen Dresser, Amanda Young, Ryann Drear, Kelsey Ishigo, Paige Yonamine, Lindsay Wong, Kaitlyn Kung, and Athletic Counselor Kelsey Iino.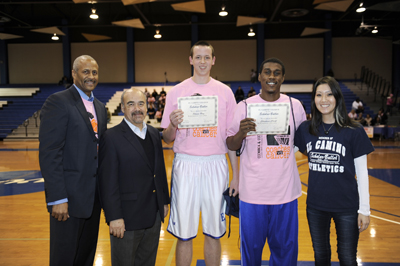 Our men's basketball team also finished up the season and honored its 2011-12 Scholar-Ballers. Pictured are Coach Michael Fenison, Vice President Arce, Shawn Ray, Christen Clark, and Athletic Counselor Kelsey Iino.
Share your comments about these stories!
You can use your Facebook, Hotmail, Yahoo or AOL account to make a comment!


Sections
Newsletters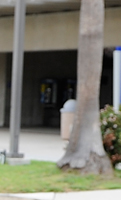 Can you guess where this photo was taken on campus? Submit your best guess here and be eligible to win a fabulous prize! Submit entries by March 30.

No correct entries were received for last month's challenging photo, which was a closeup of the painting hanging in the second floor of the library's East Wing. Get your best guess in today for the March competition!