Welcome to Commencement 2012  
Welcome to Dr. Cinna Toy-Wohlmuth, El Camino College graduate and doctor of medicine, as the guest speaker for the 65th Annual El Camino College Commencement Ceremony, scheduled at 4:00 p.m. June 8 in Murdock Stadium. Parking and admission are free – no reservations required. We invite everyone in our college community to this celebration and wish congratulations to all our graduates! For more info on commencement, click here.


Dr. Toy-Wohlmuth first attended El Camino College as a high school junior, taking advanced placement classes. She continued as an ECC student after graduating from high school and spent the next two years excelling at academics, while participating in a variety of clubs and activities. After graduating from ECC in 1979, Dr. Toy-Wohlmuth transferred to Loma Linda University where she earned a bachelor's degree and a medical degree. She is now Assistant Clinical Professor in Obstetrics and Gynecology at Loma Linda University and the Obstetrics and Gynecology Program Director at White Memorial Medical Center. More...
Celebrate Project Success! 

Project Success will celebrate a quarter of a century of helping students reach their goals at a 25th Anniversary Awards Dinner set for June 7 at the DoubleTree Hotel in Torrance. Students will be honored for their outstanding work at El Camino College, and graduates, staff, faculty will also be recognized for their contributions to student success. The guest speaker for the 25th Anniversary Awards Dinner is Florida Commissioner of Education Gerard Robinson, ECC grad.  Robinson transferred to Howard University, earning a bachelor's degree in philosophy and anthropology. He then returned to Los Angeles to teach fifth grade and help with a program in Compton. Robinson continued at Harvard University where he earned a master's degree in education. Tickets to the 25th Anniversary Project Success Awards Dinner cost $50 per person. To make a reservation, or for more information, please contact Brian Mims at extension 6037 or bmims@elcamino.edu.
A Celebration of Students: Scholarship Reception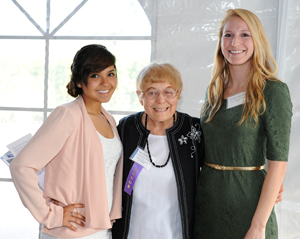 Congratulations to the 424 El Camino College students who will receive a scholarship this academic year. The annual Scholarship Awards Ceremony and Reception on May 10 featured Melanie Lundquist, alumna of Los Angeles Valley College and dedicated El Camino College supporter as keynote speaker. More than $600,000 in scholarships will be distributed in amounts from $500 to $4,000 throughout the year to outstanding students. A record number of students applied for scholarships this year using the online system. This spring also marks the first year that El Camino College will receive a full distribution from the Osher Scholarship Endowment of $139,000, which will continue each year. More…

Classified Professional Development
Week: May 21-25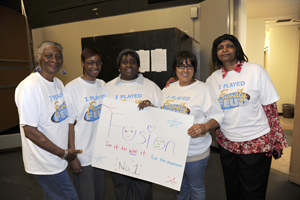 The Third Annual Team Building Extravaganza on May 25 was a great success! Teams competed against each other in a "Friendly Feud" game show. Audience members were polled on a variety of college-questions while team members tried to guess the top answers. Congratulations to Travis Martin, Nancy Fong, Jennell Allen, Michelle Martin, and Alice Mitchelle of Team Fusion from ECC Compton Center for taking first place! Second place honors went to HeRoes, the ECC Human Resources team of Maria Smith, Roxanne McCoy, Lisa Yaguchi, Valerie Jeffrey, and Martha Lopez.

All participants received a commemorative T-shirt. Classified Professional Development Week also included a variety of interesting personal and professional development activities, including workshops on fitness, xeriscape gardening and estate planning.
Thumbs Up for ECC!
A recent survey confirms what we already know: El Camino College is a premier, highly regarded educational institution, recognized as a valued part of the community. After decades of achievement, nearly everyone in the South Bay has a connection to El Camino College, whether via taking classes or attending an event or performance. In fact, the survey shows that 99 percent of those interviewed had heard about ECC before taking the survey and the majority said they had heard a lot about the college. And what they are hearing is quite positive. According to the survey, El Camino College received high marks regarding its reputation in the community – in this area of educational confidence, survey participants ranked ECC on par with UCLA and USC.
One participant noted: "It's easier to get to a university from El Camino College. They get you ready for a university academically; they counsel you and work with you." As the 65th commencement ceremony approaches, it is reassuring to know that in spite of increasing budget cuts, El Camino College continues to serve the South Bay by offering transfer opportunities to prestigious colleges and universities, as well as outstanding career and technical education programs leading to high-paying jobs.
HTP Success at Annual Conference  
Students Kevin Hopp and Natalie Stumph recently received Exemplary Student Scholarships from the Honors Transfer Council of California (HTCC) Student Research Conference at the University of California at Irvine, just two of 20 students in the state to receive this award. Twelve El Camino College HTP students presented research at the conference in various fields, ranging from earth science to psychology. In addition, El Camino College HTP co-director Joe Holliday presented the honorary director's award to ECC Professor Robert McLeod for his work in establishing and leading the HTCC during the 1990s.
Public Relations & Marketing Wins Six Awards, Including Gold and Silver!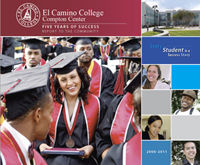 Kudos to our Public Relations & Marketing team for winning six awards in national and state competitions! ECC Matters, the online college newsletter, won a Gold Medallion Award from the National Council for Marketing & Public Relations (NCMPR) at its annual conference. In addition, a Silver Paragon Award in the Government Relations or Community Relations category was given to the "El Camino College Compton Center: Five Years of Success, Report to the Community." The prestigious Paragon Awards is the only national competition of its kind that honors excellence exclusively among marketing and PR professionals at two-year colleges. This year, more than 80 judges from around the country reviewed nearly 1,800 entries. All entries for this prominent awards program are judged by a panel of industry leaders in advertising, public relations, marketing, design, and other related areas. NCMPR is an affiliate of the American Association of Community Colleges and includes more than 1,550 members from more than 650 colleges across the United States, Canada and other countries. More...
ECC Student Headed to UC Berkeley
for Summer Research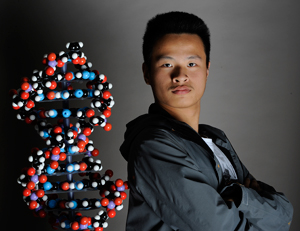 Chemical biology student James Lo will attend the prestigious Transfer-to-Excellence Summer Research Program in the Sciences at the University of California at Berkeley this summer. During this eight-week research experience, James will have the opportunity to participate in hands-on research projects guided by faculty sponsors and graduate student mentors, attend seminars on preparing for a career in science and engineering, and have access to guest speakers, lab tours, and field trips. His room, board and travel costs will be covered through this program, and he will also receive a stipend. James hopes to transfer to UC Berkeley in the Fall of 2013; ultimately he plans to pursue a career in medical research.
Student Art Show 2012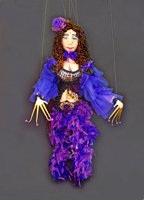 The El Camino College Art Gallery will present its annual showcase of student artwork May 14 through 31. All of the works in this exhibition were selected by instructors as some of the best examples of student work produced at the college. The Student Show includes a variety of works created in a wide range of media. The exhibit provides a glimpse into the educational and aesthetic philosophy advocated by the ECC Art Department and shows a diversity characteristic of the contemporary art world. The majority of the works in the gallery are grounded in an academic approach to art study and training. More…

Fabulous Fashion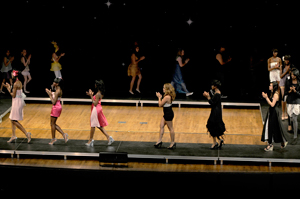 The 30th Annual El Camino College Fashion Show is scheduled for June 1 in Marsee Auditorium. Each year ECC students produce and create this style showcase, featuring the designs of students in the college's draping, patternmaking, advanced sewing, fitting and alterations, and tailoring classes. The show also puts the spotlight on student designs from area high schools and younger sewers from the community.
Computer Science Honors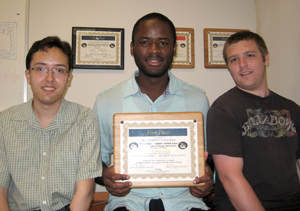 Three outstanding El Camino College computer science students recently won first place awards in a recent computer programming contest at California State University, Los Angeles. Dubem Enyekwe, Alan Williams, and Grant Walker won the awards in the contest's junior college division. Each student was recognized with certificates and a plaque that will be mounted on the wall in the ECC CompSci Lab. The contest was sponsored by Cal State LA's College of Engineering, Computer Science and Technology and features an annual programming challenge that offers high school and community college students the opportunity to solve college-level and real-world programming problems by applying the principles of computer science.
Bill Mulrooney Honored for Distinguished Service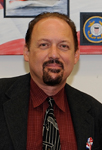 Congratulations to ECC Director of Admission & Records William (Bill) Mulrooney for receiving the highest honor possible from the California Association of Community College Registrars and Admissions Officers (CACCRAO). Bill was honored with the Robert Brown Distinguished Service Award at the 35th Annual CACCRAO Conference in Sacramento. This annual award recognizes a commitment to leadership, innovation and professional standards by members who work to further the profession of admissions and records in the 112 California Community Colleges. Bill is the 16th recipient of the award from CACCRAO, which offers regional workshops and other training opportunities to communicate best practices, legislative updates, and innovative trends in technology. Bill has worked in education for 22 years, and will celebrate his 12th anniversary at El Camino College in June. More...
Honor Society Scholarships and Awards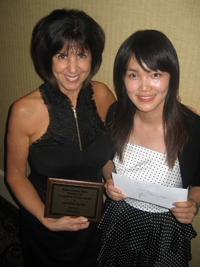 El Camino College honor student XiaoQin Li recently won an $850 scholarship from Alpha Gamma Sigma (AGS) at the academic honor society and service organization's annual convention. At the event, attended by 540 students representing 44 college chapters, $38,400 in scholarships was awarded to 54 students who excel in academics and/or community service. XiaoQin, who serves as publicity chairwoman for the Alpha Phi chapter of AGS at El Camino College, won the Virginia Coffey Award. Also honored at the conference was ECC AGS adviser Jeannine Barba, who was awarded the Outstanding Adviser Award by the AGS organization. Jeannine was nominated by her students and chosen by the Advisory Board Committee of the AGS statewide organization for this award.
ECC Kid's College – Summer Classes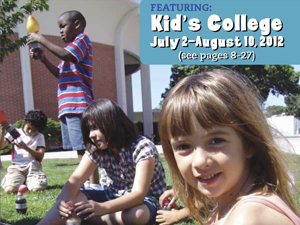 Registration is now open for Kid's College this summer! From pirate camp to princess camp and from math review to creative writing, Kid's College has something for all area youngsters in first through 12th grade. Archeology, LEGO lessons, dance, music, cheerleading, puppetry, sports, science – the list goes on! Classes are offered from June through August. Sign up now for some serious learning fun! Click here for the summer schedule.
Guitar Fest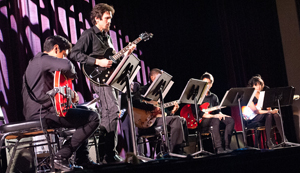 Hundreds of musicians attended ECC's Third Annual Guitar Festival for two full days of concerts, clinics, and master classes featuring representatives from guitar programs from nearly every college and university in the area. All was free and open to the public. The event offered workshops, career discussions, and "Guitar Frenzy," a concert featuring more than 20 Southern California college/university guitar ensembles of varying styles.
ECC Child Development Center
Open for Enrollment  
Enrollment is now open at the El Camino College Child Development Center (CDC) for its fee-based preschool program. Flexible schedules are offered in this high-quality, year-round program, which is open to children ages 2 to 5. All students must be completely toilet trained.

The CDC is centrally located in the South Bay area, and offers a warm and inviting environment for children preparing for kindergarten, housed in a building specifically designed for preschoolers. More...
ECC Alumni Named Coach of the Year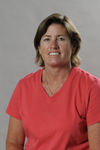 Volleyball Coach Le Valley Pattison was recently named Coach of the Year by the California Community College Coaches Association. Pattison has been head coach of the ECC women's volleyball program for more than 20 years. She attended Mira Costa High School and is an alumna of ECC. Pattison earned a master's degree from National University and a bachelor's degree from California

State University, Long Beach.
Track & field and cross country Coach Dean Lofgren was recently named South Coast Conference Coach of the Year. Lofgren has been coaching at ECC for more than 20 years. He enrolled at El Camino College after graduating from West Torrance High School, and went on to earn a master's degree from San Jose State University and a bachelor's degree from California State University, Stanislaus.
Science Club Field Trip Adventures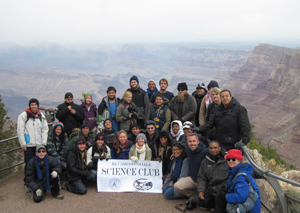 ECC Science Club students traveled to Utah and Arizona during spring break, with stops and hikes focusing on geology, biology, geography, engineering, and astronomy. Students visited Zion National park, Bryce Canyon National Park, Glen Canyon Dam, Meteor Crater, the Anasazi ruins of Walnut Canyon National Monument, and the volcanoes of Sunset Crater National Monument. In each of these places, the club went on nature hikes where they learned the geology and biology of each area. They also saw plenty of wildlife, including elk, bison, deer, and wild turkeys. The group had a special tour and planet/star viewing at the Lowell Observatory in Flagstaff, Arizona. More...
Teaching and Making a Difference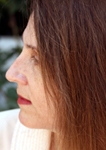 Photography Professor Darilyn Rowan was recently honored for her outstanding contributions to art education in the City of Torrance. Rowan is one of four area educators who recently received a "Making a Difference Award" from the Torrance Performing Arts Consortium (TPAC), in partnership with the Daily Breeze. The award included a certificate signed by State Senator Ted Lieu, a silver medallion, and a check for $1,000 to be used for the El Camino College photography program. The awards were presented before a concert at Torino Plaza, one of several events scheduled to celebrate Torrance's 100-year anniversary. In attendance was ECC Board of Trustees Vice President Maureen O'Donnell, who also serves on the TPAC board of trustees. More...
ECC Compton Center Students Find Work in Growing Aerospace Fastener Manufacturing Industry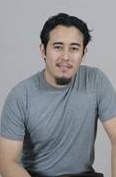 Jairo Juarez-Lazo and his father, Jose Juarez, completed El Camino College Compton Center's Aerospace Fastener Manufacturing summer training program together. After graduating from California State University, Dominguez Hills with a degree in graphic design, Jairo struggled to find a full-time position in the field and saw the program as an opportunity to start a career in manufacturing. Alternately Jose, a veteran in the industry, viewed the program as a way to advance his career. Since completing the summer program, Jose was hired at ALCOA Fastening Systems, the world's leading producer of aluminum. And, an additional 12 ECC Compton Center students from the Aerospace Fastener Manufacturing program have been hired in the last year by PB Fasteners and Alcoa. For Jairo, the program motivated him to continue his education in the field and he is now enrolled in the ongoing Machine Tool Technology/Aerospace Fastener Manufacturing program offered by ECC Compton Center's Career and Technical Education division.
Share your comments about these stories!
You can use your Facebook, Hotmail, Yahoo or AOL account to make a comment!


Sections
Newsletters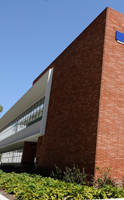 Can you guess where this photo was taken on campus? Submit your best guess hereand be eligible to win a fabulous prize! Submit entries by May 31.
Congratulations to Angie Funes, Student Services Adviser with the Counseling & Student Services Division! Angie correctly indentified last month's photo, which was an image of the area in between the Student Activities Center and the Library, facing north. Angie won a gift card to Starbucks for her correct answer.