"Would You Woodwork?"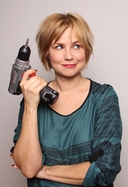 Woodworking student C.C. Boyce came to Los Angeles for an acting career, but her goals expanded when she enrolled in woodworking classes at El Camino College. She recently launched the first two installments of "Would You Woodwork?" a new comedic and instructional Web series where she gives basic instruction about woodworking equipment. C.C. is now working hard to earn a fine woodworking and cabinet maker certificate, while producing her fun and informative video segments. Click here to view the two episodes: the first features instructions on using a table saw and planer. In the second, she gives a how-to on turning a pen on the lathe.
Financial Aid TV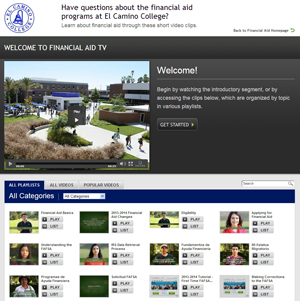 ECC's new "Financial Aid TV" features short video clips that answer questions about financial aid. Students have 24-7 access to this service that covers a variety of topics from understanding the application to the new GI Bill eligibility guidelines. Financial aid is a great way to pay for fees, books, and other college expenses. Click on the video to learn more.
Planetarium Shows for Fall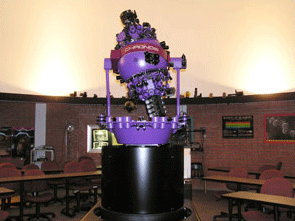 Everyone is invited to fall planetarium shows at El Camino College! The planetarium features an amazing projector by Chronos, which projects the night sky from all over the world onto the planetarium dome. Upgrades to the planetarium were made possible by Measure E. The shows are free and open to the public, made possible with funding by a Title III HSI-STEM grant from the U.S. Department of Education. Click here for a list of fall shows.
ECC Scholarship Program Opens for 2013-14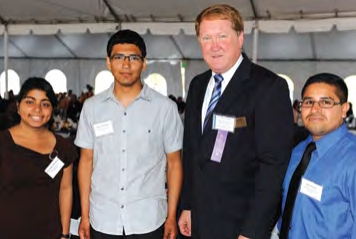 The El Camino College Foundation Online Scholarship Application is now open! Students with a 2.0 grade point average or better and have completed, or are in the process of completing, a minimum of six graded credit units at ECC are encouraged to apply by the December 6 deadline. Scholarships range from $500 to $5,000 and may be used to help pay for tuition, books and fees. El Camino College offers a diverse scholarship program with criteria including: honors and academic achievement, financial need, leadership and community service, organizational and campus club affiliation, and more. A record-breaking $1.4 million was awarded to approximately 650 students for the 2013-2014 academic year. Click here to get started.
Fall Transfer Fair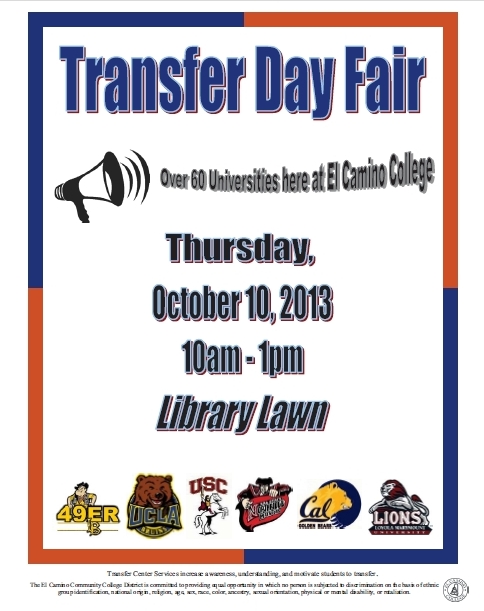 Want to transfer? Attend the annual Fall Transfer Day Fair from 10 a.m. to 1 p.m. October 10 on the Library Lawn. ECC's Fall Transfer Day Fair is the largest transfer fair of the year, featuring representatives from more than 60 colleges and universities, including out-of-state colleges, private universities, and historically black colleges. Representatives from the University of California and California State University systems will also be available. Students are invited to ask questions, make contacts, and find out more information. The event is free and open to the public. For more information, click here.
Fall Blood Drive

Everyone is encouraged to participate in the campuswide fall blood drive, scheduled for October 8-10 in the Student Activities Center, East Lounge. The El Camino College Inter-Club Council and Student Development Office sponsor this twice per-year blood drive with the American Red Cross. Blood donors can come to the campus Student Activities Center from 9:00 a.m. to 3:00 p.m. each day of the blood drive, with extended hours until 8:00 p.m. on October 10. Help donate life-saving blood! For more information or to make a donation appointment, go to the American Red Cross website and enter the sponsor code: ECC.
ECC Counselor Wins Ford Freedom Unsung Award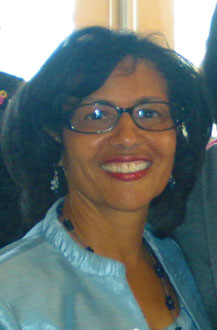 Congrats to counselor Elaine Moore, who was recently honored by the Ford Motor Company as a winner of the annual Ford Freedom Unsung Award, celebrating individuals who have made significant contributions in their communities. Awards were presented to individuals in the areas of community, education, military, and youth. Moore, who recently retired after 31 years at El Camino College, was selected as an honoree in the education category. More…
Ghostly Fun
As part of the ECC Center for the Arts Resident Artist Series, a presentation titled "Phantasms: Can we communicate with the dead?" is scheduled for 8 p.m. October 18 in Marsee Auditorium. ECC Professor Jason Davidson will discuss the history and demonstrate the methods of the Spiritualist Movement, which was popular in the United States during the late 1800s, and will explain how these techniques are still in use today. Ghostly manifestations in the auditorium might be unsettling – but it's all in good fun! Click here for ticket info.
ECC Compton Center English Instructor Helps Students Publish Literary Work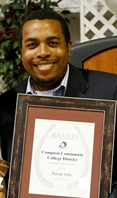 ECC Compton Center English instructor Hiram Sims inspires students by encouraging them to tell stories about their own personal experiences. In 2012, he helped the students in his creative writing class do exactly that by compiling their work into a book titled "The Invisible Door." Then in 2013, he published "The Chopping Block," featuring the literary work of the 12 students in his subsequent creative writing class. Sims pays for the publishing of the books himself and receives no profit from the books. Through an outreach program supported by LA Bookshelf Publishing, he gives all of his students a complimentary edition of the book, and copies are also available for purchase online.
Social Media Update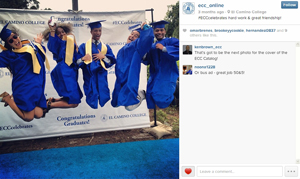 Who have you followed on social media lately? With more than 26,000 Facebook fans and 3,700 Twitter followers, ECC's social accounts are the place to be! In addition, our new Instagram photo and video-sharing profile is a hit. Join in the conversation! Follow @ECC_Online for ECC news, info, and all things college. We want to hear from you, so stop by and say hi! Be sure to use the hashtag #ECConline when you do! What is a hashtag? Click here and find out! 
Veteran Services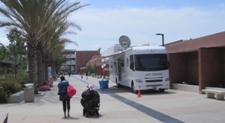 The L. A. Veterans Resource Center's Mobile Vet Center will visit El Camino College from 9 a.m. to 4 p.m. October 10 at the west side of the Student Activities Center. The Mobile Vet Center provides free VA counseling, VA benefits information, and VA referrals in confidentiality and privacy. Staff from the Department of Veteran Affairs will be available to answer questions and offer guidance. This service is available to students, staff, faculty and anyone in the community who is able to benefit from VA services.
ECC Compton Center Hosts First Spanish Spelling Bee
Congratulations to Evelyn A. Medina who was named the winner of ECC Compton Center's first Spanish Spelling Bee! The contest at the end of the spring 2013 semester featured students from each section of Spanish 1 courses, with total of 23 students entering the event. Many members of the ECC Compton Center faculty provided support to make this event successful. Click here to read the full story.
Share your comments about these stories!
You can use your Facebook, Hotmail, Yahoo or AOL account to make a comment!


Sections
Share this newsletter with
your friends:



Tweet

Share your thoughts on these articles! Leave your comments at the bottom of this newsletter!
Safety Matters
Department News
ECC Alumni

Submissions
Newsletters