Going Virtual
With changes happening quickly, we want to make sure you all know that we are here for you. We understand the diverse emotions or conflicts that may arise from this pandemic. Be assured that we will be doing everything within our reach to provide you as many resources needed for your health, financial concerns, and academic excellence.
The Guardian Scholars team is still here to help you remotely. Please visit the Contact page for more information.
May is Foster Youth Awareness Month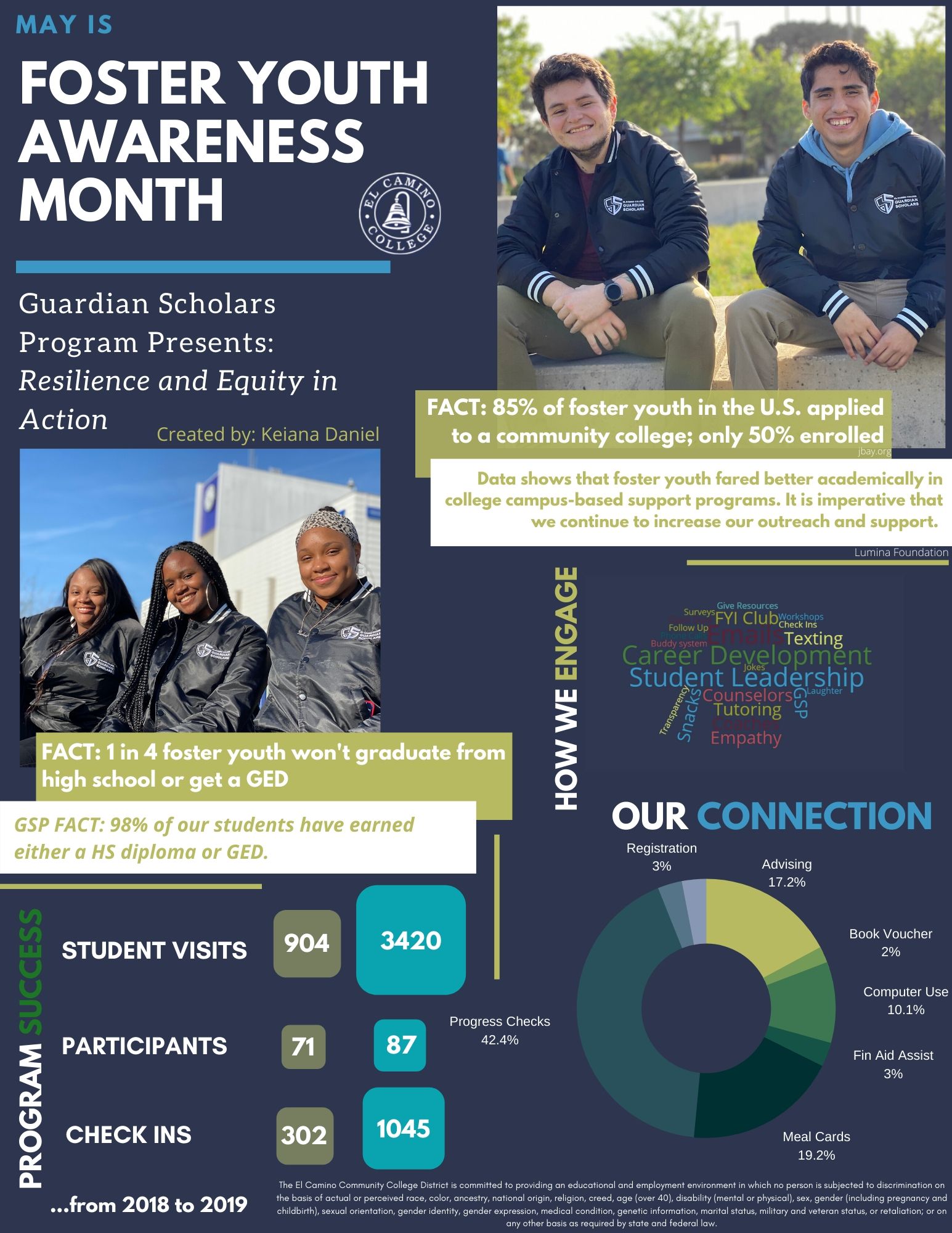 Program Information
The El Camino College Guardian Scholars Program creates a welcoming and supportive environment for current and former foster youth. Our goal is to empower you to reach your full potential and achieve your academic, personal, and career goals. Guardian Scholars promotes self-advocacy by establishing meaningful connections and a support network within the El Camino College campus community.
The Guardian Scholars Program provides students the opportunity to develop educational dreams and interpersonal skills on their journey towards becoming the leaders of tomorrow.

If you have any questions or need more information,


Program Support Services
• Personal Guidance and Mentoring

• Community Enrichment Activities

• Admission and Enrollment Assistance

• Book and Supply Vouchers

• School Supplies and Free Printing

• Assistance Qualifying for Priority Registration
Program Requirements
In order to qualify for the Guardian Scholars Program at El Camino College, students must complete the following steps:

1. Apply for admission to El Camino College
2. Meet with an academic counselor to develop an educational plan
3. Submit a Guardian Scholars Program application
4. Must enroll in 6 units (exceptions may apply)

Program Recommendations:

1. Submit the Free Application for Federal Student Aid (FAFSA) or California Dream Act Application (CADAA) in order to apply for federal and state-based financial aid.

2. Complete the Chafee Grant application documentation with the assistance of the Financial Aid Office.

Requirements to Maintain Eligibility:

To remain eligible for the program the recipient must:

1. Enroll in at least six units at El Camino College during fall and spring semester

2. Enroll in at least three units at El Camino College during winter and summer

3. Participate in the Guardian Scholars Program events each semester

4. Remotely meet with Guardian Scholars Program personnel at least once a week

5. Submit progress report each semester or term

6. Maintain a 2.0 cumulative grade point average (GPA)

7. Maintain a 50% pace of unit completion
Click to Apply for the Guardian Scholars Program