Last Updated: August 5, 2020 at 11:26 p.m.
Campus Services
---
Counseling – Virtual Services
Counselors are available for online chat, telephone and virtual appointments. Also chat with a front desk staff is available to help navigate the scheduling process and quick questions.
---
FALL 2020
Fall Textbook information is available now on our online Bookstore. Ordering will begin July 29, 2020.
Students can now select store pick up at El Camino College Bookstore for their online orders. Students should wait for a confirmation email that their order has been processed. Online textbook orders for Fall 2020 can be picked up at the bookstore windows during the following hours:
AUGUST 2020
SUN
MON
TUES
WED
THUR
FRI
SAT

2
CLOSED

3
9am-4pm

4
9am-4pm

5
9am-4pm

6
9am-4pm

7
CLOSED

8
CLOSED

9
CLOSED

10
9am-4pm

11
9am-4pm

12
9am-4pm

13
9am-4pm

14
CLOSED

15
CLOSED

16
CLOSED

17
9am-4pm

18
9am-4pm

19
9am-4pm

20
9am-4pm

21
9am-4pm

22
10am-2p

23
CLOSED

24
10am-7p

25
10am-7p

26
10am-7p

27
10am-7p

28
10am-7p

29
10am-2p

Students can park on the first level of parking Lot C (free), follow the signs to the bookstore, wear a mask and maintain social distance. When students arrive to the bookstore follow the instructions posted and they can pick up their books. Only order pick up or refunds will be handled at the windows.
Textbook Refunds
Last day for Fall 2020 Textbook refunds is Friday September 4, 2020
Textbook Rentals
Fall 2020 Textbook Rentals must be returned by Friday, December 11, 2020.
Summer 2020 Textbook Rental Returns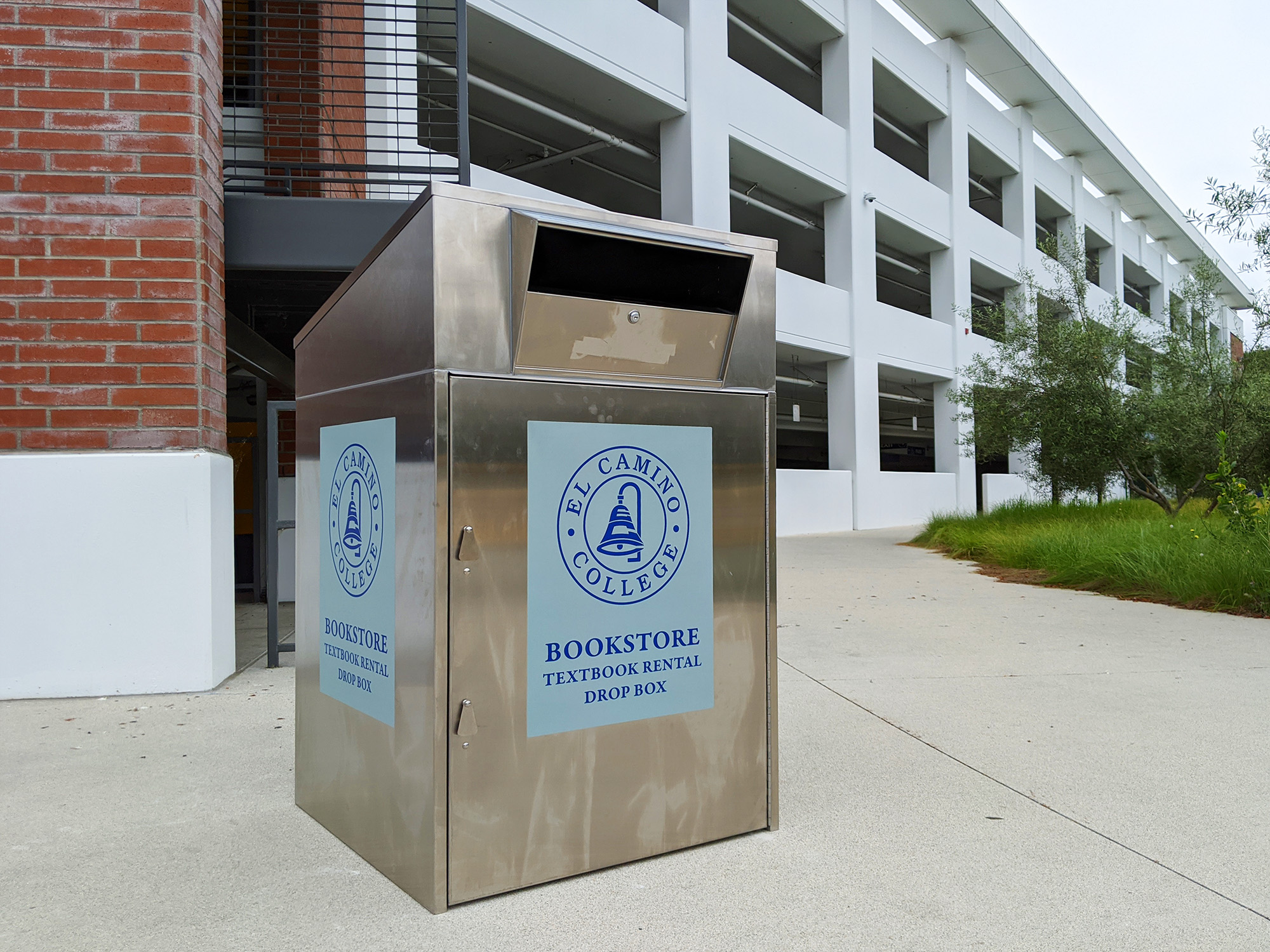 The El Camino College Bookstore has installed a Textbook Rental Return box on the southeast side of Lot C parking structure (between the stairway and the turnaround loop at Lemoli and Manhattan Beach; See image on the right). Information has been sent to the student's email address on what outstanding textbooks they have with the bookstore for the Summer 2020 semester. A follow-up email will be sent informing the students that the box is ready to accept returns. The deadline to return Textbook Rentals is Thursday, August 13, 2020.
Textbook Buyback
Textbook Buyback will be performed online for students wishing to sell back textbooks that were purchased (not rented books). Click below for a link to our online buyback.
https://onlinebuyback.mbsbooks.com/index.php?jde=7923
Students may contact the Bookstore by email at eccbooks@elcamino.edu if they have any questions.
---
Library – Virtual Services
Online Tutoring
Summer 2020 Online Tutoring Schedule
Online Virtual Research:
Mon - Thurs, 8 a.m. - midnight
Fri, 8 a.m. - 9 p.m
Sat, 8 a.m. - 5 p.m.
Helpful Links:
---
Student Health Services
Student Health Services is offering drop-in Nurse Practitioner consultation hours and drop-in mental health "check-ins" to currently enrolled El Camino College students
---
International Student Program – Virtual Services
---
Writing Center (Online)
The Writing Center will offer feedback on student work online starting Monday, March 23.
Mon - Wed, 7 a.m. - 8:30 p.m.
Thurs, 7 a.m. - 5:30 p.m.
Fri, 7 a.m. - 3 p.m.
Submit an Essay (use ECC student email)
Send an email to writingctrstaff@elcamino.edu with "Draft Check" in the subject line
Options to send essay: in email body, Word attachment, or share the essay with writingctrstaff@elcamino.edu in Google Docs

Attach, copy and paste, or provide a link to the professor's essay prompt, question, and/or essay requirements.

Include full name and student ID number and class (for example, English 1A or Sociology 101), along with any question(s) they have for the tutor
---
Math Study Center (Online)
The Math Study Center is offering services online.
Mon - Thurs, 9 a.m. - 9 p.m.
Fri, 9 a.m. - 4 p.m.
Sat, 10 a.m. - 4 p.m.
Visit https://zoom.us/join
Enter code 214 418 5655
---
---
Scholarship Office – Temporarily Closed
If you have turned in a reimbursement form, your check will be mailed to you. We are currently calling to verify your mailing address, so if you get a message from us, please call us back so we can mail your check ASAP.
If you have any reimbursements, you may submit a picture of your receipts online at scholarship@elcamino.edu and we will mail you a check. If you have any questions, please email us at scholarship@elcamino.edu or call us at 310-660-6541. We will be checking email and voicemail frequently.
---
Food Services - Temporarily Closed
---
Contact